Gateway Class of 2005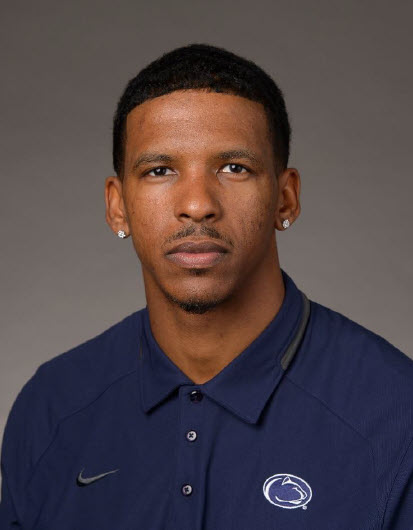 Justin King, already a known budding star from his success in local youth football leagues and having placed third in the Junior Olympics track & field competition, first attended Gateway High School as a freshman in 2001. Justin immediately earned a spot on the varsity football team and began making an impact. After a breakout performance in the first three games of the season, Justin suffered an injury that caused him to miss the rest of his freshmen year, followed by other minor injuries throughout his sophomore year. However, Justin overcame the adversity of injuries and rushed for 1,763 yards and 29 touchdowns his junior year.
By 2004, Justin was rated the nation's top cornerback and the top player in Pennsylvania. He led the Gateway Gators to an 11-2 mark in his senior season and the Western PA District 7 Class AAAA title game. Justin rushed for 1,902 yards and 33 touchdowns on 208 attempts and had nine receptions for 180 yards and three scores. Defensively, he collected 25 tackles and an interception. For his career, he carried the ball 544 times for 4,519 yards, the third-highest total in District 7 Class AAAA history, and scored 59 touchdowns. Were it not for the injuries sustained, Justin may well have finished with the highest career rushing total in WPIAL history.
Nationally recognized, Justin played in the U.S. Army All-American Bowl, was the 2004 Gatorade Pennsylvania Player-of-the-Year and a first-team all-state selection by numerous media outlets. Justin shared the Pittsburgh Tribune-Review Player-of-the-Year honor and was a member of the Pittsburgh Post-Gazette Fabulous 22 and the Harrisburg Patriot-News Platinum 33 squads. He was co- winner of the Mercury Award, presented annually to the top player in Western PA, and was a Parade All-American. Justin also was an accomplished sprinter on the track and field team for two years, running a personal record of 10.45 in the 100m during his sophomore year.
Regarded as the nation's number one cornerback coming out of high school with 55 athletic scholarship offers from the nation's top universities, Justin graduated from Gateway High School in 3 1/2 years and enrolled at The Pennsylvania State University in January of 2005. He quickly announced his presence as a difference- maker for the Nittany Lions in his first game as a true freshman. His electrifying 61-yard dash on a reverse set up Penn State's first score of the season in the opener against South Florida and laid the foundation for numerous significant contributions on offense, defense and special teams, including a thrilling triple- overtime victory over Florida State in the 2006 Orange Bowl. His efforts in invigorating the offense earned him first-team Freshman All-American honors by The Sporting News as an all-purpose player. He also was named to TSN's Freshman All-Big Ten team.
Playing in every game and on both sides of the ball, Justin averaged an impressive 12.7 yards per touch while still managing to earn Dean's List recognition during the fall 2005 semester. As a starter, he quickly established himself as one of the top cover-corners in the Big Ten during his sophomore season and helped the Penn State defense rank in the top 15 nationally in rushing, scoring, total defense, pass efficiency defense, and sacks. Against Ohio State, Justin made a diving interception on an attempt by eventual Heisman Trophy-winner Troy Smith. He then delivered another stellar effort in the 20-10 win over Tennessee in the 2007 Outback Bowl, limiting All-American receiver Robert Meachem to just four catches for 33 yards.
In addition to his accomplishments on the field, Justin also excelled academically. He was an Academic All-Big Ten selection in 2006, and in just three years after enrolling, Justin graduated from Penn State with a 3.00 cumulative grade-point average and a B.A. in Sports Administration, a tremendous accomplishment considering the brief length of time and the time commitments faced by student-athletes.
Justin declared himself eligible for the 2008 NFL Draft following his junior season and made a strong showing at the NFL Scouting Combine. His 4.31-second time in the 40-yard dash was the fastest time for a defensive back, and second fastest of all prospects.
The St. Louis Rams selected Justin in the 4th round, 101st overall pick of the 2008 NFL Draft. He had a dynamic six-year NFL career with the Rams, Indianapolis Colts, and ended his career with the hometown Pittsburgh Steelers.
Following his playing career, Justin worked in scouting for the Cleveland Browns, where he identified top talent for the 2014 Draft. He then transitioned to the medical industry where he served as a Territory Business Manager for ATI Physical Therapy in Dallas, TX. His strong work ethic and keen ability to build genuine relationships flourished, allowing him to see 100% growth within his territory in less than one year.
After working and excelling in corporate America, Justin transitioned back to his true calling by returning to football in May of this year. He currently serves as the Assistant Recruiting Coordinator for the Penn State Football program, identifying and securing top talent to continue the legacy of success for future Penn State teams.
Justin lives in State College, PA with his wife, Carli, four-year-old daughter, Carsyn Jaye, and his English bulldog, Dozer. He attributes much of his success to the love, molding, encouragement, and sacrifice of his parents, Alison & Terry Smith, late father, Thomas King, grandparents, aunts, uncles, cousins and a host of other friends and family who have supported him both personally and professionally. He is honored to join family members Terry and Harvey Smith as inductees into the prestigious Gateway High School Sports Hall of Fame and continue a legacy of hard work, perseverance, giving back, and continual pursuit of excellence.