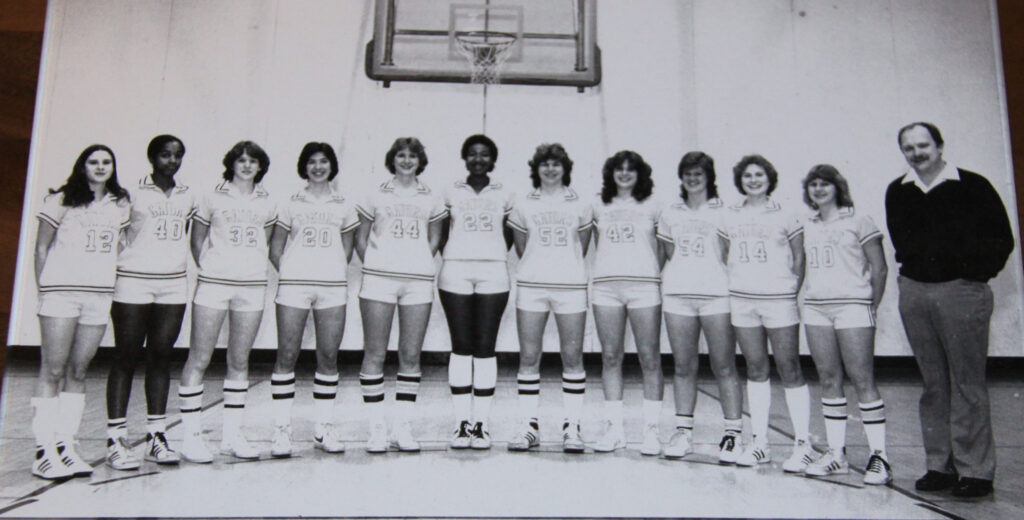 The 1982 team had speed, skill and size. What set them apart was a certain maturity and toughness that got the team through many difficult games. These qualities made them easily coachable and enabled them to handle game pressure without losing their poise.
This team was successful because they were truly a TEAM. Each and every team member was dedicated to be the best. Coach Ron Davis had the girls eat, sleep and breathe basketball. They ran in the summer. They played together in the summer basketball leagues in White Oak and Turtle Creek. They even went to Cathy Rush Basketball Camp together. When the season began, the girls stayed together and they were ready to win. They had gone from a girls high school basketball team to a family away from home. The team worked hard and played even harder. Everyone was dedicated to winning and gave 100% of themselves. All of the sweat, tears and determination did pay off.
The 1982 Gator Girls Basketball Team was a definite source of pride for all of us. Gateway will never forget the great excitement generated by these girls. This group was simply awesome. They re-wrote the record books at Gateway by posting the best win loss record in Gateway history. With a
8 Win 0 Loss non conference record and a 12 Win 0 Loss regular season record, the girls captured the Section 5 AAA title and would later go on to taste a bit of state wide glory.
After one sided defeats of Norwin, Moon and Mt Lebanon, the team moved on to a crucial matchup against Baldwin at the Civic Arena for the Girls WPIAL Championship. This Gator team had plenty of talent to beat Baldwin, but our Gator Girls had an off night and fell victim to the Highlanders 37-33 ending their WPIAL tournament as the runnerup. By means of their outstanding season, the girls qualified for the PIAA state girls basketball tournament. Our girls defeated the Penn Hills Indians in the first round at the Pitt Fieldhouse and looked forward to their next opponent, Villa Maria. The Gators were defeated 51-38 by Villa Maria in the PIAA Class AAA Western Regional Semi-Final playoff game at Westminster College. A state championship was not to be. The loss was a sad ending to a fine overall season. Our girls can still hold their heads high all these years later.
The 1982 Girls Varsity Basketball Team ended their season with 24 Wins and 2 Losses, both losses coming in championship playoffs.
As we said, this Gator team was loaded with talent. Although it is hard to pick one key player, senior guard Lee Repasky was certainly important. One of the finest players in the league, Repasky was voted most valuable in the WPIAL and earned a full scholarship to American University. Diane DeGurian, another dazzling senior guard, was her usual speedy self, and together with Repasky, led the team with their tremendous playmaking and scoring, becoming two of the finest guards in the WPIAL. The tall front line of junior center Denise Garvin, junior forward Laurie Beiriger, and suprising sophomore forward Joann Beatty, who was individually inducted into the Gateway Sports Hall of Fame in 2006, fought some great rebound battles and averaged 12 rebounds per game. Garvin and Beiriger also received much local attention on special teams. Senior Eileen Damratowski was
another strong guard who was an important key behind the success of the Gators. The Gators had phenomenal bench strength with the talents of senior Sue Koch, junior Sue Luck, and sophomores Vicki Hill, Elaine Boyle and Tanya Haten.
Coach Ron Davis was an outstanding girls high school basketball coach. His contributions to the sport, as well as his accomplishments, have not gone unnoticed as he also was individually inducted into the Gateway Sports Hall of Fame in 2007. He, along with assistant Coach Dennis Evanovich, should be congratulated for their excellent coaching of this fine team. His girls averaged 60 points per game. The Gators showed togetherness, enthusiasm and worked very hard. He is most proud of the successes and accomplishments that his team has made in their lives after basketball. They have made their families and friends proud. They excelled in every phase of the game and the results of their efforts bring us here today to the Gateway Sports Hall of Fame. Coach Davis promised the girls that their hard work and dedication would someday pay off. Although they did not make it as WPIAL Champs nor make it to the PIAA title game, tonight the season really did pay off. No regrets!! Congratulations on a fine team and a fine season.
1982 Girls Varsity Section Championship Basketball Team
WPIAL Class AAA Runnerup
PIAA Class AAA Western Region Semi-Finalist
1982 GIRLS VARSITY SECTION CHAMPIONSHIP BASKETBALL TEAM