1970-2014
Gateway Class of 1988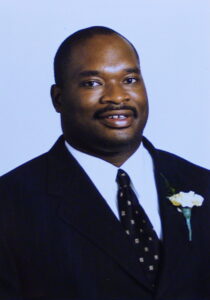 A poll of coaches, players, teachers and others related to Gateway Sports have concluded that Curtis is the best football player to wear the black and gold in the forty-year history of Gateway Senior High.
Curtis is one of only a few Freshman that played varsity football. In four years, Curtis played in 50 high school football games including playoffs and championship games. Of course, he was a four year letterman in football and was a major factor
in Gateway's 1985-86 and 1986-87 W.P.I.A.L. football championship teams.
Highlights to Curtis' football career include:
Three Year All Conference 1986-87 1st Team All State
1987 Gatorade National Player of the Year 1987 Parade All American
1987 USA Today All American 1988 Male Athlete of the Year
W.P.I.A.L. All Time Team
1988 Monroeville Citizen of the Year
Curtis was also a four-year starter and letter earner in basketball.
Curtis was a three-year letter earner in track. In 1988, he was the state champion in the javelin throw. He still holds the school record.
Curtis accepted a scholarship to the University of Pittsburgh where he was a four-year starter in football. He was a two time All Big East All Star selection.
Curtis also played track and field where he was again named to the All-Big East All Star team.
Since graduating from college, Curtis has coached football at Franklin Regional High, Duquesne University, Western Kentucky University and currently is the defensive ends coach at Villanova University. In addition to coaching the defensive ends, Curtis also assists in coaching all the special teams and is responsible for recruiting the midwest states. In 1997, Villanova had a perfect 11-0 season and were Atlantic 10 Champions. The coaching staff at Villanova were the Atlantic I 0 Coaching Staff of the Year.
We asked Curtis about his most vivid memory of Gateway Senior High School Athletics.
"I have many memories from my athletic career at Gateway some good and some sad. The most vivid memory happened in my freshman year in football. I was on the kickoff team and this was the first varsity game that I played in. I was running down on kickoff coverage and running what I thought was full speed. I saw the returner going up the middle and as I closed for the ball carrier, I saw a flash fly across my face and make the tackle. It was my brother playing at his full speed. That one play set the tempo for my career at Gateway in every sport. It was my wake up call and I learned early what football was all about at Gateway. ATTITUDE AND TRADITION."

Curtis Bray, 1999