THE START OF "ATTITUDE AND TRADITION"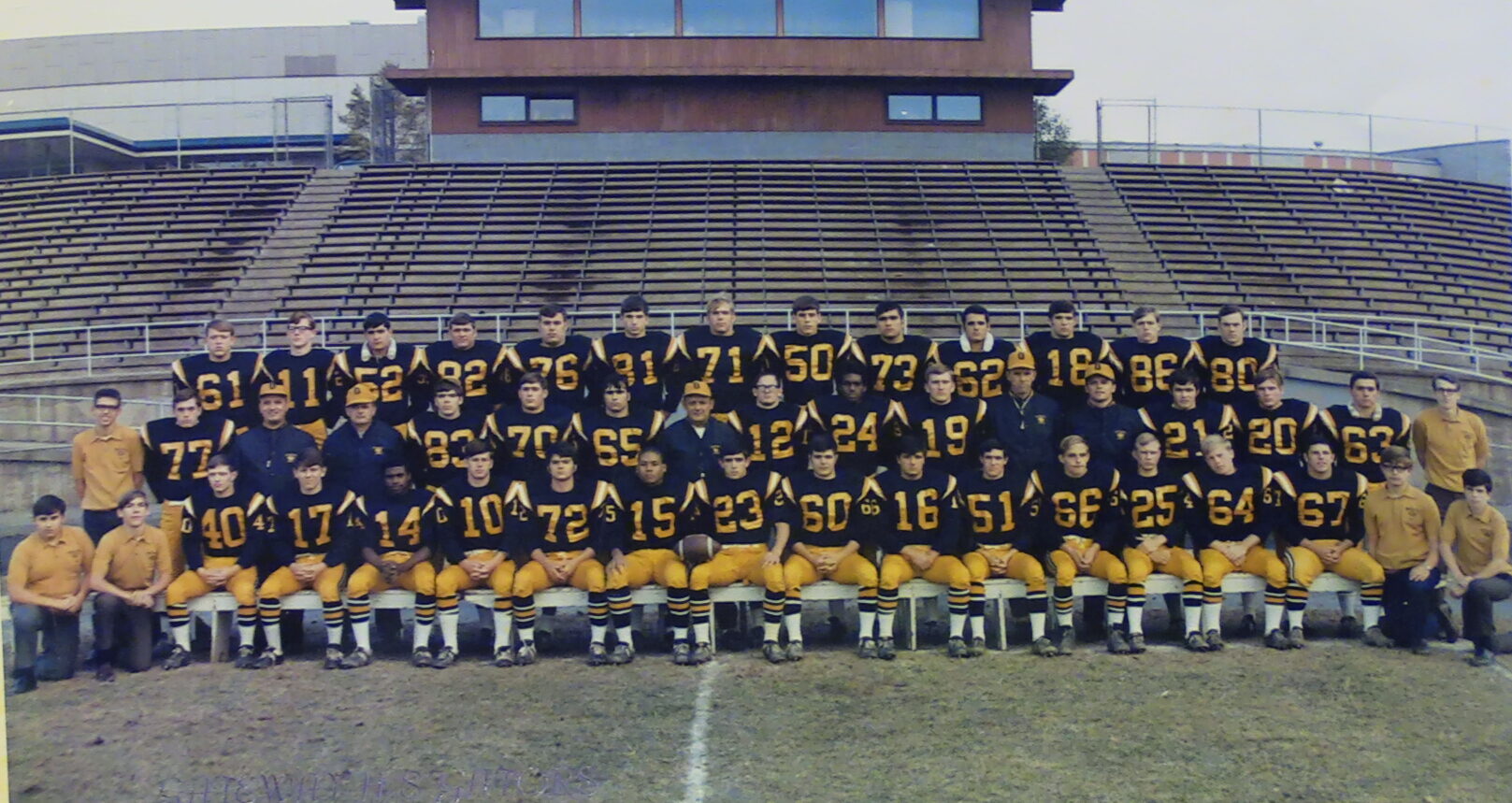 The 1969 W.P.I.A.L. Championship football team elevated Gateway Senior High School football to a new level of excellence. This team established the Gateway Championship winning tradition through its work ethic and its hard hitting efforts.
As early as junior high, there was talk of future greatness for the athletes that would make up the core of the 1969 team. Many of the players received individual recognition for outstanding play that year. This championship team may have been the best team ever to don the black and gold. Gateway has had so many champions and excellent football teams through the years that the debate will continue.

This author always chose the 1972 team as a sentimental favorite. However, after researching the 1969 team, it became apparant that the 1969 team had better individual performers at key positions than any other team at Gateway, past or present.
Coaching was always the key to the success at Gateway. Football is an emotional game and at the high school level, Coach Antimarino always knew how to handle young athletes' emotions. The 1969 coaching staff included: Coach Antimarino, Coach Klipa, Coach Betts, Coach Moody and Coach Hanley. These men made a difference in every life they came in contact with on or off the field. Their former players have nothing but the utmost respect for each and every one of them. Coaches Antimarino, Klipa, Betts and Moody are now retired and living locally. And, our own Coach Hanley, is currently the executive director of the W.P.I.A.L.
(Some of the text was taken from 30 year old press clippings)
Gateway High's classy football team really pulled no surprise in the recent W.P.l.A.L.-Class AA championship finale. Coach Walter Antimarino was right about the whole situation. The talk that Gateway was just another team from a weak league such as the West Penn Conference certainly stirred the emotions of the Gateway coach as well as the players, and certainly served in putting more drive into gridders who believed in themselves.
"The stories printed in the metropolitan and out-of-the city daily papers gave me the material I needed for the pre-game pep talks," admitted Antimarino. "I was sort of sickened about the tales that gave us little chance in the big one with Altoona. I thought all along that the West Penn Conference was no weaker than any other conference in the district. Any conference has its strong contenders and weak teams, and the West Penn matches any other circuit in this respect.. I was certain that Gateway had a great team that could do a job against any rival and the team proved me right. The whole matter should teach some writers some lessons about undermining teams that deserve far more. Gateway didn't gain as much glory as Altoona would have obtained had it won the big game. And, this isn't right."

Coach Pete
We have to agree with Pete in this respect. Gateway was slighted because of the conference it represented and little consideration was given to the overall strength of the club. This happened to be the best club in Gateway history, and the fans who followed the club all year would have to share the same opinion.
Those critics, most of them, didn't even see Gateway play a game. If they had, they would have known they had versatile defensive and offensive heroes. The contingent possessed a fine running attack and a fine guide in Hrenko who had deception and the ability to pass under pressure. You simply don't find backs like Mark and Jack Campbell and Devine every day in the week and the Gator line and defensive backs left little to be desired. Team work was conspicuous in the Gateway effort and the performances reflected fine tutoring by Coach Antimarino and his aides: John Moody, Steve Klipa, Art Betts and Larry Hanley.
CHAMPION GATORS PLACE 5 ON EAST SUBURBAN ALL STARS
Gateway's hard running Mark Campbell and Dave Jagdmann, an end are the players who won places for the second straight season. In 1968 Gateway had four members honored. This year there are five from the W.P.I.A.L. AA champs. Besides Campbell and Jagdmann, Quarterback Rick Hrenko, halfback Mike Devine and John Kuster,
a 200-pound tackle, were named.
The top performer on the all star contingent is Mark Campbell, the brilliant Gateway runner who plunges like a fullback and breaks away like a speedy halfback once he has eluded the forwards on the scrimmage line. He scored 13 touchdowns and ran for 1242 yards in 154 carries from scrimmage, besides being a fine blocker and a linebacker on occasions.
"This fellow Mark has to be the best in the state in my mind," declared his coach, Walter Antimarino. "He won All West Penn Conference honors easily and he should be a good shot for All State and a possible Big 33 berth. He has a pair of good running mates in Mike Devine who goes both ways, and Rick Hrenko, a 165-pound senior quarterback who earned his second straight letter this year. Devine is the complete ball player, gains important yardage in critical moments, catches passes, returns punts and kickoffs, holds the ball for extra point attempts for kicking positions, and plays safety on the defense. Hrenko completed 38 out of 76 passes for 800 yards and nine touchdowns. He also carried the ball 48 times for 221 yards and scored three times.
Antimarino had equal praise for Dave Jagdmann, a three year letter winner, and John Kuster, a 6-1 230 pound tackle who also played on offense and defense.
Jagdmann caught 17 passes for 453 yards and three touchdowns and showed well as return runner on kickoffs and punts. Both Kuster and Jadgmann are West Penn Conference All Star selections.
Honorable Mention:
Jack Campbell, Leerburg, Rovesti, Baklarz, O'Toole and DeLeonibus.
DEVINE HEADS GATORS' GRADUATION LIST
Versatile Mike Devine heads an imposing list of Gateway High senior athletes who made their marks in athletics in the last few years.
Devine, a grid veteran for three straight years, won spots on practically every all star selection after Gateway won the W.P.I.A.L. football crown and was chosen as the Dapper Dan High School Athlete of the Year, the Knights of Columbus' Boy of
the Year and the Outstanding Teenager of America Placque. He also played baseball and basketball and served as class president for three years.
Leaving with Devine are seniors Dave Jadgmam1, an All Pennsylvania State selection in football and a three sport lettennan: John Kuster, a football and baseball and track enthusiast; Randy Rovesti, a star in football, wrestling and baseball and an honor student; Rob Leerburg wrestling and football, Kip Deleonibus, football and baseball
regular; Mike O'Toole, two year football vet who is headed to the U.S. Naval Academy; Dave Berthold, football and swimming star; Rich Hrenko, grid quarterback; Mark Campbell, football and track hero; Mike Baklarz, another Naval Academy prospect
who won recognition in football and wrestling; Percy Ward, grid letter earner and; Jim Mitchell, a plackicker with the grid team.
TWO GATORS ON AP ALL STATE
Dave Jagdmann, the sensational senior and from Gateway High's W.P.I.A.L.-Class AA grid champions and tackle John Kuster, a teammate, have been named to the
first team of the Associated Press All State Football Squad. Jagdmann, who completed his third straight year as a regular on offense and defense against touted Altoona,
was placed on the offensive unit.
The 6-0, 195 pound gridder won recognition as a pass receiver, blocker, defensive back and punt return man. Kuster also was a two-way perforn1er and has won acclaim as a strong tackle throughout his junior and senior tern1s to warrant his spot on the first defensive squad.
Mark Campbell of Gateway won recognition on the honorable mention list.
1969 GATEWAY FOOTBALL RECORD 10-0
| | | | |
| --- | --- | --- | --- |
| Gateway | 27 | Fox Chapel | 15 |
| Gateway | 22 | North Allegheny | 6 |
| Gateway | 34 | Burrell | 6 |
| Gateway | 32 | North Hills | 0 |
| Gateway | 35 | Upper St. Clair | 8 |
| Gateway | 49 | Moon Township | 8 |
| Gateway | 30 | Churchill | 0 |
| Gateway | 36 | Shaler | 16 |
| Gateway | 33 | East Allegheny | 13 |
| Gateway | 22 | Altoona | 15 |
1969 Co-Captains
Mike Devine Dave Jadgmann
1969 WPIAL CHAMPIONSHIP FOOTBALL TEAM