Beloved And Respected Coach And Teacher
1918-2008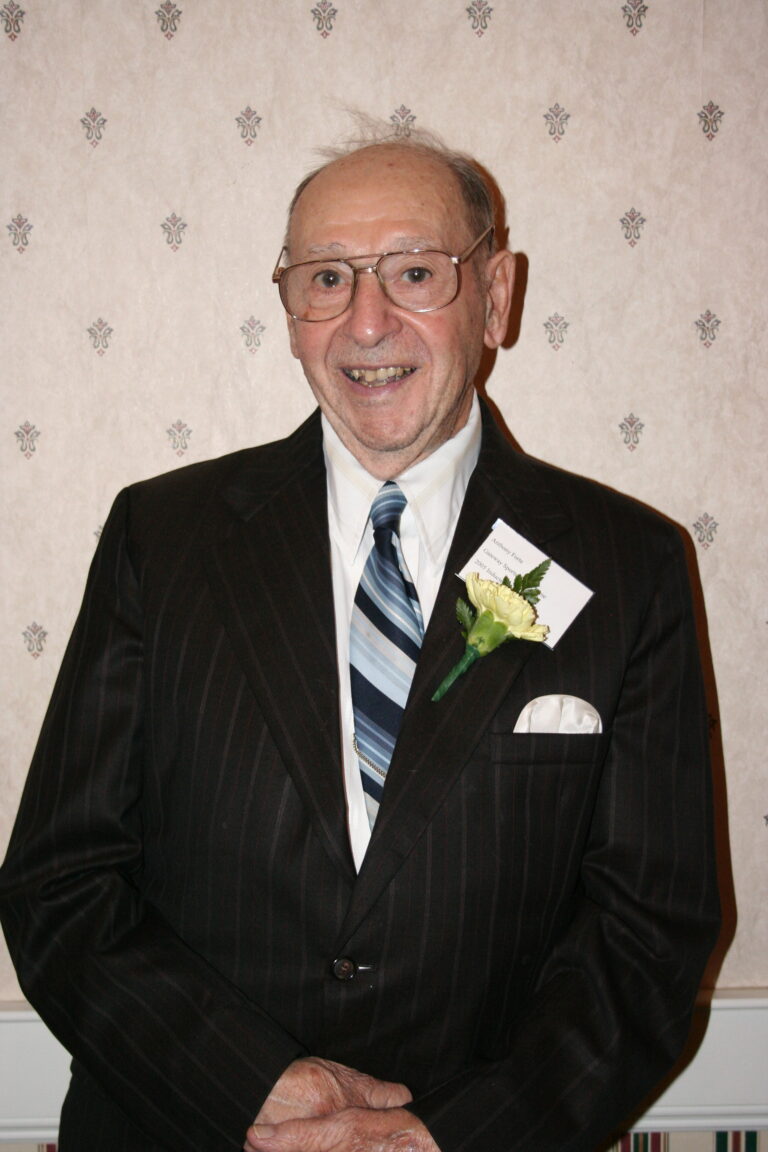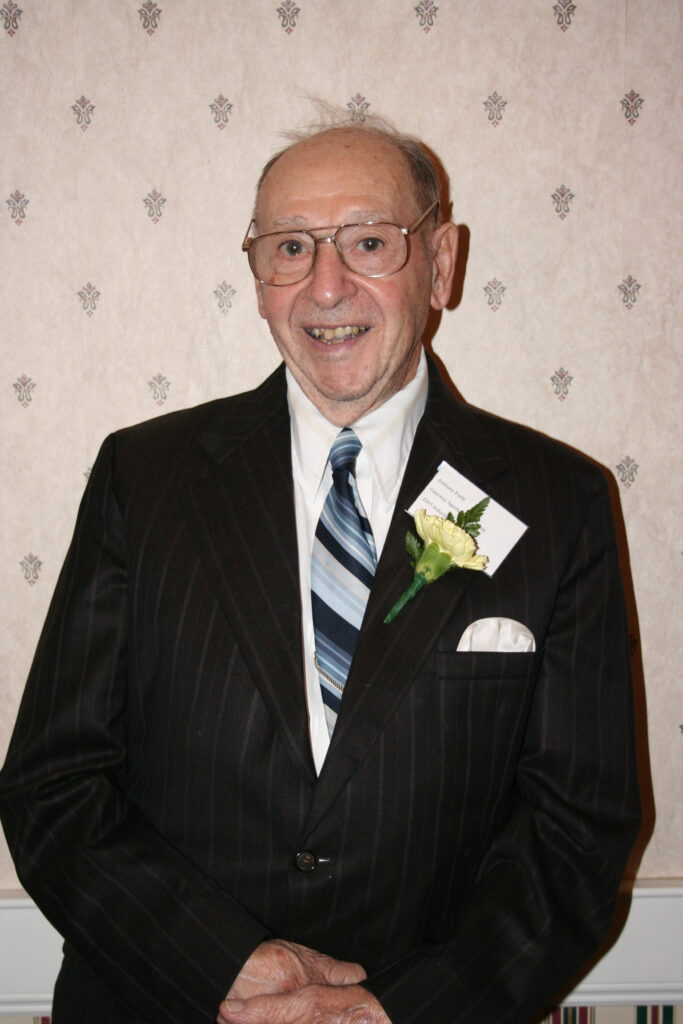 Anthony "Tony" Forte filled many roles in his thirty-nine years of being associated with both students and colleagues. He has worn the hat of teacher, motivator, counselor, coach, mentor and, most assuredly, friend during his long and distinguished career.
Tony was a three sport star at Verona High School which is now a part of the Riverview School District. He was a tackle on the football team, a guard on the basketball team and a member of the relay teams on the track squad.
After graduating from Verona, Tony went on to Slippery Rock State Teachers College (now Slippery Rock University of Pennsylvania). During his four years there, he was an integral part of the school's soccer team. Soccer was only one important aspect of Tony's life at "The Rock". It was during this time that Tony met a young lady who was a physical education major and would later become his wife. Upon graduation, in addition to his degree in physical education, Tony was certified to teach general science and biology. He later would go on to earn a Masters Degree from the University of Pittsburgh.
Coach Forte was such a long time figure in the Monroeville and Gateway Schools that many people do not know that he actually began his career in the South Fayette School District in 1942. World War II brought about an interruption to his teaching and coaching careers. He was drafted into the United States Army and trained as a medic. He was assigned to a Field Artillery unit and sent to Germany where this unit participated in the Battle of the Bulge. It was at this time that Tony experienced one of most unforgettable moments of his life. He had been assigned to take a fellow soldier to a field hospital for an appendectomy. When he returned, he found that his entire unit had been killed.
In 1946, Tony returned to his chosen profession of teaching. He accepted a position at Patton Township Junior High School, the forerunner of Monroeville Junior High School, and the Tony Forte legacy began. Tony was a physical education instructor and became the school's basketball coach. In those days there were no buses and most parents did not have the means to pick-up their children after school or practice. So Tony could be found, on many dark and cold nights, taking his players home from basketball practice. There was no salary attached to this position of basketball coach or the assistant, which he was able to get after a few years. After several years of "volunteering", Tony and his assistant were given a salary. His first coaching "contract" paid him the sum of $ 50.00 per season. His assistant that year, and for many years to follow, Bob O'Leary, received $ 25.00.
As Patton Township began to grow and eventually become the Municipality of Monroeville, the need for a new and larger junior high school became evident. In 1954, Tony moved to the newly constructed Monroeville Junior High School, now the Gateway Middle School, to continue as a physical education teacher and coach. He also added the track team to his coaching duties. It was at Monroeville Junior High School that Tony's philosophy of helping every student achieve some level of success in the various physical education activities really took hold. It was his belief that it was his responsibility to help students enjoy their time with him as well as help them develop self-respect for their own abilities as well as those of their classmates. He was, to say the least, quite successful with his efforts.
Throughout his years at Monroeville Junior High School, Tony was one of the most highly respected individuals in the realm of junior high school athletics.
This respect was well earned and came from his players, their parents, fellow educators and opposing coaches. Throughout the 1960's and into the 1970's the very prestigious Junior Valley League grew into one of the largest and most successful athletic associations on Western Pennsylvania devoted solely to competition for junior high school athletes. Tony's basketball and track teams attained high levels of success in this league.
His basketball teams had many winning seasons and his 1967-1968 team finished the season undefeated posting a record of 16 Wins and 0 Losses. Tony's teams appeared in several Junior Valley League championship games, winning three of them. One of the victories and three losses came against South Junior High, Monroeville's "sister" school in the Gateway District. Three of the teams from South were coached by Bob Holden, another member of the Gateway Sports Hall of Fame. The championship games played against South were held at Gateway High School and afforded the students from both schools the opportunity to experience the excitement of such an event. Tony's other championships came by defeating teams from Linton Junior High School in the Penn Hills School District. Many of the players who were coached by him at Monroeville Junior High became highly recognizable names in the history of Gateway athletics. Individuals such as Gateway Hall of Famers Dick Adipotti, Mike Devine, John Gay, Cliff Parsons and Harvey Smith benefited greatly from their time with Coach Forte as did other student athletes such as Lyndon Bird, Russell Bruce, Bill Devine, Scott Holden, Jeff Kalkstein, Paul Krusey, Bob Matsey, Bernie and Mike Matthews and Greg Munson. During his years of coaching basketball, Tony accumulated over 300 victories. This is indeed a tribute to his desire and ability to get young athletes to make efforts necessary in order to be successful. But to him, success was not determined by just wins or championships. It was determined by how much he could get his players and students to grow as individuals and continue to make positive contributions to whatever situations or circumstances in which they may find themselves.
The track teams at Monroeville Junior High School were also highly competitive and successful during Tony's career as their coach. His teams won numerous championships at the annual Junior Valley League team meet that was the culmination of every track season. Many of Tony's track athletes went on to achieve high levels of success at Gateway High School and beyond as they continued their participation.
While coaching took great amounts of time from his day, Tony never permitted it to take away from what he saw as his primary goal as a teacher. He was dedicated to developing and implementing a physical education program for students that would provide an enjoyable experience for them while at the same time allow them to develop skills that would reinforce the idea that "when you try your best – you can succeed". A highlight of his physical education programs, for several years, was an annual gymnastics show in which many students were given the opportunity to demonstrate skills learned and reinforced during the school year. Individuals familiar with these shows still talk about the "Men in Silver" segment of the evening. It was an outstanding example of what young people can do with the proper motivation, guidance and instruction and demonstrated the pride they will take in a job well done.
Tony retired in 1981. Over the years as a teacher, coach and, for several years, the director of the summer recreation programs in Monroeville and Pitcairn, he had a positive impact on thousands of young people. Many of Tony's memories from his career at Gateway involve students and athletes with whom he was able to build lasting friendships. But he is also quick to point to many people who helped him achieve his successes. He will always be grateful for the encouragement and assistance he received from men such as Bob O'Leary, Ray Middlekauf, Joe Zaccari, Dave Washburn and Al Walthour.
Sports have long been an integral part of Tony's life. In fact, he still lives on ATHLETIC STREET across from CRIBBS FIELD, the home of sports in Verona. Tony and his wife Flo, that girl from Slippery Rock, will celebrate their 63rd wedding anniversary on December 30, 2005. Their son John and his wife Phyliss, a kindergarten teacher in Gateway, reside in Monroeville.