Beloved, Respected Coach & Teacher
Feb. 15, 1925 – October 21, 1962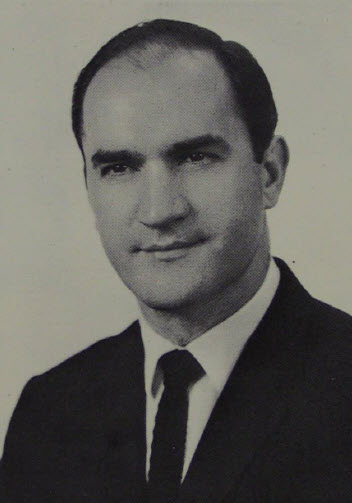 On behalf of the Galagaza family, we are truly honored to be here today to recognize a miraculous husband, father, friend and coach.
Mr. John Galagaza was the youngest of ten boys; a first generation Serbian American. He watched his father and older brother's work very hard at the Pitcairn Railroad Yard, Edgar Thompson Works and the Westinghouse Airbrake. John knew it was expected that he would follow in their footsteps. His passion for athletics lead to an outstanding high school sports career. He was also as a standout in a number of sandlot, community and industrial sports leagues throughout the region. John was determined and driven to further his education and be the first person in his family to graduate from college. With the help of his high school coach and the registrar at Geneva College, John was enrolled to begin classes in the fall of 1948. His athletic performance as a defensive end in football and power forward in basketball landed him at Geneva where he would fulfill his educational goals. John took his course work and sports obligations very seriously; moreover, he was a role model for many of his teammates. He was able to graduate in three years all while being married, a father and attending Geneva full time.
After graduation John began his teaching and coaching career at Pitcairn High School in 1951, was named head basketball coach in 1953 and continued his coaching career at Gateway until his passing in 1962.
As a teacher and coach John stressed the importance of hard work in the classroom as well as athletics. He strongly believed that commitment and a strong work ethic would lead to success in the lives of his students. He instilled in his players the importance of doing well in the classroom and pushed them to pursue a higher education and athletics at the college level. John became ill and after a battle with cancer passed away at the very young age of 37. In honor of his commitment to education, his Gateway colleagues created the John Galagaza Memorial Scholarship. This GEA scholarship is awarded to deserving seniors each spring prior to graduation.
In 2004, John was recognized as Geneva College Top 100 Greatest Players 1890-1949.
Again, on behalf of the Galagaza family, we are truly thankful and honored to accept the induction of a truly remarkable man into the Gateway Sports Hall of Fame.