Gateway Class of 2004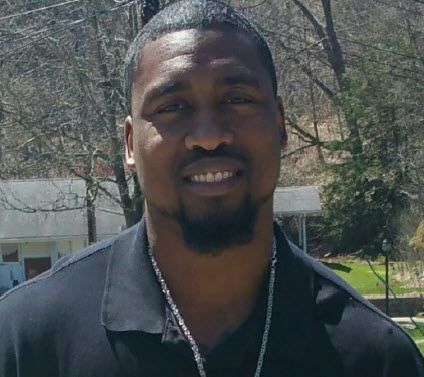 To say that Mortty Ivy is one of the most prolific and recognized Gateway High School athletes is, to say the least, quite an understatement. His name is synonymous with the successes of Gateway football in the early 2000's.
Athletic from an early age, Mortty Ivy kicked off his football career with the Monroeville Gateway Midget Program when he was just six years old. After he laced up his cleats and threw his first football down the field, Mortty's coaches immediately recognized his skill and love for the game. He was positioned at running back, where he was referred to as "Money", by his Dad. Mortty continued to play football through the Termite, Mite and Midget levels, where he received his letterman jacket. Although obviously small in frame and height, opposing coaches challenged his weight hoping to keep him off the field. He helped win the 1997 Mite Championship game against our rival Penn Trafford. His interest and participation in football continued to grow. His father, Mortty Sr., commends Coach Barry and Coach Sattler recognizing Mortty's dedication and natural talent and for helping him progress to the next level.
During his four years at Gateway, Mortty continued to develop his talents and matured into a tremendous football player as well as an outstanding young man and role model. During this time, he also threw the javelin for the Gateway track team and was a three year basketball letterman. Mortty was a notable participant in the school's "Stand By Me" mentoring program. He also had time to be active in the choir and youth group at the Christian Chapel AME Church.
While at Gateway, Mortty was a two year varsity starter at quarterback, a two year starter as a defensive back, and also returned punts his Junior year. As a Junior, he had 11 rushing touchdowns, passed for 815 yards and also had 55 tackles. Prior to his Senior year, Mortty was selected as one of 100 players to watch by Student Sports. As a Senior, he amassed 2,004 yards of total offense in 11 games. He completed 65 of 123 passes for 1,476 yards and 19 touchdowns. Incredibly, he threw no interceptions that year. Mortty also had 78 carries for 528 yards and was outstanding as defensive back.
As Mortty grew, he truly became a threat from anywhere on the field, possessing excellent knowledge of the game and superlative field skills. He became very versatile and could play well at any position. Under the coaching and leadership of Head Coach Terry Smith, Quarterbacks Coach John Ruane, and others, Mortty was a big part of Gateway High School football once again becoming a perennial power in the WPIAL.
His efforts helped lead the Gators to two consecutive WPIAL Quad South Championships. As Senior MVP for Coach Terry Smith, he led the Gators to a 9-2 record and the program's second WPIAL Quad South Championship.
Mortty finished his high school career with numerous accolades, which are:
• First team All-State – AP and Pennsylvania Football News
• Two-year Pittsburgh Post Gazette – Fabulous 22
• Pittsburgh Post Gazette – Mid Season Player of the Year
• Tribune Review Player #1 ranking – All Purpose QB/CB
• Tribune Review East – Terrific 25
• Associated Press Quad A All-State First Team DB
• Harrisburg Patriot News – Platinum 33
• WPIAL All Quad A Team – Post Season Award 2003
• Pennsylvania Keystone Club award – Total Passing Yards
• Gateway Quad A Conference Champions – 2003
• Individual Records Awards Honors – 19 Touchdown Passes with no interceptions senior year
• Member of the Who's Who Among American High School Students- Sports Edition 2002/2003
• Gateway High School Senior Superlatives – Most Athletic Class of 2004
• Three-year Basketball Letterman – 2002, 2003, 2004
Mortty received collegiate letters of interest as early as his junior year of high school. He was a sought-after player by many colleges and universities with strong football programs.

Following his football career at Gateway High School, Mortty attended West Virginia University on a Football scholarship. His hard work and dedication to the sport helped him continue to set records while attending WVU.

2004 Freshman: Mortty did not see varsity action, but won the Danny Van Etten Award from the WVU coaches as the scout team player of the year on defense….Scout Team Champion: In preparation for UCF
2005 Redshirt Freshman: He played behind Kevin McLee at Will Linebacker making 44 tackles…Three tackles and a tackle for loss against Wofford…Three tackles in Maryland win…pair of stops in East Carolina victory…four tackles vs…Virginia Tech…five solo stops in win over Louisville…three in the Connecticut win….five tackles at Cincinnati…six tackles in the Pitt wins.
2006 Redshirt Sophomore: Mortty played in 11 games and finished with 26 tackles, including 14 solo stops…one pass breakup…recovery from a 2006 spring knee injury limited his contributions…season high seven tackles against Cincinnati…finished with five tackles against Pitt and three tackles and a pass breakup at UConn. This season became a true season of adversity for Mortty physically, as he healed from a knee injury, but mentally he doubted himself. Now came the moment his father, Reverend Mortty Ivy, stepped into preach his mini-sermon into his son's spirit, one of faith, trust and belief that God does give more than one chance. He planted in his spirit, scripture Philippians 4:13: "I can do all things thru Christ who strengthens me."
2007 Redshirt Junior: Second-leading tackler on the team with 89 tackles including tying with a team high 48 solo stops…posted six sacks, third on the team and one interception…also had 11 tackles for loss, third on the team…tied for the lead in forced fumbles (3) and recovered two fumbles…four double-figure tackle totals, including last three games…honored with the Coach's Contribution Award…Team Champion: East Carolina…Big East Player of Week for the Connecticut game….career high 11 tackles, including 2 sacks, three tackles for loss and a forced fumble against UConn…collected 10 tackles, including 1.5 for a loss against Pitt…10 tackles, including eight solo stops a fumble recovery and a tackle for loss at Rutgers…tallied 10 tackles, a sack and 1.5 tackles for loss against Western Michigan…eight tackles, including a tackle for loss at Maryland…six tackles, a sack, an interception and a forced fumble against East Carolina…six tackles including five solo stops and a forced fumble at USF…five tackles including a sack at Marshall…three assisted tackles, and an assisted tackle for loss, and returned a fumble 25 yards against Mississippi State….three tackles and one pass breakup against Oklahoma in the Fiesta Bowl.
Mortty was moved from weak-side linebacker to the strong-side during the spring of 2008. He made a smooth transition and had an outstanding spring season. He became a two-year starter for the Mountaineers. He was a playmaker with the ability to contribute in many defensive packages and on every special team. The coaching staff counted on him for his leadership.
Mr. Versatility as quoted in the Mountaineer Illustrated dated September 27, 2008. "Call him, "Mr. Versatility". Labeling Mortty Ivy as anything else would be an injustice. A 6-foot 3 inch, 236 pounds, fifth-year Senior linebacker from Monroeville, Pa., Ivy is clearly one of the heart and souls of West Virginia University. Need Ivy to play any one of the three linebacker positions in the 3-3-5 stack alignment? No problem, he can play any of them with ease. Need Ivy to be a leader for a young and inexperienced group of teammates that surround him in the Mountaineers' defensive scheme? No worries, he's got that covered, too.
As quoted by Ivy from this same article.

Adversity reared its ugly head in the spring of 2006, as a knee injury, during a spring game limited his productivity that fall as a then redshirt sophomore. "It made me a better person," I recall. Before the injury, I was the young man flying around and trying to make plays. Now, it's not like I'm cautious because I'm not, but you just appreciate the little things because at any time, something could happen and people take that for granted.

Ivy is one of the most humble people anyone could meet.

"If the next level is not there, the main thing I want to do is open an after-school program, a big one", Ivy says. " I've seen children grow up and be bad people. I want to build an atmosphere where kids can play but will also do their school work; a place for kids to have role models while their parents are still working their day jobs." It's easy to see where his core values come from. Ivy, who was a self-proclaimed "Nice Guy" who is easy to get along with, had them instilled in him at a young age from his father, Mortty, an officer of Pa. State Police and his stepmother, Andrea and his birth mother, Deanna. He is thankful for the way he was raised and the opportunities he's been afforded through their guidance. He gives thanks to God and to Frank and Mary Sattler and his God parents Lowell and Gail Patterson, who helped to lay the foundation in his early life.

So, whether it is anchoring the Mountaineer's defense via any of the linebacker positions, leading an eager group of youngsters in the locker room, preparing for his future or just being a genuinely nice guy, it's easy to see why Mortty Ivy II can be called "Mr. Versatility".

Collegiate Bowl Games:
• 2004/2005 Gator Bowl
• 2005/2006 Sugar Bowl Champions
• 2006/2007 Gator Bowl Champions
• 2007/2008 Fiesta Bowl Champions
• 2008 Meineke Car Care

Mortty Ivy the linebacker, a product of Gateway football and West Virginia University obtained a Bachelor Degree in Multi-Disciplinary Studies and a Minor in Communication Leadership Sports Exercise Psychology.
After graduation from Gateway Senior High School and West Virginia University, he attended a golf outing at Nemacolin Country Club where he met several professional football players. Mortty began to throw the football around with the Pro's and then stated to his Dad, "I can and will play with these guys someday".
In the years since college, he was taken as a free agent by multiple professional teams:
• 2009 Carolina Panthers
• 2010 St. Louis Rams
• 2010 Miami Dolphins
• 2011-2013 Pittsburgh Steelers

In 2011, Ivy got a chance to play for his hometown Steelers. A dream come true. He was signed to their practice squad and then to the active roster in late October. He spent the final half of that season on the 53-man roster, playing mostly special teams. After getting cut by the Steelers the following summer, Ivy played in the Canadian Football League for the Champion Saskatchewan Rough Riders in the 2013-2014 Canadian Grey Cup, the equivalent to the NFL Super Bowl.

Quoted from the Post Gazette.com – July 20, 2017
Ivy might be removed from his professional football career, but he still buckles up that chin strap and pulls on his shoulder pads once a week to play football games! Only now, instead, of playing before 70,000 fans, he plays in front of maybe a hundred in high school venues across Pennsylvania, Ohio, Michigan and Indiana. Mortty once flew on charter flights and stayed in five-star hotels and now he rides in car pools with teammates.

Ivy, 31 years old, plays for the Western Pa. Wildcatz, semi-pro team in the Premiere Amateur Football League. He is the rare former NFL player to toil in the league, but there are some other players who played in football championship subdivision ranks of college football on the roster where, last year, they won the PAFL Championship and Semi-Pro National Championship. So why does Ivy continue to play?

"I love the game," he said, "I love competing. I'm going to play it until I can't play it anymore."

In the afternoon and evenings, Ivy serves as the defensive Coordinator for the Gateway Gators where the current players get a kick out of his summertime hobby. "They all laugh", Ivy said, "they think it's funny for me to even be out there". "The players say that you're too big. It's not even fair. But I love competing. Whenever I get on that field, I want to compete."
Mortty competes for the love of the game.