1962-2021
Gateway Class of 1981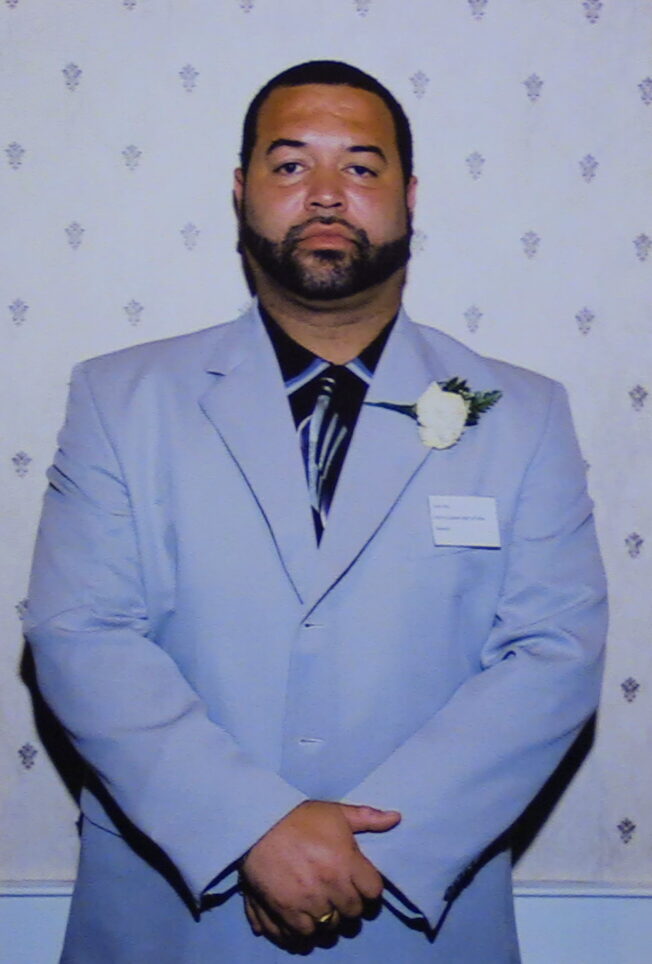 John William Gay III was the greatest running back in the history of Gateway Gator football. He was a talented, strong and dominant player. As he matured, he got even better. His Gateway football and track careers began in back in 1978. He was the first ever sophomore to start at running back for Coach Pete Antimarino. Pete recognized that John had great potential as an underclassman even though he always looked to seniors as his bread and butter players. John's 1978 team finished with a 6-3-1 record. He carried the ball 101 times for 588 yards and 8 touchdowns. In his last two games of that season, he rushed for 165 yards and 2 touchdowns against McKeesport and had 129 yards against Shaler.
That spring, John began his Gateway track career. He ran the 100 yard dash in 10.3 seconds; the 220 in 23.2 seconds and his distance in the long jump was 21 feet 10 inches. He finished 2nd in the long jump at the WPIAL finals which qualified him for the PIAA finals where he finished in the top 10. John Gay had a very impressive sophomore year. His best was yet to come.
In 1979, John's junior year, the Gators finished the regular season as the West Penn Conference Championships. The Gators lost to Penn Hills 3-0 in the Quad A Championship contest. The Gators finished the season with am impressive 11-2 record. John, the running back, continued to impress all that watched him carry the football. During his junior season, he carried the football 186 times, scored 11 touchdowns and rushed for 1019 yards. He also threw for 4 touchdowns on the half back option. He was named 2nd team All West Penn Conference and received honorable mention on the PIAA All State Team.
In the spring of 1980, John's junior year at track, he broke the Gateway High School long jump record with a jump of 23 feet 2 inches. This impressive record still stands today. He set the WPIAL record with a jump of 22 feet 7 inches and finished 1st. He finished 2nd in the PIAA finals with his record jump of 23 feet 2 inches. He ran the 100 in 9.8 seconds and the 220 in 23 seconds. Over a two year period, John Gay proved that, as an athlete, he was second to none.
John's senior football season was off to a poor start because of a Gateway teachers strike. His first two games were cancelled. However, his Gators finished the regular season 8-0, winning the Eastern Conference Championship. The Gators lost in the 2nd round of the playoffs and finished with a 9-1 record. John played in only nine games his senior year. In those nine games, he rushed 211 times, scored 20 touchdowns and rushed for 1349 yards. Twice he was named Press Player of the Week; first against Plum where he rushed for 219 yards and 4 TD's in the 1st half and again against Central Catholic in the snow where he rushed for 202 Yards and 2 TD's. He was and still is the greatest running back of all time. 498 carries – 2,956 yards – 39 TD's – 5.9 yards per carry.
After the conclusion of his senior year, John received numerous awards:
1st Team All Eastern Conference
1st Team Dardanell All Star Team
1st Team All WPIAL Quad A All Stars
1st Team Press 33 Quad A All Stars
Press Finest 44 All Star Team
1st Team Fabulous 22 All Star Team
1st Team All State All Star Team
John played in the All State All Star game in Hershey where he rushed 10 times for 67 yards. John was also named to the Centennial All American Adidas All Star Team. John finished his Gateway Gator football career as the greatest running back in Gateway history.
The 1981 Boys Track Team captured the Section IV-AAA Championship and won two major invitational championship meets. Of course, the team was led by their "Most Valuable Runner", John Gay. In track, at the state meet, John competed in four events including the 100, 200, long jump and the 4 X 100 meter relay. The anchor position was the glory position, however, John volunteered to lead off. The relay team of Gay, Pepper, Dewosky and Haley established a new school record of 43.3, placing 6th. Everyone always stopped to watch the great sprinter from Gateway. John was considered the ultimate team guy by his coaches and fellow teammates. The team always depended on John, he knew it, and, he produced. John Gay was loud, confident and maybe a little cocky, but he always backed up whatever he said.
John was recruited by more than 100 major college football programs. He decided to sign his national letter of intent to the University of Kentucky. He received a full football scholarship to Kentucky. He was the first freshman runningback to start at Kentucky. His freshman year was an injury plagued year. He finished the season with 59 carries for 516 yards and 3 touchdowns. He was the fastest player on the team having been clocked at 4.35 seconds in the 40 yard dash and 10.65 seconds in the 100 meters. He was a letter earner his freshman year.
At the start of his sophomore year, Kentucky hired a new head coach and John transferred to West Virginia University. He was forced to sit out his sophomore season. By his junior year, John was back. His team finished with a record of 8-3 and were invited to play in the Blue Bonnet Bowl in the Houston Astrodome. John missed five games that season due to injury, however, he carried the ball 101 times for 535 yards and 7 touchdowns. John was named WVU rookie of the year. He was named ABC player of the game against Boston College in 1984 and again in 1984, he was named ESPN player of the game against Penn State. Also in 1984, he was honored by the Pittsburgh Dapper Dan Sports Club as the WVU player of the year for 1984.
John was switched to full back his senior year at WVU. At 6 foot 2 inches 235 lbs, John only carried the ball 40 times for 179 yards. He finished his WVU career as a two time varsity letter earner.
John was signed as a free agent by the Pittsburgh Steelers in 1986. Once again, injuries put him on injured reserve and he was waived by the Steelers. He did get a chance to carry the football in pre-season, 8 times; 39 yards. John was picked up by the New England Patriots. A knee injury finished his pro career and dream. It was time to retire.
John still lives in the area with his wife Charlene and their two children, John 3 and Jordon 1. He is currently the general sales manager for the Don Allen Automotive Group Mazda division and used car dealership. John now strives to be a Hall of Fame husband and father.
We asked John to talk to us about his most memorable high school moments:
"So many to choose from. As a sophomore starting the tradition of listening to the Rocky soundtrack before every game in the locker room in total silence; the Wild Bunch defense in 1979 that gave up 3.3 points per game; the dome machine offense which scored many touchdowns to the waving of the black and gold towels in the stands; I think my most vivid memory would be when we beat Penn Hills for the conference championship on Saturday November 1, 1980 at Gateway stadium. The game was originally scheduled for October 31, 1980 but was delayed due to the expected large crowd. As most will remember, in front of the largest crowd ever to watch a football game at Gateway (even extra bleachers and fences were brought in), we were ranked #2 in the WPIAL and #3 in the state, Penn Hills was ranked #1 in the WPIAL and #1 in the state, Penn Hills was on a 21 game win streak (beating us the year before 3-0 in the championship). We were down 7-0 when Coach Antimarino called the flea flicker – Wayne Eremic was our QB – He was to throw the ball to Terry McFetridge – Terry was to then lateral the ball to me. Well, the play worked perfectly and we scored to tie the game at 7-7 right before the half. We came out the second half and scored two more TD's to beat Penn Hills 21-7. I scored all three TD's and it was a great moment in Gateway Football history.

I would like to take this opportunity to thank Coach Antimarino for all of his coaching and confidence and for giving me the opportunity to start as a sophomore. Also coaches Art Betts and Russ Gratton, Coach Steve Klipa, Coach Steve Statnick for teaching me the basics throughout my career. It was always a great honor to go away to college and watch the Gateway Gator tradition continue.

I would like to thank some of the great athletes that I was able to play with during my career. Players like Harvey Smith, Terry McFetridge, the late Tres McGlaughlin, Milt Johnson, Bob Buczkowski, Nick Travisano, Pete Travisano and Mike Lysic and all of the rest of the players that I played with.

And while most of the games were very hard hitting – the most fierce games were always played on Firethorn Drive in Garden City, where myself, my brother Nate, Harvey and Terry Smith, Vern Howard, Jerry Lee, Curtis Bray and Lyndon Byrd played every time we got a chance. This is where we sharpened our skills as athletes. In fact, our street was honored (my junior year in college and Terry Smith's Senior year at Penn State) for producing 7 major college athletes and 3 division 2 athletes. We all came from the same street. At that time and since then, no other area of Monroeville has ever produced so many great athletes.

I want to finish by thanking everyone associated with the Gateway Sports Hall of Fame voting committees and everyone who helped along the way to this honor. I can truly say that Gateway was the greatest athletic time of my life."

John Gay