Beloved, Respected And Dedicated Coach And Teacher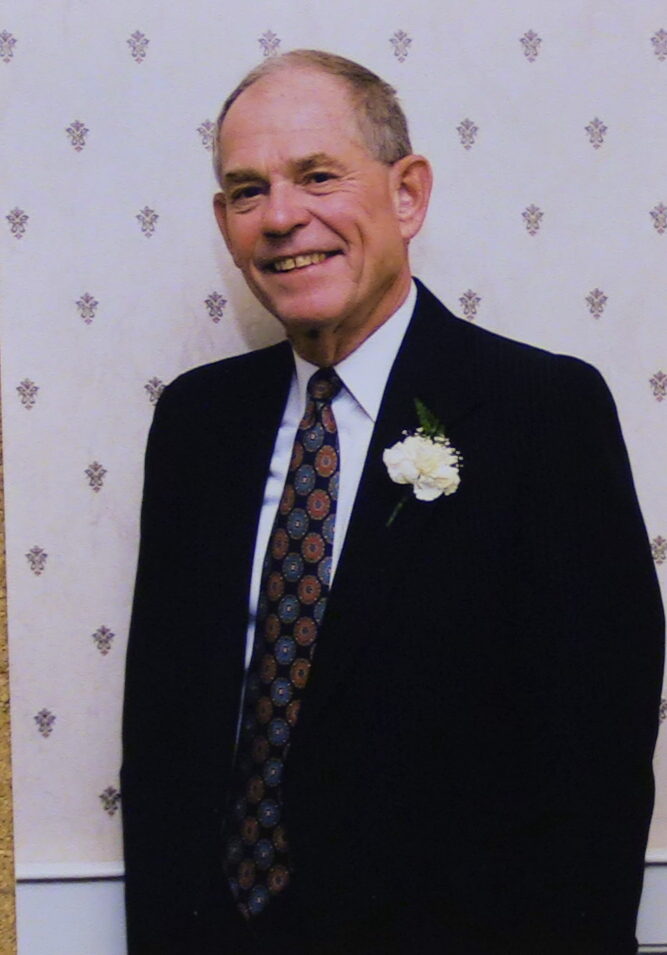 Robert E. Holden touched the lives of many young men throughout his career and those same young men, many of whom are now parents themselves, are grateful to have crossed paths and been associated with Coach Holden. His never quit approach, whether in the classroom or on the basketball court, earned him the love and respect from his students, players and fellow teachers and coaches. He was a motivator that helped develop young men by encouraging them to enjoy basketball and ultimately developed them to play the game of life. The Gateway School District was a better place when Bob Holden worked and participated with students on a daily basis. Like Dick Bane, Bob Holden's accomplishments include not only his coaching successes, but the life successes of those young men that he touched along the way. Bob has coached many of the athletes that have been inducted into the Gateway Sports Hall of Fame and they feel that he was a big part of their careers. The Gateway Sports Hall of Fame is a much richer place with the addition of Coach Bob Holden.
Bob was born August 14, 1935 and was raised in the Westinghouse Air Brake town of Wilmerding, PA. His father was a former Pennsylvania State Trooper who, in the 1930's, came to Wilmerding to become Chief of Police. His father later served as Churchill Borough's Chief of Police. His mother was a nurse who spent many years working at the old Columbia Hospital in Wilkinsburg. Bob had two older sisters and three younger brothers.
Except for school or mealtime, he spent most of his youth either "playing in the alley" or playing at the old Wilmerding YMCA one block away from his home. A swimming pool, basketball court, baseball field, weight room, ping pong and pool tables – even a movie theatre – were all available to the youth of Wilmerding.
Bob attended Westinghouse Memorial High School in Wilmerding, serving as class president for three years and graduating in 1953.
In high school he played varsity baseball and basketball. In baseball, he was the starting third baseman for three years under the legendary WMHS football, basketball and baseball coach Lou Nemec. In basketball, he was elected team captain his senior year and was selected to the Class B Section 16 All-Star team that played a post-season game in McKeesport against the Class A Section 6 representatives. In those days, there were only two WPIAL classifications.
Bob attended Washington and Jefferson College in Washington, PA, where he served as class president for four years. He received a BA degree in History along with his secondary teaching degree in 1957. He later attended Duquesne University where he was awarded his masters degree in Secondary Education and Administration in 1964.
While at W&J, Bob was on the college basketball team for three years and during his freshman year he was on the baseball team. Bob lettered in basketball his senior year.
The highlight (or lowlight) of his college basketball career was during his freshman year when he was given the man-to-man defensive assignment against "Hot Rod" Hundley during a Junior Varsity preliminary game between W&J and West Virginia University. In those days, freshmen were not allowed to play NCAA varsity games. Hundley would score 50 points that night and would go on to an All-American career at WVU as well as NBA fame. It was then that Bob decided he should go into coaching.
Following graduation from W&J, he was commissioned as a Second Lieutenant, Military Intelligence, U.S. Army. He was ordered to report to Fort Sam Houston in San Antonio, Texas in August 1957, a few days after his marriage to Janetta Aloise Blakely.
Bob would later be sent to Fort Meade, Maryland where he was assigned to the 525th Military Intelligence Group and eventually promoted to First Lieutenant. During his time there, he was given temporary duty assignments to the Pentagon while being involved with the gathering of information from Hungarian refugees following the 1956 attempted revolution against their Communist dictatorship. He also had temporary assignment to Germany on courier duty. While stationed at Fort Meade, he played and/or coached on various base basketball and baseball teams.
Following active duty service in August 1959, he was assigned to the Standby Reserves and was actively engaged for the next six years. Promoted to Captain in 1963, he was eventually honorably discharged from the Army in 1965.
He began his Gateway teaching and coaching career in September 1959 as a social studies teacher and basketball coach at Pitcairn Junior High. During the winter of the 1961-1962 school year, construction of the new South Junior High in Monroeville was completed and Bob moved there and continued to teach 7th grade world history and geography. He also introduced and continued to teach for many years a course called Personality and Character Development to 9th grade boys. Back in the early 1970's, this was a class that talked openly about peer issues including sex, drugs and any other teenage issue of the day. Many students were comfortable with Mr. Holden and his approach to the class and it was easy for students to open up and discuss various issues in front of him.
When Bob was transferred to South from Pitcairn, he continued to coach the junior high basketball program along with his long time assistant coach Rege Giles. Later he was joined by assistant coach Joe Filipowski. Bob always attributed much of his junior high success to these two individuals, as well as to Steve Statnick, South's football coach and physical education teacher, and to the late Joe Bunecicky, the school's athletic director.
From the 1959-60 season through the 1973-74 season, Bob's 9th grade teams compiled a 15 year record of 209 wins and 55 losses. This included 9 Section I Championships and 5 League Championships in the 9th Grade Junior Valley League. During a period from 1964 through 1971 his teams won 127 games against only 6 losses. This stretch also included a streak of 50 straight wins.
During the 1974-75 school year, Bob became the head varsity high school coach at Gateway. Ably assisted by Bill Murphy, his high school teams compiled a five year record of 50 wins and 57 losses. His junior high and high school teams were always known for their discipline, hard fought determination, and competitive spirit. These traits were directly related to Coach Holden and his philosophies.
While at the high school, Bob initiated a free summer recreational basketball program for the school district's youth. By opening up the gyms to both elementary and secondary boys and girls, he hoped to encourage and develop an interest in the game by providing this time for individual instruction and team play.
Completing a 20 year coaching career in 1979, his overall record stands at 259 wins and 112 losses for a 70% winning percentage.
Over the years, Bob has been invited to speak at various basketball clinics and camps. He remembers one specifically many years ago at Penn Hall Academy where he shared the speakers table with the legendary Farrell High School Coach Ed McCluskey and spoke on the coaching of fundamentals in a junior high program. He was invited to speak at West Liberty College, on the topic of pressure defenses, by our own Paul Holzshu, one of his former players, who was then the head basketball coach there. He has taught at various basketball summer camps, particularly the one at Bernie Matthew's St. Vincent College.
Most importantly to Bob, however, are not the coaching won-loss records and/or championship teams. As a teacher-motivator he encouraged the enjoyment of the game and the development of young men, not just for basketball, but, for life. First and foremost, he has often said, "I am a teacher."
When Bob, or "Pie" as he is known by his many friends, was asked what were his most vivid memories of Gateway athletics, he responded with three different replies:
"One was in 1965 when the high school played that great Midland team at the Civic Arena in the WPIAL Semi-Final game and then again in the 1971 WPIAL Semi-Final game when the Gators played against Farrell at the Civic Arena. It was quite a rewarding experience to watch some of the former 9th grade players continue to achieve success at the high school level.

The second was the 9th Grade Junior Valley League Championship game in 1967 between South Junior High and Monroeville Junior High. The victory ensured our first undefeated season at South. The hotly contested game was played at the Gateway High School gymnasium and, because of the schools and community interest the game, was even shown on closed-circuit television in the high school auditorium. The local newspaper account of the game reported an estimated 2,000 spectators watched the game.

Finally, my fondest memory was being able to have coached my son, Scott, throughout his high school basketball career, ending in 1979. That, and knowing his mother and two younger sisters, Kelly and Janetta, were in the stands with their support, made it all worthwhile and memorable."

Bob Holden
Following his retirement from the Gateway Middle School in 1993, Bob has now devoted most of his time to what he calls his three "G's" – golf, garden, and grandchildren.
Scott and Penny (Pugliano) Holden have a son, Ryan
Kelly and Jim Lynskey have two daughters, Melissa and Jennifer
Janetta and Tom Earhart have two sons, Holden and Noah
One of Bob's most important, if not the most important, coaching or teaching philosophies was to "never quit on a miss," whether it be in basketball or in life. It made no difference if a player was taking final shots before leaving the gym after practice or whether he was pitching to one of his grandchildren and he or she was taking their last swing. He always preached to make that last shot or hit that last ball. In 1959 at Pitcairn Junior High, he lost the first scholastic game he ever coached. In 1979 at Gateway High School, his team won the last scholastic game he ever coached. Bob didn't want to "quit on a miss."