Beloved And Respected Wrestling Coach And Dedicated Teacher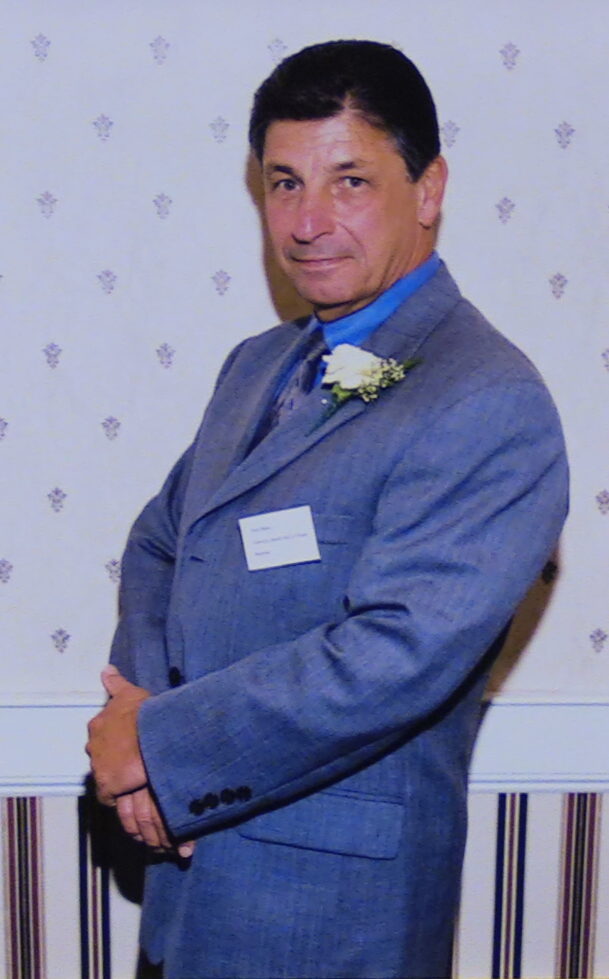 Dick Bane was an integral part of the Gateway School District for 34 years as a teacher, coach and administrator. His 34 year tenure as the boys varsity wrestling coach is unmatched by any other varsity coach in any other varsity sport in Gateway history. One of his greatest career accomplishments was his work with troubled students which included his "Stand By Me" program, a positive peer pressure group program to help students to a healthy life style. He also implemented his "SADD" program, students against drunk driving, a peer tutoring program as well as an elementary school mentoring program. Dick Bane did a superb job and is well respected by students and fellow teachers alike. The Gateway Sports Hall of Fame is proud to have Dick as one of its newest members not only for his athletic and coaching accomplishments, but for his overall positive influence on Gateway High School students.
When Coach Bane started wrestling in 1959, horsehair mats with a plastic cover were still used. Forty four years later a lot has changed, but one thing has not, his love for the sport of wrestling.
Dick Bane was a three year letter earner at perennial wrestling power Trinity High School. From 1963 to 1968, he wrestled for West Liberty State College. During his four years at WLSC, he was a four time Conference Champion, a two time Outstanding Conference Wrestler and an NAIA All American at 123 lbs. in 1966.
1967 and 1968 were great years for Dick. In 1967, he married his high school sweetheart, Lynne Dorchak. Lynne has been his defacto assistant coach for thirty five years. In 1968, he was given his first wrestling job as the Junior High Coach in the Shaler School District. He remembers coming home from his first practice at Shaler and telling Lynne that, " This is what God meant for me to do."
In 1969, Dick inherited the wrestling program at Gateway from Andy Bulazo and was the head coach right up to his recent retirement. Dick and Andy are the only two wrestling coaches that Gateway has ever had in the 44 year history of the high school. His first teams record was 13 Wins – 1 Loss, and , over the next 34 years, he compiled 302 career victories. His wins rank him 10th all time among wrestling coaches in WPIAL history and he also ranks in the top fifty in the PIAA. He has coached more than 49 individual section champions, 13 WPIAL placewinners and 6 All State Wrestlers. His teams regularly finished in the top ten in the WPIAL and his 1985-1986 team finished 10th in the PIAA.
In 1972, Bill Lukitsch was hired as Dick's new assistant. Dick and Luke were to remain together as coaches and best friends for the next thirty years.
When we asked Dick about his favorite coaching memory, he was able to narrow it down to three:
"There were so many great moments over the years. It is very difficult to choose. Certainly, our first trip to States with a wrestler was one, coaching my son Brad, who won 100 matches was another and, of course, the night last February 2003 when I attained my 300th win. I can still name every wrestler on my first Gateway team in 1969-1970. I remember them like it was yesterday."
Recently retired from education, Dick taught social studies at South Jr. High School for eight years and taught Health at Gateway Senior High School for six years. For the last twenty years, Dick has held the position as Student Assistance Co-Ordinator for the Gateway School District. For his work with "at risk" youth in the student assistance program, Dick has been honored by the Western PA Crime Commission as their Educator of the Year. He has also been named as a Community Champion by the Pittsburgh Post Gazette for his work with the Monroeville/Pitcairn Drug and Alcohol Task Force. In 1986, he was nominated for the honor of PA Teacher of the Year.
Dick and Lynne have three children and four grandchildren. Allison is an audio communications specialist who married former Penn Hills football great, Louis Biondi. They reside with their three daughters, Colette, Italia and Athena, in Penn Township. Dr. Michelle Santilli is a clinical psychologist who is in private practice in Oakmont. She, her husband R.J. Santilli, and their daughter, Tea', also reside in Penn Township. Brad holds the rank of Captain in the United States Army and has seen active duty in Thailand, Korea, Kuwait and Afghanistan as part of "Operation Enduring Freedom". He and his wife, Salinah, reside at Fort Drum in Watertown, NY.
In March of 2004, Dick will be deservedly inducted into the Pennsylvania Wrestling Hall of Fame at the PIAA State Wrestling Championships. In 2005, he will be inducted into the WPIAL Wrestling Hall of Fame.
Dick is very proud that his son in law R.J., a two time section wrestling champion for Dick at Gateway, has been named the New Head Wrestling Coach at Gateway High.