Gateway Class of 1973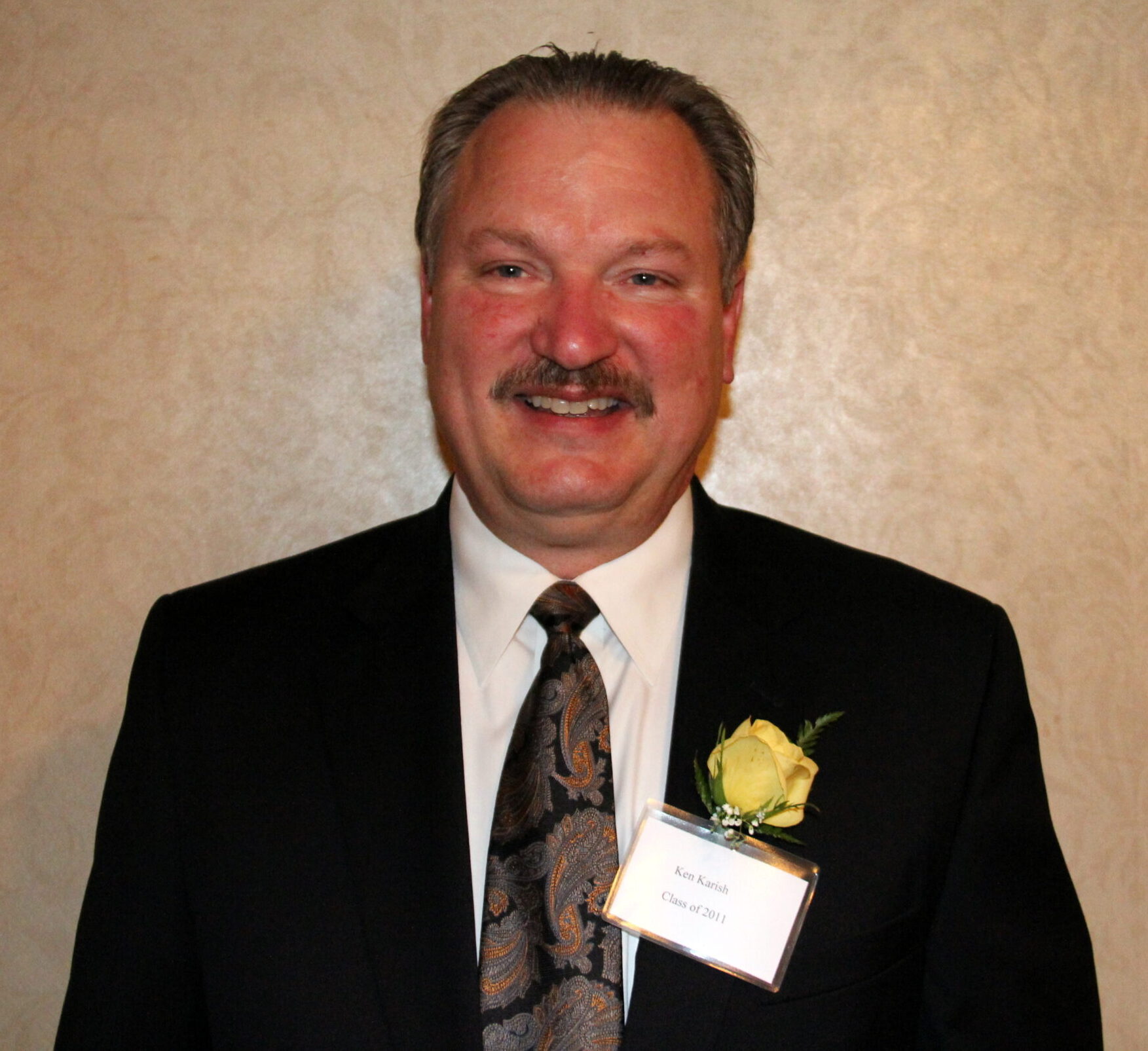 Ken Karish is extremely humbled over the honor bestowed upon him this evening. Ken was a no nonsense do whatever was necessary athlete that participated in four different sports during his days at Gateway. Ken brought a lot of athletic ability coupled with a great competitive spirit and a tremendous will to win. He was determined and had a remarkable attitude. His athletic career included participation in basketball, football, track & field and a brief run at wrestling. Ken was an ultimate team player that led his teammates by his actions, work ethic and example. Ken Karish was a great football player and a huge part of Gateway's success. We welcome Ken Karish to the Gateway Sports Hall of Fame.
If you've ever heard of the Overlook Lounge in Monroeville, then you most likely heard of Ken Karish. Ken's parents, Lou and Rose Marie Karish, have been the proprietors of the establishment since 1959. All walks of life have traveled through their front door including parents, coaches, teachers and friends. If you want to talk sports, or about Hall of Famer Ken Karish, just ask Lou what he thinks. Ken's interest in sports began from the spark that his father created way back when.
Ken started playing football and basketball for the St Coleman Colts in grade school. His summers were filled playing baseball with his life long friend Gateway Hall of Famer Alan Baltrus. In those early years, they competed against two of his future teammates, Gateway Hall of Famer Mark O'Toole and life long friend Jim Stultz. In 1967, Ken entered South Junior High without any athletic aspirations. In his first endeavor into organized junior high athletics, Ken tried out for the cross country team, never running any long distances before, and placed first in his age group at the Baltimore Invitational.
Ken had a simply outstanding and memorable athletic career while a student at South Junior High. He played eighth and ninth grade basketball for Hall of Famers Bob Holden and Rege Giles. Ken played on the eighth and ninth grade Junior Valley League Championship Teams. Ken was a major contributor to his ninth grade undefeated South Tigers. He, along with teammates Mark O'Toole, Mike Houy, and Don Schuetz to name a few, simply outplayed, outmuscled and
outscored each and every opponent. Ken was a great rebounder, inside shooter and tough guy when necessary.
Ken was a two year starter for the South Junior High Tiger Football Team coached by legendary Gateway Hall of Famer Steve Statnick and Gateway Hall of Famer Larry Hanley. Over the two football seasons that Ken was a member of the South Tigers, the team registered nine wins and 1 loss. Again, Team Championship play with Ken Karish as an integral part of all of those wins.
Coach Bob Holden and Coach Steve Statnick describe Ken as the ultimate team player and the proverbial "coach's dream"; self-motivated, determined, well schooled in the game, dependable and very coachable.
At Gateway High School, Ken played junior varsity and varsity basketball his sophomore and junior years forgoing his senior year due to injuries. Again, he played for Gateway Hall of Famers Art Betts and Bill Murphy.
Ken was a three year letter earner in track & field. As a junior, he along with Mark Crump, Art Carr and Rick Porado, finished first in the 1972 WPIAL Championships in the 880 yard relay. Their WPIAL record time still stands as the Gateway School record today.
The 1972 Gateway Gator Championship Football Team finally earned the respect due the Gateway Gator Football Program. Ken Karish was a co-captain, along with Alan Baltrus and Mark O'Toole, and he, once again, was an integral part of maybe Gateway's greatest football team of all time. The Gators ended the regular season with nine wins and no losses including six shut outs. That team was one of the first ever teams to play at Three Rivers Stadium. The Gators defeated Kiski in the semi final round of the WPIAL AA playoffs and earned the right to play the Jeannette Jayhawks the following week at Pitt Stadium for the championship. The Gators soundly defeated the Jayhawks 20-0 as the Gators earned their seventh shut out, third undefeated season, second WPIAL football title and first ever Pa State Football Championship. Ken was one of only two Gators that rarely left the playing field. He was an every down player on a two platoon system. Ken was a leader by example. He understood the Gateway philosophy that his coaches
instilled in him: Respect, Attitude, Togetherness and Tradition. He was the ultimate definition of a Gateway Gator Football Player: tough, smart, athletic, leader, smooth, disciplined, respectful, hard hitting, strong, fast, dominant. His teammates followed him, along with Mark, Alan and close friend Greg Nemec, to the championship. The 1972 Championship Team is nearing its' fortieth anniversary and has many players to thank for their success. Ken Karish is one of those players at the top of that list.
Upon graduation from Gateway Senior High School, Ken accepted a football scholarship to the University of Kentucky where he saw limited playing time over his four years. Ken earned varsity letters at Kentucky and played in the 1976 Peach Bowl at the Atlanta-Fulton County Stadium where the Wildcats defeated the North Carolina Tarheels
21-0 and finished the season ranked eighteenth in the nation. Ken makes his home locally in Plum with his wife Cheryl. Ken and Cheryl have two daughters, Cassy and Kalia. Ken is an avid golfer sporting a single digit handicap.