1934-2020
Respected & Beloved Coach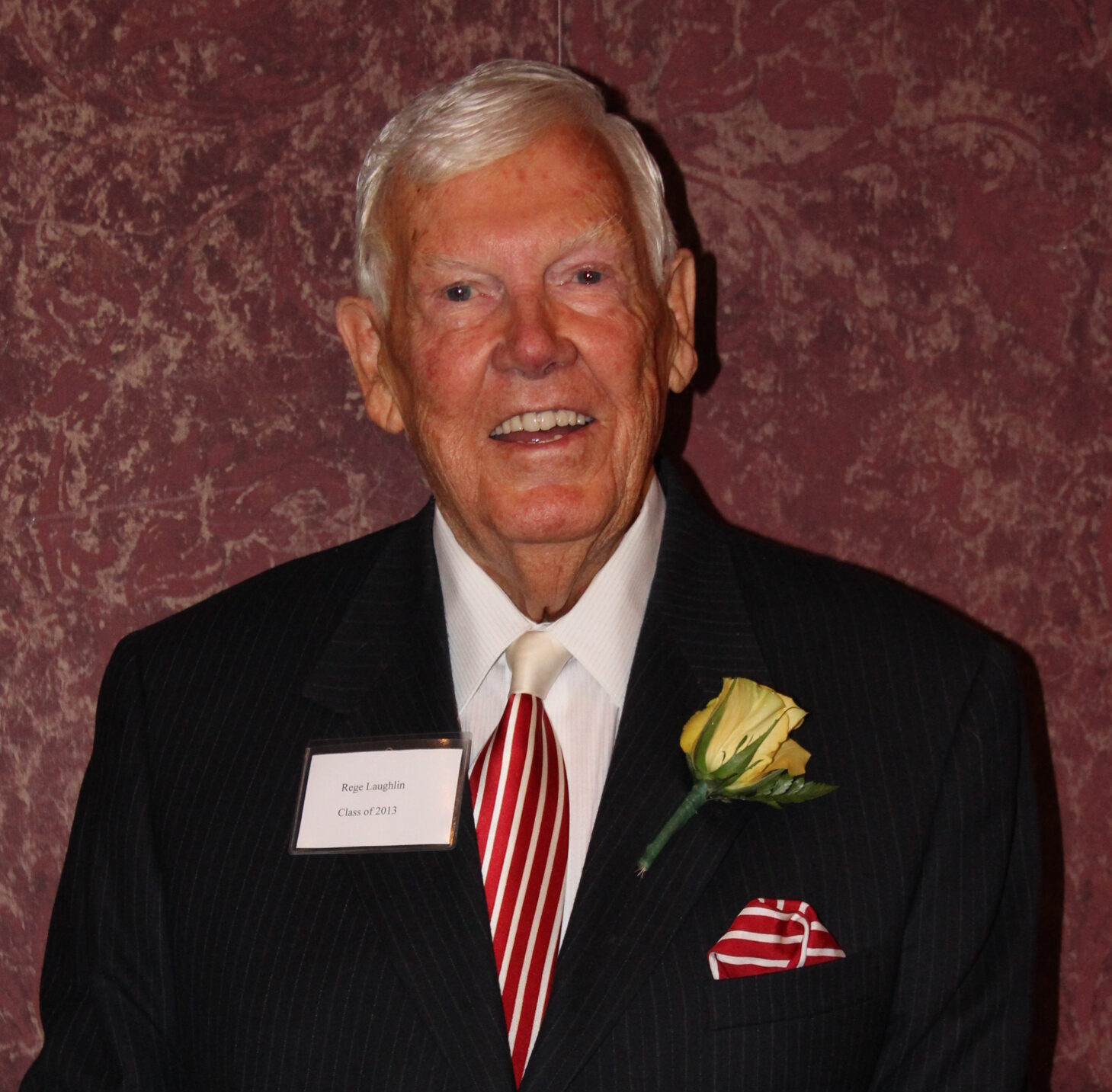 Gateway Head Basketball Coach Rege Laughlin was an integral part in the very beginnings of Gateway Basketball. His Gator teams in the 1960's were competitive, successful and extremely well coached. Under his guidance, the Gator basketball program achieved much success and set the tone for all the future Gator players. His 1964 Boys Varsity Basketball Team was inducted into the Gateway Sports Hall
of Fame in 2004 and the reunion with those players was a special night for Coach Laughlin.
Rege Laughlin is married to Harriet Laughlin. Rege has four children, Leslie, Brett, Sherri and Page and eleven grandchildren. He began his basketball career as a fourth grader in Aliquippa. His family moved to Sewickley where he played for a very successful junior high team. From 1951 to 1953 he played for Ambridge High in Section Three, one of the best sections in the sate. In a period of 12 years teams from this section won 7 state championships. Lettering all three years, he was the captain of the team and one of the leading scorers in the section. Rege was selected to the All WPIAL Section Team. Chosen to play in the annual East Liverpool Ohio Tournament Rege received the trophy for most valuable player.
After graduation he attended Indiana State Teachers College (now Indiana University of Pennsylvania). He became a starter his freshman year and lettered all four years. By his sophomore year he was averaging 18 points a game plus being named honorable mention on the all state teachers college conference. According to the Indiana Penn, a local newspaper, Rege was one of the most outstanding performers in ISTC history. After 56 years he still holds the record for consecutive fouls made, 16 out of 16 and 12 out of 12 in two games. The teams, at this time, were the most successful in Indiana history having played in two small post season tournaments.
After graduating from ISTC, Rege began his coaching and teaching career at Gateway. John Galagaza was the head coach and Rege was his assistant. John Galagaza was a role model and mentor for Rege and the team. Coaching with John was a wonderful experience. The junior high coaches, Tony Forte, Bob Oleary, Bob Holden, Rege Giles and my assistant Bill Murphy, did an excellent job preparing players for varsity ball. Starting in 1963 through 1965 the basketball team was extremely successful, winning two consecutive section titles and playing in the WPIAL playoffs. The 1964 team won 20 straight games, a Gateway record, and were undefeated in section play. The team members who made history were Dick Adipotti, Cliff Parsons, Bob Koester, Larry Mihalchik, Ken Checkman, Bill Wilshire, John Hull, Bob Lang, John Nemec, Rege Ruane, Bill Kelly, Don King and Russ Porter. These players played, practiced with a mission and were unselfish individuals.
The 1965 team had a record of 20 wins and 4 losses. The team won the section and for the second year in a row made the WPIAL playoffs. Several Gateway records were were established by this team. First, Cliff Parsons scored 56 points against Duquesne. All the members of the team kept feeding the ball to Cliff when they knew he was having an exceptional game. Cliff also averaged 30 points a game. The second was a team record set against Franklin when the Gators scored 99 points. The last record was total points in a game against Springdale. Mihalchick scored on two fouls to send the game into overtime and the final score was Gateway 97, Springdale 92. Rege believes these records haven't been surpassed in the last 48 years. Members of this team were Seniors Cliff Parsons, Larry Mihalchik, Bill Kelly, Dick Rivers, Russ Porter, Don King, Bob Lang, Mark Domin, and juniors Russ McKelvy, Ed Rashid, Walt Prugar, John Ruane, and sophomore Paul Holzshu. It was an honor coaching these dedicated, unselfish hard working players. One player, such as Cliff Parsons, can be a crucial ingredient on a team but one player cannot make a team. Each of the previous named players contributed to the successful seasons.
Of course there were many other individuals who made contributions to Gateway basketball. In the early 1960's names such as Dwain Painter, Ernie Chatterton, Chuck Cowell, Bob Steffino, Russ Bruce, Dick Ruane , Tom Holzshu, Walter Gilcrease, Andy Kukic, and Al Felgar were important players in the early days of Gateway. It seems that every year in the 1960's we had a member of the Ruane family Dick, Rege, John plus three King brothers Don, Denny and Dave. Two of our managers, Bazil Zitelli and Ed Malloy also played important parts in all the victories. Both are doctors in the Pittsburgh area. During the late 1960's Paul Holzshu had outstanding games scoring 30 points against a tough Uniontown team and 29 against Hempfield. Rich Porac and Dave Jadgman were outstanding players. Two sophmores, Vince Lamberti and Jeff Shogun dressed for varsity. These four players had record breaking careers at Gateway.
Rege would like to thank the "hall" for this acknowledgement of his outstanding career. His induction into the Gateway Sports Hall of Fame is, indeed, an honor.