Gateway Class of 1996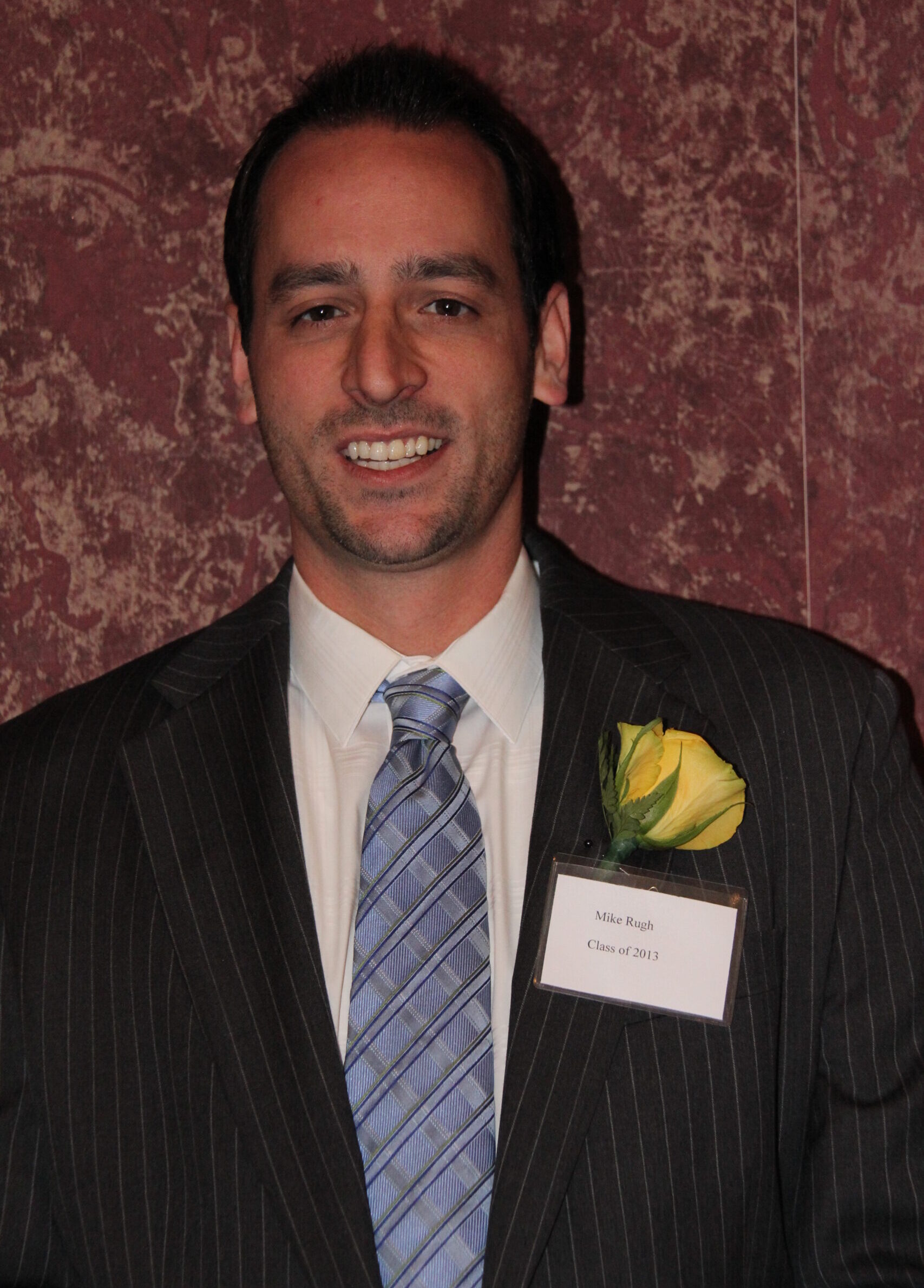 Athletic from an early age, Michael Rugh kicked off his soccer career when he was just five. He was initially attracted to the sport when his older brother Jason began in 1983, and, in true younger-brother fashion, Michael wanted to play too. Michael joined the Monroeville PacMen soccer team as a fullback. He immediately fell in love with the sport, becoming hooked after he laced up his cleats and dribbled his first ball downfield. Even after his first season of playing, Michael's coach recognized his skill and is quoted as saying, "He is our youngest player; only five years old. He will be a star in this league for two more years and will be a great future player."
His interest and participation in soccer continued to grow during his 2nd and 3rd season of play, increasing his skills each year. He scored an unprecedented 48 goals in a single season, including a game-winning, buzzer-beating goal that secured his team the championship for the Monroeville Workers. The championship game was emotional for Michael, as he faced double coverage from the Monroeville Blue Devils. Tied at 1-1, Michael shot a goal wide and his frustration grew. Michael's father, Jack, saw his son's disappoint in the missed shot by the tears in his eyes. Jack yelled, "That's okay! Get it next time!" Michael rallied, scoring the winning goal. At the games conclusion, Michael ran straight for his father, and jumped into his arms with excitement, telling his dad that he scored those goals for him. Michael continued to play organized soccer, leading his team, the Monroeville Sting, with 29 of 33 goals for the season.
By age nine, he was recruited to play for the Monroeville travel team. Noticing his son's dedication and natural talent for the game, Jack began coaching at the local level so that he that could mentor his son and help him break through to the next echelon of play.
Michael continued to play for his dad on various Monroeville travel teams throughout the 1980's, going up against swift players and emerging talent from competing clubs. As he relentlessly worked on his game, Michael continued to push himself and eventually set his sights on landing a spot on the coveted Penns Forest roster. Both highly competitive and extremely selective, Penns Forest Soccer Club, founded in 1986, is a program where advanced players from Western Pennsylvania can train and play together to enhance their development. Michael made the roster his first attempt, joining a team that went on to win all but one game in their rookie season. Michael enjoyed significant on-field achievements during his time with Penns Forest, including four State Championships in 1990, 1992, 1993 and 1994, and the honor of representing his team as captain from his rookie year through his final season with the organization.
Perhaps the most electrifying victory came in 1992 when he scored the winning goal on a penalty kick in double overtime against Connecticut, securing the first place trophy in the United States Youth Soccer Association Region 1 Tournament in Amherst, Massachusetts. Michael was his coach's chosen player for penalty kicks since the age of 11, as Michael never missed a critical kick. At the end of practice once arriving in Amherst, the team's goalie had stopped two of Mike's four shots. After practice ended, Michael refused to leave and stayed at the field with his father, continuing to practice the penalty kicks in preparation for events that could not be predicted. The practice paid off and proved useful in that final game. After the win, Michael's coach is sited as saying, "Michael was the calmest player on the field as he walked up to the penalty spot. How many fourteen year olds would have blasted the ball and hoped?" This was the first time in eight years a PA West team won the tournament, and the first time a Penns Forest team had claimed victory, bringing much-needed media attention to the Western PA soccer program.
For the next five years and until he graduated from Gateway Senior High School, Michael simultaneously played soccer at both Gateway High School and Penns Forest Organization. In his freshman year at Gateway, Michael played on the 9th grade team, scoring 21 goals. From there he went on to become a three-year varsity starter for the Gators, amassing a total of 48 varsity goals and 25 varsity assists, and a record still unbroken of 26 goals in a single season. Michael served as team captain his senior year, and has the honor of being a part of the only team to make it to WPIAL quarterfinals in school history, where he scored three of the team's six playoff goals.
Michael finished his high school career with numerous accolades, including:
1995 Pennsylvania All-State Player
1995 All WPIAL Player
1995 WPSCA All Star Classic Player
1994 & 1995 WPIAL "Finest 15" All Section Team Player
1994 & 1995 Pittsburgh Post-Gazette Soccer All Stars
1995 Tribune Review "Elite 11" Player
1995 Foodland High School Sports "Dynamite Dozen" Player
Receiving collegiate letters of recommendation as early as his junior year of high school, Michael was a sought after player by many academic organizations with strong soccer programs. Both of Michael's Penns Forest coaches, John Mellor and Bob Scott, cited him as, "having the highest standards whether controlling, dribbling, or, passing. He is truly a two-footed player and is a threat from anywhere within 30 yards of the goal", and, "possessing excellent knowledge of the game and superlative ball skills, who is very flexible and can play well at any position."
Following his soccer career at Gateway High School, Michael attended Gannon University on a soccer scholarship and obtained his Bachelor's Degree in Business Administration. His hard work and dedication to the sport continued setting school records such as being ranked 7th in all time school history for points and goals, and 8th in all time school history for assists. He finished 16th in the nation in points per game, 23rd in nation for goals per game and 18th in nation for assists during his senior year. Along with these records, Michael served as team captain his junior and senior year, and was selected as a Great Lakes Intercollegiate Athletic Conference, a Regional All American, and a First Team All Conference player for his 1998-1999 season.
While at Gannon, carrying a full course load, Michael still found time to play cup soccer, representing PA West with the Erie Admirals U-20 program, helping his team win the State Championships, and, Beadling Soccer Club the next year, who conceded to Virginia in the Regional finals. Recognizing the support he received along the way, Michael wanted to give back to the soccer youth in the Erie area, participating as counselor and coach for Family First soccer camps.
In the years since college Michael still participates in a number of soccer leagues, including the Greater Pittsburgh Sports League and Pittsburgh Indoor Sports Arena leagues. When he is not on the field continuing his play, he can be found watching English Premier League and cheering on his favorite team, Manchester United.
Michael has been with Wells Fargo since 2002 and is an accomplished financial sector professional, where he has consistently received awards for top ten finishes in production, customer loyalty and volume.
Michael credits the love and support from his parents, Gerry and Jack, with his ability to dream big and reach his goals and is forever thankful for their sacrifices and encouragement.