Gateway Class of 1982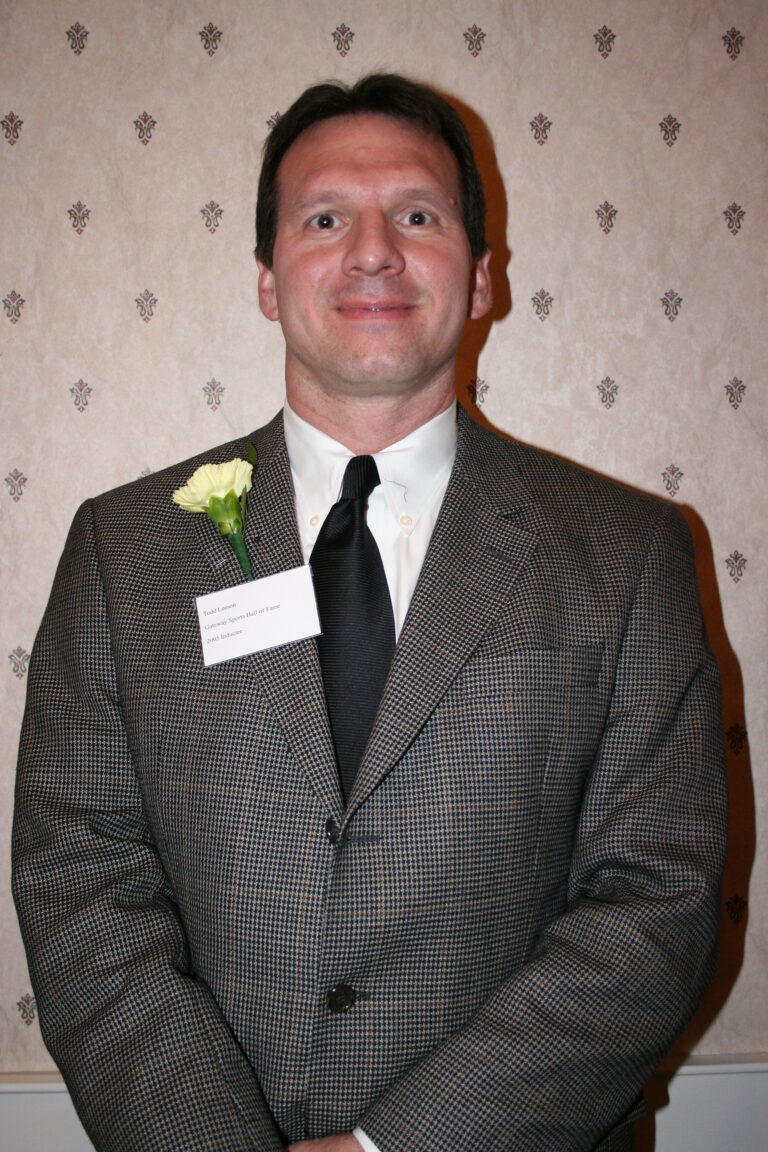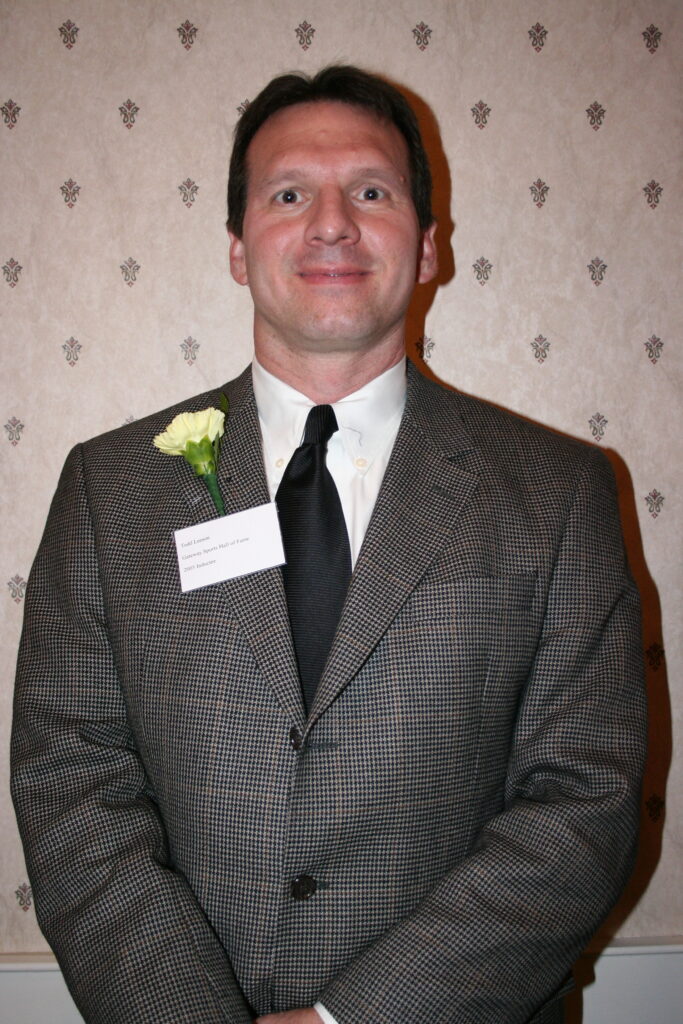 As a three-sport athlete at Gateway, Todd Leeson not only performed at an exceptional level on the football field, in the gymnasium and on the baseball diamond, he always managed to excel as a leader and as a student. His many talents, tremendous focus and competitive spirit have earned him a multitude of accolades throughout his Gateway High School, College of William and Mary and professional careers. A natural athlete and leader, Todd led the way for some outstanding Gateway Athletic teams.
In 1980, Todd, was an All-Conference outside linebacker on another very successful Gator Football team. That year's Gator team finished the regular season undefeated, including a monumental victory over their heated rival, the Penn Hills Indians. Unfortunately, the 1980 team suffered its first loss of the year in the WPIAL semi-finals. Regardless, high expectations had been set for his senior year.
As a senior on the 1981 Gator Football team, Todd earned his first of many honors by being elected Captain of the team along with 2004 Hall of Fame Inductee Harvey Smith. As expected, the Gators rolled through the AAAA Eastern Conference, finishing the regular season with another undefeated conference record. During that season, Todd had become the East Suburbs leading scorer with 68 points – which included 11 touchdowns and a 2 point conversion. Showcasing his remarkable versatility, he also threw a touchdown pass to quarterback Harvey Smith enabling the Gators to defeat a strong Butler team 7-6. He was the punter, a kick returner, and accounted for 6 interceptions as the safety on the defensive side of the ball.
The 1981 Gators finished the season with a 10 – 2 record and were ranked at #7 in the PIAA rankings before losing to Mount Lebanon in another WPIAL semi-final game at Pitt Stadium. The unexpected loss had ended Todd's high school football career, but the post-season honors began to accumulate in recognition of his many contributions to a great Gateway Football team. Among those honors were being named to the Pittsburgh Press "Finest 44" in Western Pennsylvania, the Keystone Classic – Top 100 in the State and 1st Team AAAA Eastern Conference for the second time.
In honor of his true team spirit, Todd made it a point in his Hall of Fame Biography to include the names of the exceptionally talented teammates with which he had the honor to play in 1980 and 1981. His list includes many notable Gateway Football Alumni that continued their careers at the Division I and IAA levels. He goes on to mention Tom Haley (Oklahoma), Harvey Smith (West Virginia), Joel Williams (Notre Dame), John Gay (Kentucky), Tres McLaughlin (Texas El-Paso), Milt Johnson (William & Mary), and Don Miller (Richmond).
Todd continued his football career when he accepted a scholarship to attend the College of William & Mary in Williamsburg, Virginia, who would compete in the newly formed Division I-AA. It didn't take long for his abilities to stand out again. He became a starter at the strong safety position in his sophomore year and went on to earn three letters over the following two years. In 1985, his senior year, Todd was elected Captain of the team and was named Defensive MVP. That team finished with a record of 7-4, with 3 of the losses coming at the hands of Division I-A schools Virginia Tech, Wake Forest and Temple. They narrowly missed the playoffs, but ended the season as the 16th ranked team in the nation in Division I-AA.
His final statistics at William & Mary listed 178 tackles and 2 interceptions to his credit. The "Tribe" teams on which he played finished with an 18-3 record against Division I-AA opponents. Additionally, Todd's William & Mary teams had played 4 games at Virginia Tech, and had faced the likes of Penn State, Wake Forest, East Carolina and North Carolina. When they had traveled to State College to face the Nittany Lions, Penn State was listed at #8 in the nation.
In addition to football, Todd was also an accomplished baseball player. He was a 2 year starter, was named to the All-Conference teams as a first baseman, and, for his senior year, was again named to the role of Team Captain. One of his teammates, second baseman John Dilucente, remembers Todd as, "an excellent athlete that led by example. He was a very likable person and you always knew he was going to give everything he had."
His accomplishments in a third sport, basketball, earned Todd 2 more letters as an athlete at Gateway High School. During his senior year, he averaged 8 points per game on another strong Gator hoops team.
Todd graduated from Gateway with 6 athletic letters and a perfect 4.0 grade point average. To further honor his talents, his 1982 classmates voted him "Most Athletic" and "Most Versatile".
After graduating from the College of William & Mary, Todd attended law school at Notre Dame. He finished law school and again graduated with honors in 1989. He is currently a partner with the law firm of Gentry Locke, which is a full-service law firm based in Roanoke, Virginia. His expertise is in labor and employment law and litigation.
Todd is married to Whitney Monger Leeson, whom he met while attending William & Mary. They have two children, Morgan (age 9) and Jake (age 6). He remains an avid sports fan and follows the Gators at www.gatewaygators.com.
When asked to recall his most vivid memory of Gator Athletics, Todd was very specific. In his own words, he recounts that "monumental victory" over Penn Hills in 1980.
"To appreciate the significance of Gateway's 21 – 7 win over Penn Hills in 1980, we need a short history lesson."
"In the 1970's, Penn Hills was Gateway's biggest rival. However, the 2 schools were not in the same conference. In fact, prior to 1980, they had not met in the regular season since 1968."


"By the late 1970's, Penn Hills had become a dynasty in Western Pennsylvania. (This was before there were any state playoffs.) Penn Hills won the WPIAL AAA Championships in 4 straight years from 1976-79. In 1979, Penn Hills defeated Gateway, 3 – 0, in the WPIAL AAA Championship game that was played in the snow."
"In 1980, it was the first year of the new Quad A. Gateway and Penn Hills were placed in the same conference (Eastern) for the first time. Before the season began, the media was already writing articles about Penn Hills versus Gateway which would be the last regular season game scheduled for Friday, October 31, at Gateway."
"Penn Hills was ranked No. 1 and Gateway No. 2 for the entire season. Heading into the showdown, both teams were undefeated. Penn Hills defeated its 9 opponents by an incredible combined margin of 278 – 29. Under Coach Andy Urbanic, Penn Hills entered the game with a 21 game winning streak and had a combined record of 58-2-1 over the prior 5 years."
"As you can imagine, there was a tremendous build-up throughout the year for the "big game". Penn Hills star Bill Fralic, a future Pitt All-American and All-Pro for the Atlanta Falcons, added fuel to the fire by "talking trash" about Gateway throughout the season."
"The game was originally scheduled for Friday Night, October 31. The game was moved to Saturday, November 1, 1980 in the afternoon. Penn Hills requested that the game be moved to a larger stadium to accommodate the overwhelming ticket requests. Gateway declined. It was the first high school game in the East Suburbs to be televised. Over 7,000 fans attended the sold out game (which included standing room only tickets as well )."
"Gateway scored 2 touchdowns in the 4th quarter and won the game 21 – 7. As I hope you can appreciate, it was a "great win" for Coach Antimarino and the Gators."
"(P.S. Both Gateway and Penn Hills made the playoffs and seemed headed to a rematch in the WPIAL AAAA Championship game. Unexpectedly, both teams lost in the semi-finals.)"
"Todd, you were our bread and butter man who made big plays for the Gators. After a three week layoff due to an ankle injury, you were the star of our playoff game against Connellsville in 1981. I remember you taking a handoff from quarterback Klipa, making a reverse cut, and sprinting 37 yards for a touchdown. That play took the momentum away from the Falcons and we escaped with a 15-6 victory in the first round of the WPIAL playoffs. In the semi-final round, at Pitt Stadium, on November 21, 1981, Mt. Lebanon was leading 14-6 late in the 4th
quarter. You fielded a punt on our 16 yard line and returned it 58 yards before being forced out of bounds. You almost did it. You almost brought us back. After the game, Mt. Lebanon Coach Art Walker said that "Leeson is the quickest fullback in the WPIAL and as good as I've ever seen." Because of your fme play, you were named to the Pittsburgh Press 1981 All Star Team. The fact that you captained your football, baseball and basketball teams is in itself an indication of your leadership abilities. Congratulations on your Hall of Fame Induction."

Pete Antimarino