Gateway Class of 1960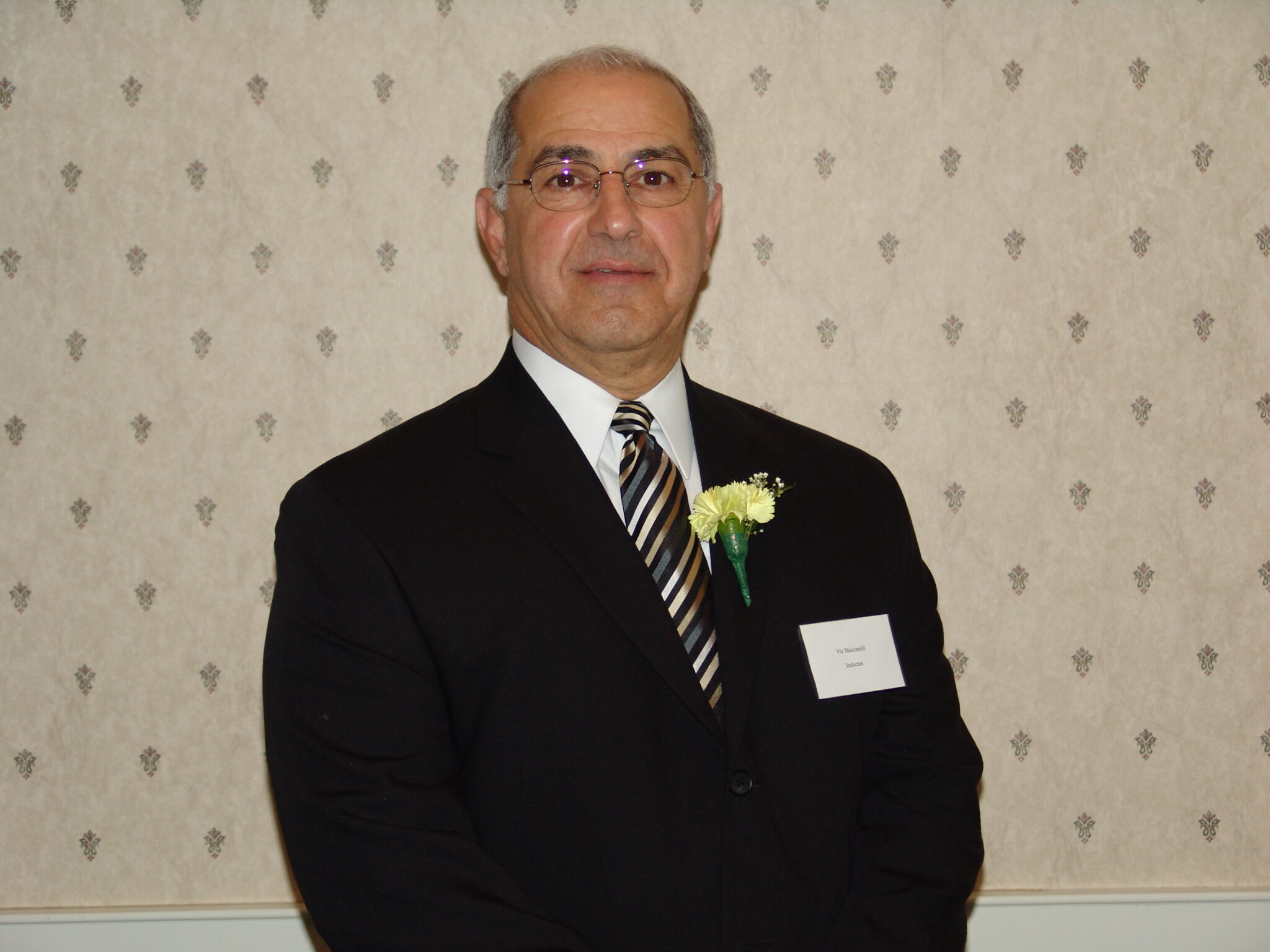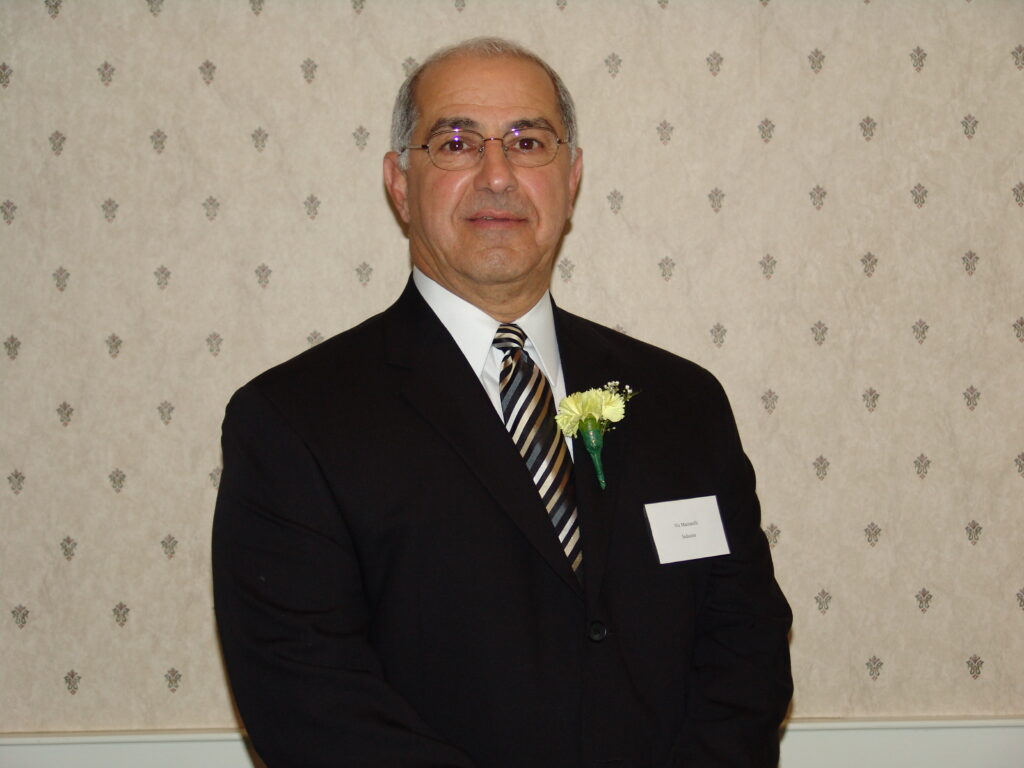 Athletics played a very large part in the life of Vic Maccarelli. Through his participation in sports at various levels, he encountered countless individuals who impacted his life in many ways while learning a great many lessons about what it takes to achieve success both on and off the playing fields. As a player, coach and educator, his commitment to teamwork, discipline and pride always marked his efforts. During a career in education that spanned thirty-five years, Vic worked to instill these traits in both his colleagues and the young people with whom he worked. Twenty-eight of these years were spent in the Gateway School District where he was afforded the opportunity to see, first hand, many members of the Gateway Sports Hall of Fame grow and mature as individuals as well as refine and demonstrate their athletic skills. As a Gateway administrator, it was always his goal to help provide a school environment that enhanced their ability to be successful as students and athletes.
Vic's athletic "career" originated on the playing fields of his hometown of Pitcairn where he began playing little league baseball in 1952. His 1955 All-Star team came within one game, a 1-0 loss to Donora, PA, ofrepresenting this area in the Little League World Series in Williamsport, PA. Similarly, football became a part of Vic's life with the Pitcairn Midgets, and in 1955, his team became Allegheny County Champions by defeating the nationally acclaimed McKeesport Little Tigers in the championship game at Memorial Stadium in McKeesport.
It was while participating in these hometown programs that he gained an understanding of the pride that develops within a community through the success of its athletic teams. He also had the good fortune to be coached by several men who had a very positive impact on his growing interest in athletics. Men such as Clarence (Dee) Painter, George (Dink) Jae and John Mignogna, Jr. served not only as role models but also as inspirations to strive for success in whatever you do.
Varsity athletics became a reality at Pitcairn High School in 1957. It was here that Vic realized that, in order to be successful, each new level of athletics brings greater challenges. Becoming a part of the Pitcairn Railroaders football and baseball teams he had his first player/coach association with a man who would influence his life for many years to come – Walter (Pete) Antimarino.
The following year, 1958, brought about the opening of Gateway High School. As a member of the first football teams at Gateway, he was part of a group of young men who began the proud tradition of Gateway athletics. Earning a varsity letter as a guard and linebacker on the 7-1-1 1958 football team was an accomplishment he will always remember. Moving into the baseball season of 1959, Vic became the starting shortstop on the Gators first squad. Playing on a team with gifted athletes such as Ernie Chadderton, Chuck Cowell and Lee Harkins he helped Gateway launch a program that would become highly respected in high school baseball.
The football season of 1959 brought about some "growing pains" for the Gators. With teams such as Penn Hills, Belmar (now Belle Vernon), and Elizabeth Forward on the schedule for the first time, Gateway was set to begin the climb of playing the larger schools in the W.P.I.A.L. As a starting guard and linebacker on this 5-3-1 team, he was joined by outstanding teammates Bob Steffinino, Nick Loffredo, Dwain Painter, Chuck Boyer and Ed Lobaugh as they continued to forge the identity of Gateway athletics.
The high school baseball season of 1960 offered continued growth and improvement in Gateway's efforts on the field. Vic (along with Ernie Chadderton) was named a co-captain of the Gator team that finished the regular season 8 and 2. During this season Vic led all Gateway hitters with a batting average of .529.
That baseball season marked, for Vic, the beginning of a short hiatus from active participation in athletics. After spending time in the military, however, he enrolled at Indiana State College, now Indiana University of Pennsylvania. As a freshman in 1962, Vic attempted to resume his football "life" and became a starting linebacker and co-acaptainof the undefeated freshman team. He would go on to earn two letters in football and play in the Pennsylvania State College Athletic Association championship game in 1964, a loss to East Stroudsburg State College. The 1963 football season would provide a never-to-be-forgotten experience for Vic. After a very successful regular season the "Big Indians" were scheduled to play Montclair State of New Jersey in the first Boardwalk Bowl in Atlantic City, N.J. However, the game was to be played on the weekend that President John F. Kennedy was assassinated, and despite the fact that both teams held practices in Atlantic City's Convention Hall school administrators and bowl officials met and decided to cancel the game.
At Indiana, Vic once again was made to understand that as you progress to the next level of competition more is required of each individual if the team is to be successful. He learned a great deal at Indiana from the man who encouraged him to "pick-up" where his high school career left off. Coach Chuck Mills would be a man whose influence on Vic would continue through his playing days and into his time as coach, teacher and administrator.
Having the desire to find out ifhe could again compete in baseball, Vic became a member of the highly successful Indiana varsity team. He earned to letters as a third baseman and played on the team that won the NAIA regional championship and reached the finals of the NAIA area championship, losing to the eventual 1964 National Champion – West Liberty State.
After graduating from Indiana in 1966, Vic entered into the initial phase of his teaching/coaching career. He accepted teaching and coaching positions at Trafford High School. He began his instructional duties as a teacher of American and Pennsylvania History. His coaching duties at Trafford involved both football and baseball.
As an assistant on the football staff from 1966 to 1970, his duties ranged from Offensive Line and Linebackers coach to Defensive Coordinator and, finally, Assistant Head Coach. High points of his football coaching experiences were a sixteen game unbeaten streak, an undefeated season, the opportunity to coach a player who was chosen to participate in the Big 33 All-Star game in Hershey, PA and the development of longlasting friendships with many of his players.
As the Head Baseball Coach at Trafford, he succeeded in revitalizing a program that would not only improve but also win a W.P.I.A.L Section Championship in 1969. This was achieved in a section that included East Allegheny, Franklin Regional and the Gateway Gators. This accomplishment meant a great deal to Vic and his players especially since these schools, were, at that time, all much larger than Trafford.
It was in 1973 that Vic returned "home" to Gateway. He served as the Assistant Principal at Monroeville Junior High School until 1983. That year brought about the consolidation of Monroeville and South Junior High Schools into Gateway Junior High School. He was the Assistant Principal in this school until 1992 when he became the Principal. In 1993, Gateway Junior High School became Gateway Middle School, and Vic maintained the principalship of that school until his retirement in 2001.
During his tenure as a coach and educator, Vic touched the lives of thousands of students. In dealings with these students, he always tried to implement the ideas and values of those individuals who had a great influence on him during his athletic experiences. His philosophy that every child should be provided with the best possible opportunities to succeed served him well during the thirty five years he devoted to his students, athletes, and their families. He finds a great deal of satisfaction and pride in the relationships that he has had through the years with those who comprise the "Gateway Community".
Anyone who knows him is quick to note that Vic enjoys great pride in his own family and their successes as well. In 1967 he married Carmie Ferraro, and she provided the support, encouragement, and understanding necessary for him to achieve whatever successes he may have had. Vic and Carmie are the parents of three daughters, Lisa, Marla and Marisa, all of whom are Gateway High School graduates. Lisa, after earning a Ph. D, serves in a faculty position in Yale University's School of Medicine-Department of Psychiatries in New Haven, CT. Marla was teaching English in Forest Lake, Minnesota before she and her husband Sean (Sciara) became proud parents of Ava Corinne and Isabella Grace, twin girls born April 14th of this year. This, of course makes Vic and Cannie the extremely proud grandparents of those two little ladies. Marisa, unlike her two sisters, did not attend the University of Pittsburgh but instead graduated from Penn State University. She is teaching 8th grade in Huntingdon Beach, CA. Vic and Carmie would love to have everyone closer, but it does give them many places to visit.
When asked of his most vivid memories of Gateway High School athletics. Vic spoke of the satisfaction from being a part of the birth of the Gateway athletic program. He has many fond memories of the experiences he was able to share with teammates, who were also good friends, and coaches at a time when Gateway's history was being forged. Vic also mentioned that hitting .529 during the 1960 baseball season remains a highlight of his individual performances at Gateway.
Vic stated "I will never forget the two years I spent at Gateway as a student and an athlete. They were a great start to a very fulfilling period of my life.
Vic, I was very pleased to learn of your induction into the Gateway Sports Hall of Fame. You certainly deserve this honor. You have been such a terrific leader and wonderful role model for so many people over the years. Your success in education and athletics was no doubt in part directly related to your ability to gain the trust and respect of so many people.
The world needs more Vic Maccarellis!
The fact that our lives coincided so much is really amazing to me. We both grew up in Pitcairn and attended Pitcairn Public Schools. As a sophomore, you attended the last class at Pitcairn High School in 1958. Then in your Junior year your moved into the new Gateway High School where you graduated in 1960.
After college, we both returned to our hometown and obtained teaching positions in the Pitcairn & Gateway School District. Later you went from teaching into administration and I continued teaching Phys. Ed. and coaching football. Now that I'm getting old and sentimental I often reflect, as I would bet you do as well, on how lucky we all were to grow up in Pitcairn and to have had such fine parents. We certainly came from great roots. Imagine what the world would look like if every youngster had roots like we did.
Vic, your athletic skills were readily observed on the sandlots of Pitcairn. As a young boy you participated in the midget football and little league baseball programs. A few highlights:
In 1951, the little league baseball team fell one game short of playing in the Little League World Series after a 1-0 loss to Donora. However, your midget football team was declared the Allegheny Champs in 1955 after defeating the McKeesport Little Tigers 13-7. By the time you entered Gateway High School you had developed into a fine high school athlete and were tremendously successful in your Junior and Senior years, gaining the reputation as a hard-football player and a hard-hitting baseball player. You helped Gateway win their first football game by beating North Allegheny 24-7 which led to a 7-1-1 season in that first season. In baseball, you batted .529 to lead your team to an 8-3 season during your senior year in 1960.
Vic, here are a few comments from former coaches and teachers. Coach Klipa, your line coach, said you were a hard worker and an over-achiever. Quote: "If I ever told him something to help him improve as a player, I never had to mention it a second time." Unquote. As principal, he always wanted to provide a good working environment for his teachers and students. I can't remember anyone speaking a bad word about him. Vic, I never had any teacher, coach or teammate say anything other than praise on your behalf. You are one of a few people anyone can say this about. You took these same qualities with you to a rewarding career in education. I'm sure the lesson learned on the athletic field contributed to a great deal to the success you enjoyed as an educator…
Vic, you always took "everything in stride" in fulfilling your duties and responsibilities as a student, athlete, teacher and administrator.
I wish you continued good luck in your retirement and God bless you and your family.
Your friend and coach.
Pete Antimarino.