Gateway Class of 1985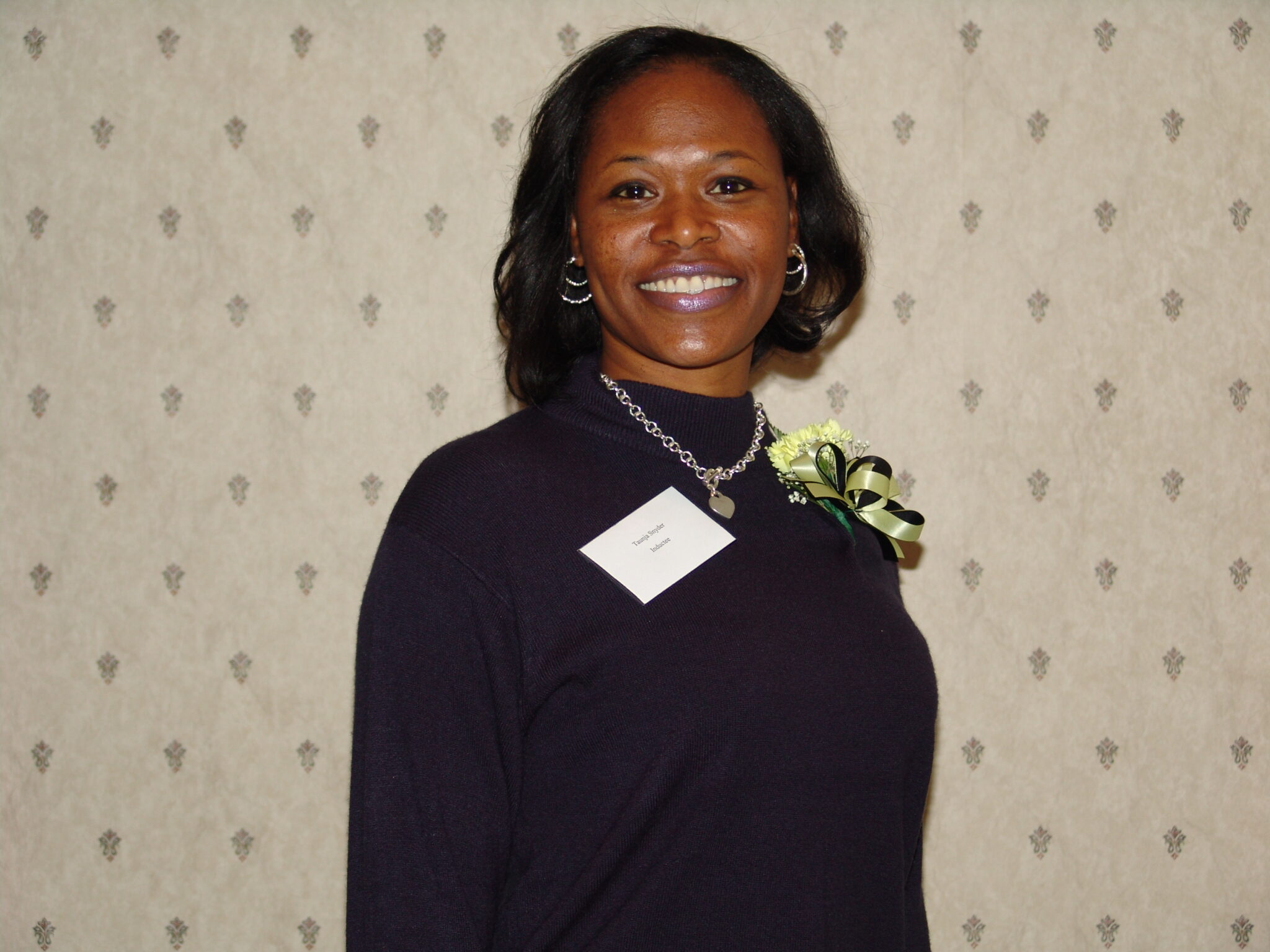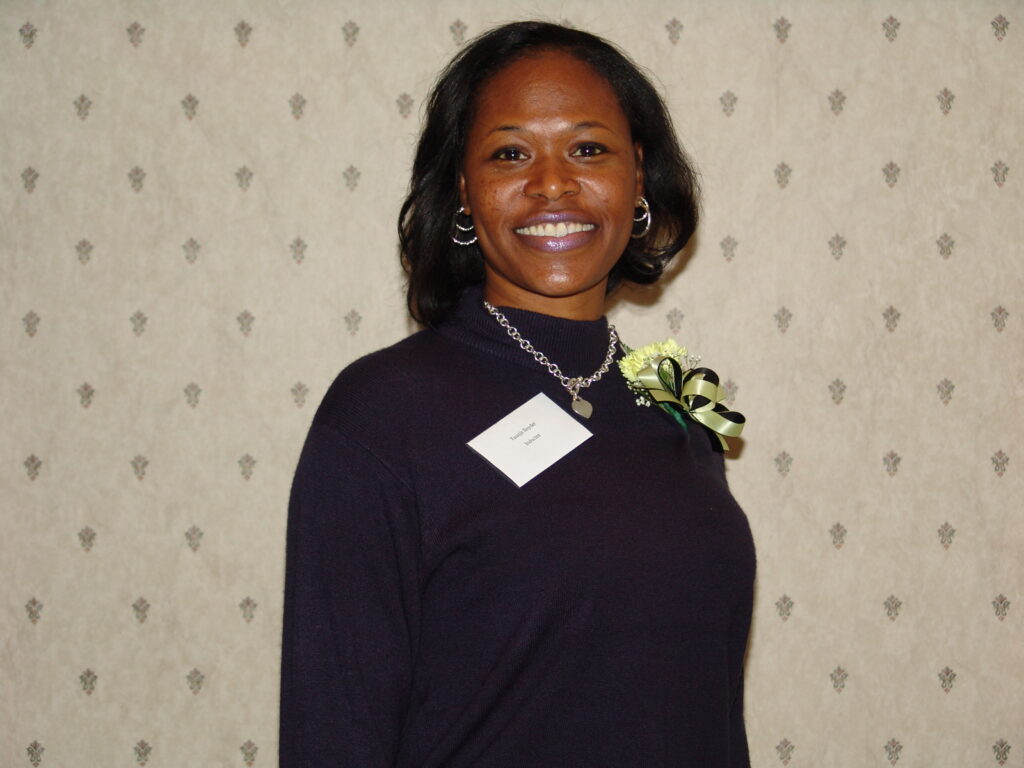 Taunja Snyder was one of an awesome set of student-athlete sisters that participated in the Gateway Girls Track program. She was a talented, hardworking, multi-talented runner/jumper, improving each year and peaking at the right moment. She was a part of Gateway's track program beginning in 1983.
As a sophomore she was off and running from the gate with the finesse of a gazelle. She had an impressive year that culminated with qualifying in four events at the WPIAL Championships and the only sophomore in the program's history to qualify in four events at the PIAA State meet held at Shippensburg University. She was also the only qualifier to make the Pa State qualifying time at the WPIAL Championship meet in the 1 00m with a time of 12:59 seconds. Her other qualifying events were the 200m, long jump and the record-holding 4xl00m relay team along with teammates Stokely, Kelley, and T. Jackson. Highlights of her sophomore year include winning MVP track honors at the Baldwin Invitational; female athlete with the highest number of points. Another highlight at the WPIAL qualifier was competing against Tonja Frazier who won the 100m. Taunja came back and won the 200m running her personal best. The final stage that year was not only the first experience at the state meet, but finishing 9th in the 200m.
Awesome!!
Her junior year proved to be nothing less than spectacular. She continued the workhorse effort and continued achieving personal bests by earning MVP awards at the Mount Lebanon Invitational winning 5 events and earning the highest number of individual points (32-1/2). She placed 1st in the 1 00m, 200m, long jump, and anchored the 4x 1 00m relay team along with sister Andresa. She continued her winning tradition ending the year undefeated in the 200m at WPIALS as well as qualifying in 4 events for the state meet. However, the end of the season hit a sour note when she was charged with a false start in the 100m at the PIAA State Championships.
She picked herself up and continued the competitive spirit finishing the season with personal bests in the high jump at 5'2″, and setting another school record in the 4x 1 00m relay. In the final chapter of her high school athletic career she continued to spread her wings and fly. She set new school records in the 100m; 12.01 seconds, 200m; 24.7 seconds, the long jump; 17′ 11-3/4″. She also won a silver medal at the PIAA State meet. The pinnacle of her high school career, with the 4x100m relay team of Massaro, Scarcelli, A. Snyder, and T. Snyder, was a running a time of 49.7 seconds.
She was also in the high school track honor roll for 3 consecutive years. Although she had many talents and extraordinary experiences in her high school career; she remains humble, kind-spirited, and a team player. Taunja attributes those ethics to having great supportive parents, Mr. and Mrs. Clarence Snyder, and one fabulous sibling and teammate Andresa. Taunja also participated in many other sports and activities throughout high school which helped hone her skills and talents.
Taunja then ventured off on to college. She entertained many offers and finally chose West Virginia University. WVU was a Division 1 four-year institution with a reputation for its academic fortitude. She was a walk-on track athlete her freshman year and earned her scholarship that helped aid in her college finances.
Her college highlights are as follows:
She was a member of the prestigious Orchesis and Mountain Jazz performing dance company.
She was an ECAC qualifier in 5 events both Indoor-Outdoor seasons as well as All ECAC for three years.
She participated in the infamous Penn Relays at Penn University in Philadelphia, PA.
Her personal bests were:
Indoor: 60m- 7.6sec, 300m- 42 sec, long jump- 18'2″, and a member of several record holding relays teams.
Outdoor: 1 00m – 11. 7 sec, 200m – 23 .9 sec, 400m – 54.9 sec, long jump – 18 '5″, and a member of several record holding relay teams.
Her journey through life continues. She returned to her roots in Pittsburgh to attend graduate school at Duquesne University. Taunja was in pursuit of her masters degree in Education. She also wanted to coach at her high school alma mater; Gateway. It was during this tenure that she rejuvenated her thirst for competition and the education of our young people. She began teaching in Prince Georges County, MD. She has been teaching in the county's public school systems for twelve years. Taunja has taught grades K-8 in all disciplines and coached a high school girl's track team. She also participated on an Olympic developmental track team. Most recently Taunja has been recognized as a Sam's Club Teacher of the Year and was awarded a proclamation by Prince George's County. She currently resides in Bowie, MD and is still committed to the education of our young people. She also mentors new teachers and participates in a liturgical dance group. She stays involved with her community. Taunja would like to leave a legacy behind that her parents jump started in her many years ago, and that is "You reap what you sow, and that you are Gods children and he as a plan for you."
Taunja Snyder's dedication to her sport had not gone unnoticed. Her many years of hard work has brought her here, at this time, to the Gateway Sports Hall of Fame and we are very proud of her accomplishments. Her early induction to the hall indicates how extraordinary an athlete she was during her high school years at Gateway.