Gateway Class of 1973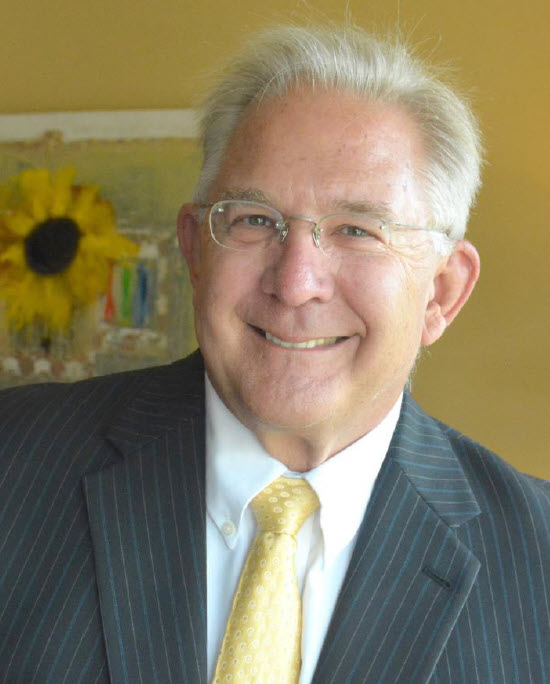 Gregg T. Nemec was born, raised, and continues to live in Turnpike Gardens, Monroeville, Pennsylvania. When he was growing up, Turnpike Gardens was an affordable housing development that attracted many young families. There was always someone to play with, making it the perfect place for Gregg and his two brothers, Mark and Eric, to grow up.
There was always something for the children of Turnpike Gardens to do to keep them busy. They could be found exploring the woods, playing by the creeks, gathering at the ball fields, and attending the summer recreation program at Northern Pike Elementary. Gregg first honed his athletic skills playing hopscotch, four square, dodge ball, and shuffleboard. He spent a good deal of time at the Burks Glen swimming pool and many Saturday nights at the dances held at Northern Pike Elementary School. As he got older, Gregg joined as many organized activities as his schedule allowed. In addition to classical piano lessons, Gregg participated in little league baseball, youth football, recreational basketball (Holy Cross Crusaders), and judo at the Penn Hills YMCA. It should be noted that during young Gregg's tenure, the Monroeville Little Gators were undefeated and as a result were able to travel to Miami Florida to play the Miami Grey Ghosts.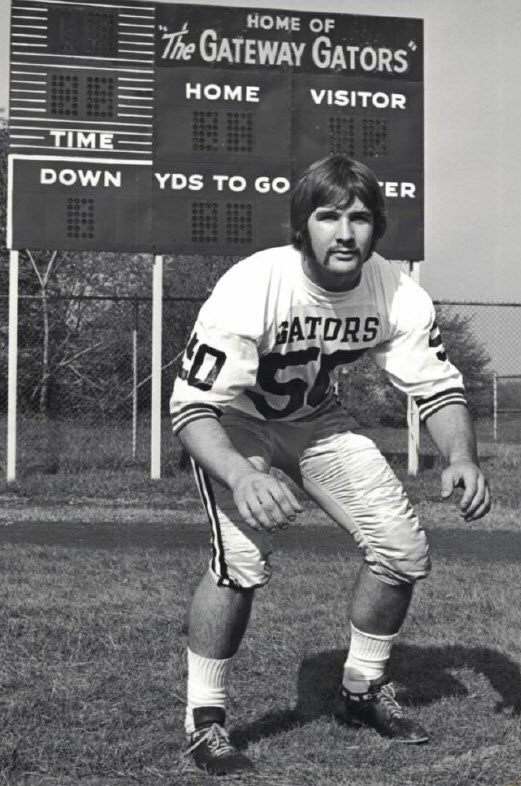 When Gregg entered South Junior High School in seventh grade, he was following in the large footsteps of his older brother Mark. Gregg played both football and basketball during junior high while also participating in track and field. This is where Gregg's athletic and leadership skills started to take shape. By eighth grade, Gregg was the starting center on the football and basketball teams.
In ninth grade, Gregg took on several key leadership roles. He became captain of the football team through the support of his teammates and was elected as class treasurer by the student body. That year he was a selected as Defensive Player of the Year for most tackles during the football season and earned the coveted "Gold Trunks" award in gym class. The Gold Trunks was the brainchild of then gym coach Steve Statnick, who devised an engaging program that awarded different color trunks (maroon, white, blue, and gold) to students for their successful completion of preset list physical activities.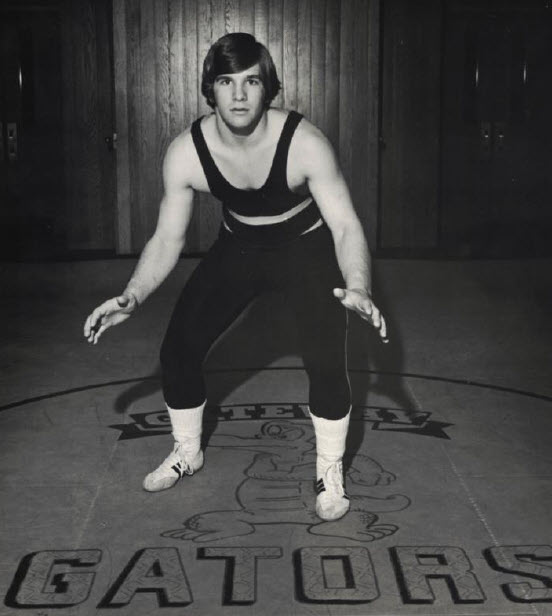 As the year progressed, Gregg transitioned to basketball and a few weeks into the season, his Civics teacher, Richard Bane, approached Gregg to ask if he would be interested in competing in wrestling. Richard had attended some of the basketball games and noticed Gregg rarely managed to make it to the third quarter without fouling out and being disqualified for the remainder of the game. Richard recognized Gregg's aggressive athletic temperament was better suited for wrestling. At the time, Gregg's only exposure to the sport was WIIC Channel 11's "Studio Wrestling", but he committed to join the team with the Richard's encouragement, abandoning his short-lived basketball career. His trajectory change quickly paid off and in his first year, Gregg won several outside wrestling tournaments including the Tri State Junior Olympic Tournament. His former ninth grade basketball team went undefeated and while no one even remembered he played, Gregg happily pursued his newfound enthusiasm for wrestling.
Upon entering Gateway Senior High School in tenth grade, Gregg continued to take on leadership roles, once again being elected as class treasurer. Gregg wrestled throughout his high school career and was a three-year letterman, becoming captain of the wrestling team during his junior and senior years. His football career was just as impressive, with Gregg initially starting high school as captain of the Junior Varsity team. As a junior and again as a senior, his strong play as center and middle linebacker earned him selection to the All East Team. He earned an All-State Honorable Mention his senior year during a season that culminated in a trip to the Three Rivers Stadium for a semifinal game with defending WPIAL football champions Kiski Area. Securing victory over Kiski Area, Gregg and the team headed to Pitt Stadium for the championship game against Jeannette. As a 17-year-old young man, it was an unforgettable experience and an amazing way to close out his football career.
After graduating from Gateway Senior High School Gregg attended Edinboro State University. At Edinboro, he participated in intermural wrestling tournaments and was deemed champion three times. During his free time away from class and studying, Gregg learned to play racquetball and even went streaking once – both of which require impressive cardiovascular athleticism. When Gregg graduated with a degree in Economics/Accounting with minors in Criminology and Geology, he didn't depart with only his diploma. During his academic tenure, he also met the love of his life, Jan Beley, whom he married in 1981.
Unfortunately, that same year, his beloved younger brother, Eric, was tragically killed. This was the darkest period of Gregg's life and he struggled with the aftermath of losing his brother until a friend suggested he take his destructive emotions and transform them into something positive. In an effort to channel his energy into something beneficial, Gregg ran for the Gateway School Board and served for three years. He actively participated in overseeing in the decision-making required to maintain and improve the local public schools, giving back to the community where he grew up and the latest generations of children.
Gregg and Jan raised four children of their own: Eric Cameron II, named in honor of Gregg's late brother, (wife Jenn, children Kennedy and Eric Cameron III), Jessie Audra (husband Judd Weisgal), Jonathan Louis (wife Allison), and Kaitlin Casandra (husband Alex Rauschenberger).
Throughout this time, Gregg remained an active member of the community. Most notably, he was re-elected to the Gateway School Board where he served for 12 more years in a variety of offices including President and Vice President as well as Chairman of both the Finance/Budget and Building and Grounds Committees. Gregg was a founding member and executive of the Gateway Sports Hall of Fame. Outside of Gateway, he was appointed to the Forbes Road Vocational School Board and was the recipient of the Monroeville Jaycees Outstanding Young Community Servant award.
In his community service career, Gregg's most memorable accomplishment was when Gateway Senior High School achieved Blue Ribbon status, which is considered the highest honor an American school can achieve, recognizing public and non-public schools based on their overall academic excellence. This award is achieved by less than 1% of all the schools in the United States in any given year.
Another notable achievement was overseeing the renovation of the Gateway school district buildings. This included the high school stadium, auditorium, and the new locker rooms. Additionally, he spearheaded the construction of the state-of-the-art sports complex. His competitive streak carried over in his decision to upgrade from a 4-lane to an 8-lane swimming pool and the wrestling room was designed to make any team proud to compete on Gateway's behalf.
Gregg and Jan's children grew up with the ability to take advantage of the upgraded sports and school facilities during their own academic careers. Never content to sit on the sidelines, Gregg volunteered his experience and knowledge to coach a number of his children's youth teams. Just as his coaches inspired him to pursue sports, he also chose to dedicate his time teaching aspiring young athletes. Over the years, he coached soccer, Monroeville Recreation Deck Hockey, basketball (boys and girls), and softball. Gregg also coached Monroeville Baseball and Monroeville Midget football. He also resurrected and coached the Gateway Youth Wrestling program. Putting his accounting degree to good use, he also served as treasurer for Gateway Football Boosters.
Gregg never stopped being active in sports himself and played racquetball for a number of years, winning several novice tournaments. He also played pickup basketball at the Wilmerding YMCE for over 20 years, somehow avoiding fouling out during that time. While his involvement in football today is limited to watching games and he only occasionally wrestles with his dog, Nemo, Gregg's current passion is golf and he is proud to be champion of the 2017 Jon Houy Memorial Golf Tournament.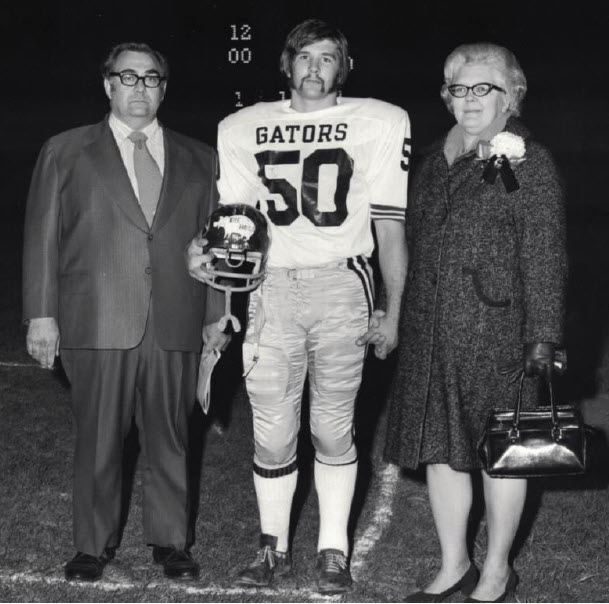 The aforementioned achievements serve as highlights of a life filled with service and accomplishments, but Gregg is mindful that none of it would have been possible without the support of his loving family, fellow athletes, and all the coaches that have helped him throughout his life including: Parente, Salo, Statnick, Hanley, Herlinger, Lukitich, Bane, Giles, Holden, Antimarino, Betts, Quarzo, Krusey, Matarazzo, Klipa, Moody, and Gratton. He is also thankful to those who coached his children and helped instill in them qualities such as teamwork, commitment, and practice. The support of these inspiring individuals taught Gregg the lessons and skills necessary to become an influential member of the community, which has helped him to shape the next generation of Monroeville's leaders while staying true to his Turnpike Garden roots.