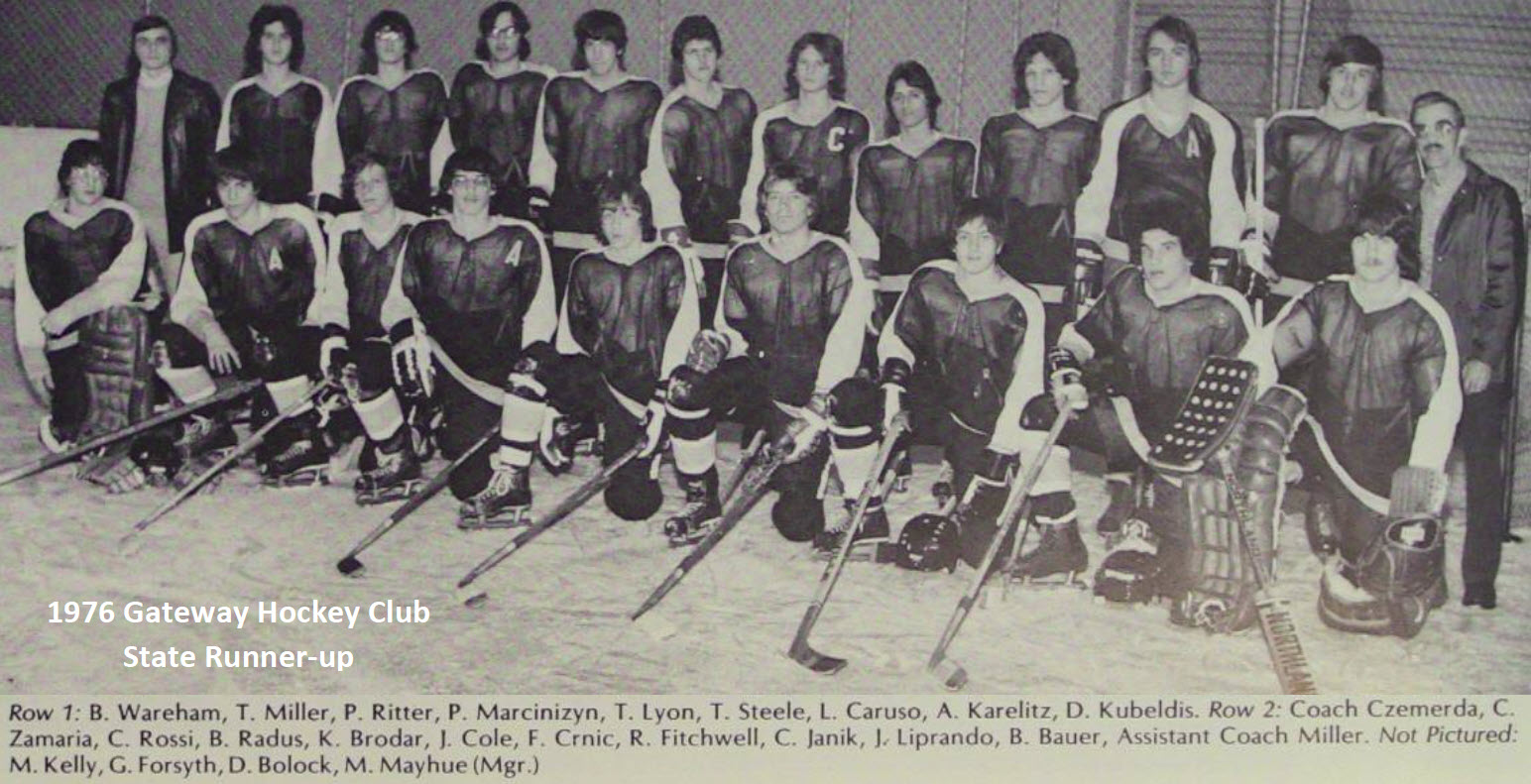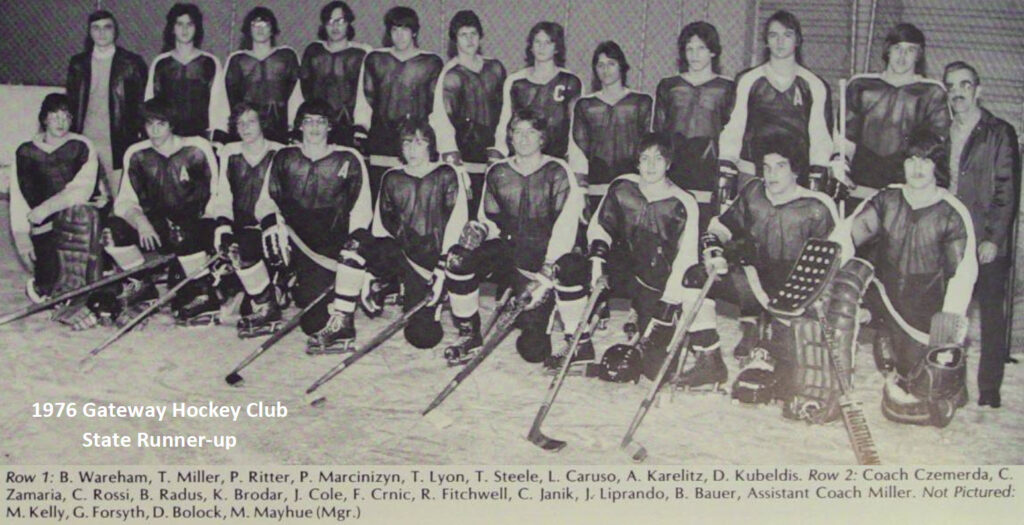 The success of the 1976 Gateway Gator Hockey Club, and journey to the State Championship game, began with a group of boys four years earlier who witnessed the 1967 birth of hockey in Pittsburgh and shortly thereafter thought "we could do that" – or at least thought "wouldn't it be fun to try to do that". The year was 1972, and while most Pittsburgh-area youths wanted to emulate their favorite Pirate or Steeler, these Gator "pioneers" starting playing hockey in the backyards, tennis courts and streets of Pitcairn and Monroeville. Don Schuetz, a member of the Gator football team at the time, was one of those first players on the Gators 1972 inaugural hockey Club. Don recently reflected on how that first team was formed.
"It was the spring of 1972, and it all pretty much emerged out of the Monroeville – Pitcairn sports rivalry that existed at that time. I was asked to play for Pitcairn in a street hockey game against Monroeville and agreed to play even though I had never before played street hockey. I immediately fell in love with the game and a bunch of us started to play regularly. Then one day I went ice skating at the old Alpine Ice Chalet in Swissvale, and after the session was over a couple high school teams came out to warm up. I stayed and watched, and that hooked me in wanting to play on ice. I went to school and started asking some guys if they were interested. Remember, very few of us had ever ice skated before so many thought I was crazy, but we had enough interest to try to get it going. It all pretty much happened by word of mouth that first year. Regarding those early games, we were a sight for sore eyes. We not only had to learn to skate, we had to learn how to play a new sport. Club status meant we were not sanctioned or supported by the school; so we had to buy, make or borrow whatever we could for our equipment. Some of us wore black football pants courtesy of Gateway's football coach – Pete Antimarino, as we didn't have hockey pants. I wore catcher's shin guards under my socks, and spray-painted a pair of leather work gloves black to serve as my hockey gloves. Youth and the concept of indestructibility seem to go hand-in-hand, and we hit everything that moved – if we could catch it."
From those humble beginnings the Club gained momentum, and over the next 3 years the Team won more and more games. The start of the 1975-1976 season had the Team very optimistic for success as many of the players had been skating together for a couple of years at that point, and we thought we had developed the needed game skills and understanding to be competitive. Those skills and understanding of the game came, in large part, from the insights of Coach Joe Zaccari (Team Coach from 1972-1975) and our Coach Fran Czemerda. We quickly learned our optimism was justified, going 3-0-2 the first five games of the season and outscoring our opponents 26 to 4. We rode that momentum into our next 10 games, going 9-0-1 and outscoring opponents 67 to 27. We ultimately finished the regular season 20-0-5, and outscored our opponents 140 to 41. The Team was Captained by Frank Crnic (Junior), with Tom Miller (Senior), Paul Marcinizn (Senior) and Team MVP John Liprando (Sophomore) serving as Alternate Captains. John never got to play hockey as a Gator his junior and senior years – he left Gateway to play Junior hockey in Canada – the first Western Pennsylvania athlete to do so! He was followed shortly thereafter by Defenseman Craig Janik, who also left Gateway for Junior hockey in Canada.
The Playoffs were just as successful for the Club with wins over South Park and Fairview, putting us in the WPIHL (equivalent of WPIAL) Championship game against Fox Chapel. We had tied Fox Chapel during the regular season, so we knew our unbeaten record and opportunity to progress to the State Championship would be tested. Coach Czemerda heavily scouted the Foxes and prepared a Scouting Report that would have made US Olympic Coach Herb Brooks proud. The game was back-and-forth, and at one point we were down by 2 goals. We fought back and eventually outlasted Fox Chapel winning 5-3. The State Championship game was against Abington at the Civic Arena – part of a showcase of High School hockey promoted by the Pittsburgh Penguins. Again the Championship game was a back-and-forth contest, and we eventually found ourselves down by a goal with under a minute left in the 3rd period. With time running out and our unbeaten season on the line, John Liprando brought the puck up ice from our own end and scored on a slap shot from just inside the Abington face-off circle. The goal came with only 16 seconds left in the game and forced an overtime period. Both teams had multiple scoring chances during the overtime period, but neither could get the goal to win the State Championship. The first overtime period ended and a second overtime period was needed. Again, both teams had multiple chances to win the game during the second overtime. Finally, after we had killed off most of a 2-man power play for Abington, but still with 30 seconds left in Abington's 1 man-advantage, Abington scored the game winner with 51 seconds left in the second overtime. In dramatic fashion our season ended at 23-1-5, and we were State Runner-Up.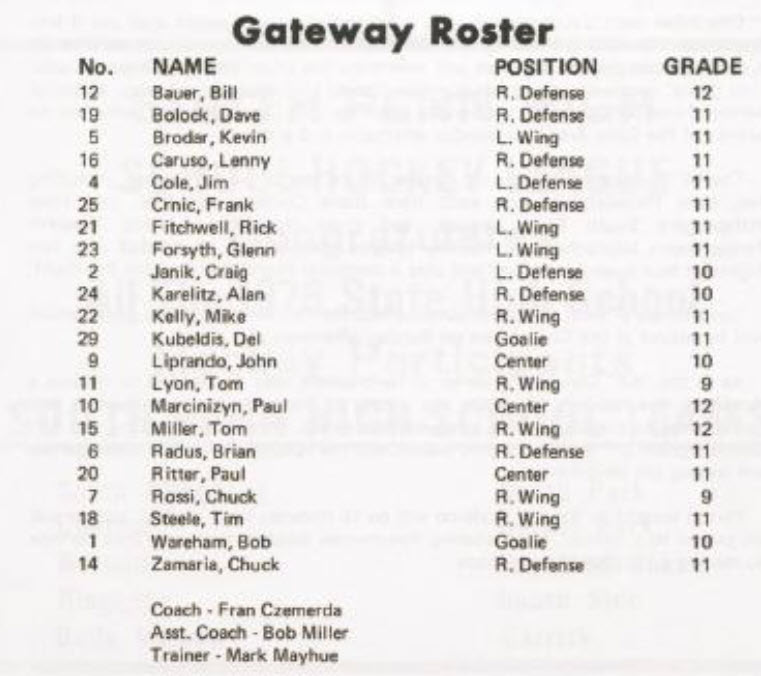 The 1976 Gateway Gator Hockey Club expresses our sincere appreciation to the Gateway Sports Hall of Fame for recognizing our achievements, and for bestowing this special honor upon us. To the other Inductees this evening, and past Inductees, we congratulate you on achieving this honor! We would also like to thank our family and friends who believed in us, sacrificed for us, and stood by us during the years leading up to and including that 1976 season. Finally, we must again thank those pioneering boys from Pitcairn and Monroeville, who gave us the opportunity 45 years ago and were ahead of their time in embracing a sport that would soon rival football in popularity in Western Pennsylvania!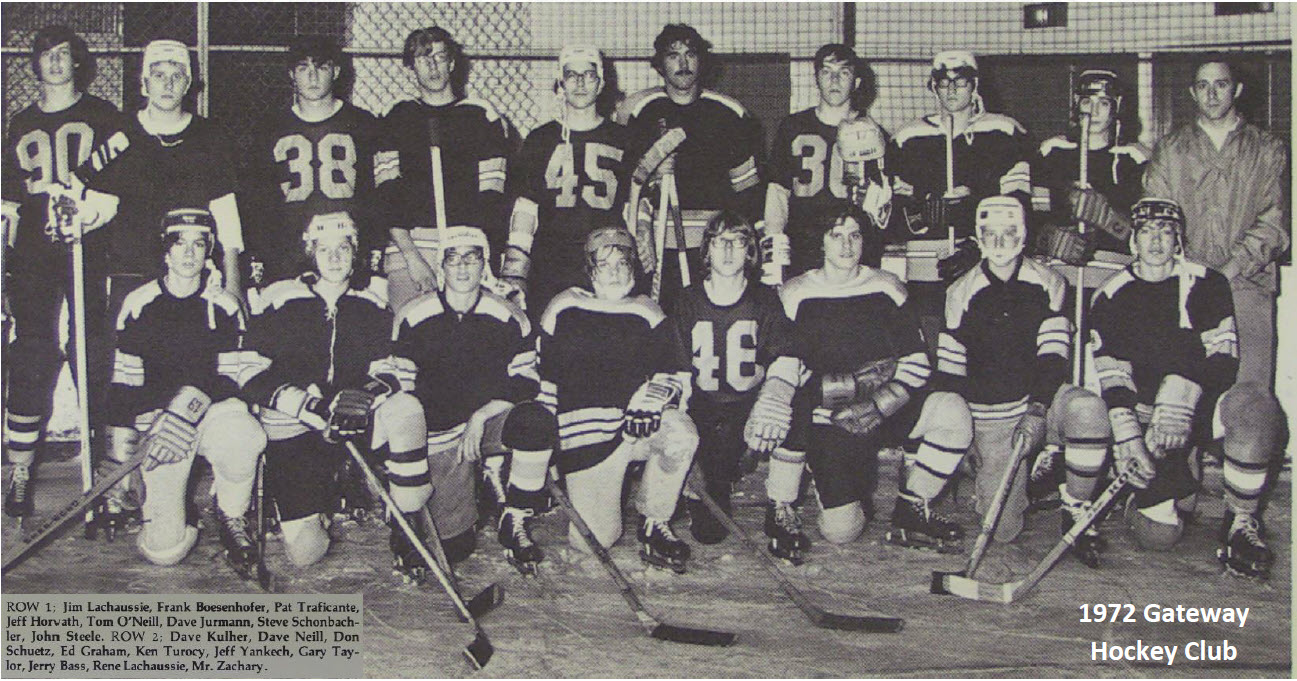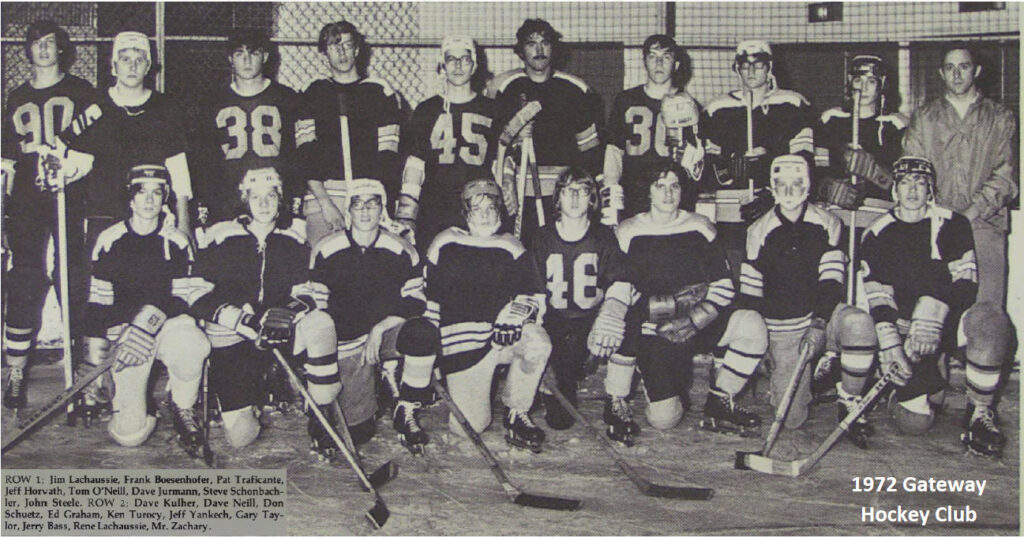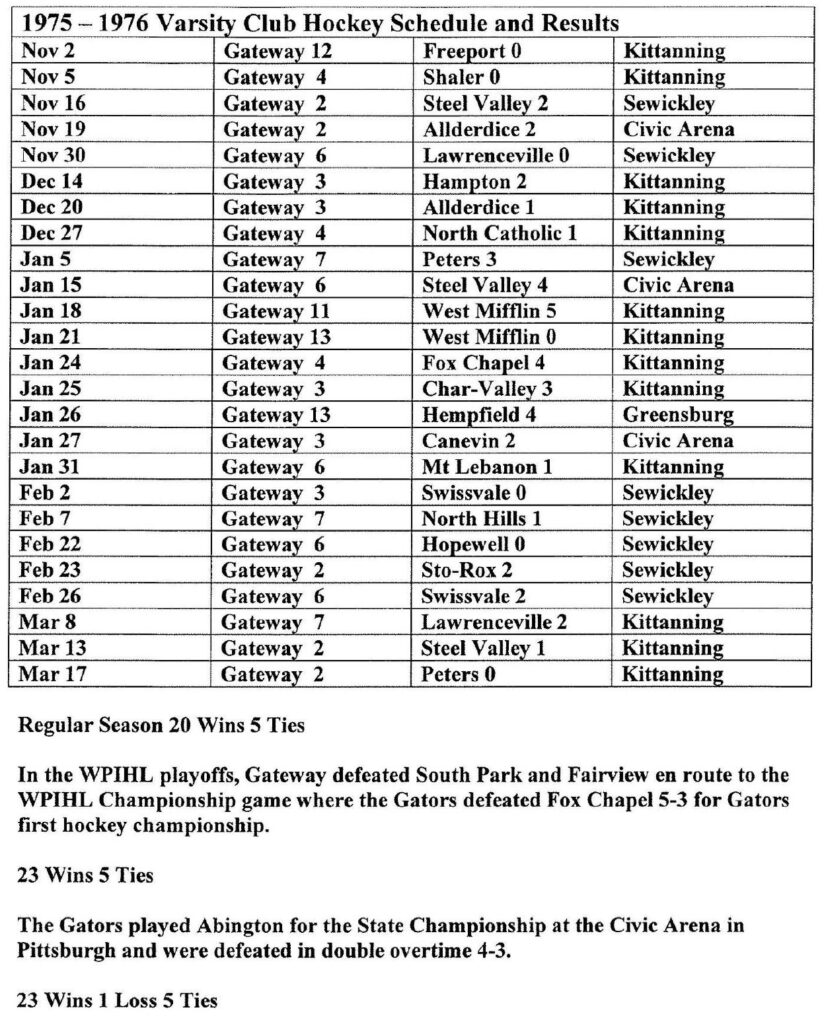 1976 GATEWAY BOYS VARSITY HOCKEY CLUB