Gateway Class of 1967
Retired United States Marine Corps Lieutenant General and was the Director of Strategic Plans and Policy, U.S. Joint Chiefs of Staff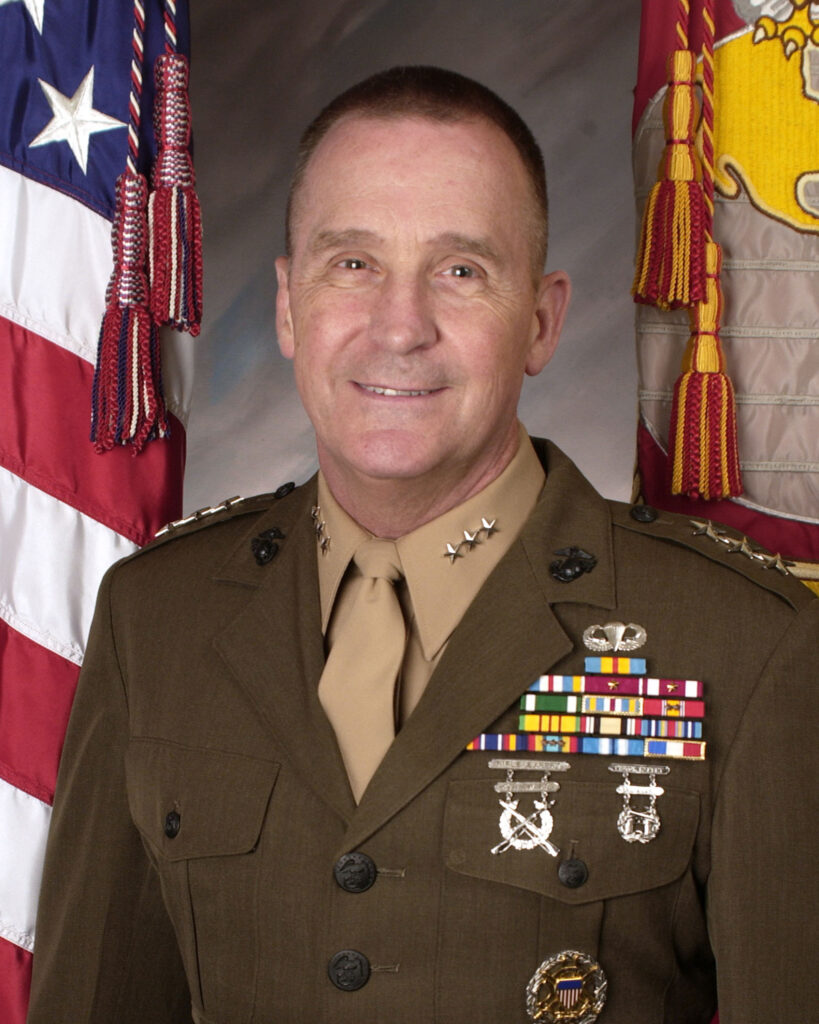 John Sattler was an outstanding student athlete during his days at Gateway. He has been described by his coaches as an overachiever. He was determined, competitive and had a remarkable attitude. As a high school athlete, John showed early signs of his leadership qualities as he co-captained the 1965 and 1966 Gateway Gator Varsity Football Teams. He was an integral part of Gateway's first undefeated football team, the 1965 9-0 Gators. He was not big for an offensive and defensive lineman. He worked very hard and had an uncanny sense and knowledge of the game. He always led his Gators by example on and off the field.
John was an outstanding wrestler. During his days at Gateway, he co-captained his 1965-66 and 1966-67 wrestling teams. He was a three year starter and section champion. His junior year record was 14-1 with his only loss being a regional section overtime loss. His senior season record was 16-1. His only loss was at the state regional finals at the Pitt Field House. He was defeated by the eventual state champion in his weight class. In 1967, John received honorable mention from Amateur Wrestling News as one of the top wrestlers in the country. John's close friend, John Kudravy, was his teammate during his wrestling days at Gateway. John and John wrestled together from 1964-65 to 1966-67. During that period, the Gators compiled a record of 34 Wins 3 Losses 1 Tie. According to John Kudravy, John displayed the highest work ethic in practice and the results showed when he took the mat in competition, winning most of his matches by pins. He was a very important part of the 1965-66 undefeated wrestling team, a feat unmatched in 40 plus seasons of Gateway High School wrestling. John shared many classes with John and together they revisited fond memories of Gateway Sports at their 30th Class Reunion. John's career has provided many life experiences different from others, but the time spent with John confirmed that the same person, values and friendship remained.
John's leadership abilities were evident to many teachers, coaches and students. In addition to football and wrestling captainships, John also served as the 1967 Gateway Senior Class President. John Kudravy "His appointment to the U.S. Naval Academy and ensuing distinguished military career are no surprise to anyone who knew or participated in Gateway High School Sports with him. Best wishes to our own 3 Star General."
After high school, John attended the Naval Academy. He was a member of the Navy wrestling team. During his sophomore and junior years, the Naval Academy Wrestling Team won the Eastern Wrestling Championships where John individually finished 4th and 3rd. His senior year saw the Midshipmen place 2nd in the Easterns behind Penn State and individually, John also finished 2nd. John qualified for and wrestled in the NCAA National Wrestling Tournament all three years. In 1975, John was the All Marine Corps Greeko Free Style Champion.
In June of 1971, following graduation from the United States Naval Academy where he earned a B.S. degree in Economics, John received his military commission. In February 1972, after completing The Basic School, he was transferred to 2nd Battalion, 4th Marines in Okinawa where he served as a Rifle Platoon Commander. Returning the the United States in 1973, he was assigned to the Reserve Division at Headquarters, U.S. Marine Corps where he served until his reassignment to Amphibious Warfare School as a student in 1976.
Graduating with honors in 1977, he was assigned to The Basic School where he served as a Tactics Instructor, Staff Platoon Commander, and an Infantry Officer Course Instructor. Following his tour at Quantico, John returned to 2nd Battalion, 4th Marines on Okinawa for duty as Battalion Operations Officer. Upon his return to the U.S. in 1981, he served as the Infantry Weapons Procurement Officer at Headquarters, U.S. Marine Corps until 1985. He graduated with honors from Marine Corps Command and Staff College in 1986, and reported to 2nd Marine Division for his third tour with 2nd Battalion, 4th Marine, this time as the Executive Officer.
In 1988, John was assigned as Commander, Ground Combat Element for Special Purpose. After serving as J-3, Ground Officer for Joint Operation Solid Shield, he spent one year at Headquarters, U.S. Marine Corps before being assigned to the Industrial College of Armed Forces at the National Defense University, Washington, D.C. He graduated with distinction in June 1991 and reported for duty as Congressional Liaison in August 1995, and took command of 2nd Marine Regiment on August 12, 1995. He was promoted to Brigadier General at his change of command on May 29, 1997, and assumed his duties as Assistant Division Commander, 2nd Marine Division that same day.
In September 1998, he reported to the Joint Staff and assumed duties as the Deputy Director for Operations (Combating Terrorism). In July 2000, he transferred to Headquarters, U.S. Marine Corps to assume duties as the Director, Public Affairs Division. In July 2001, he assumed duties as the Commanding General of 2nd Marine Division at Camp Lejeune, NC. In November 2002, he assumed duties as Commander, Coalition Joint Task Force-Horn of Africa. In August of 2003, he assumed duties as Director of Operations, U.S. Central Command.
He was promoted to his current rank and assumed command of the I Marine Expeditionary Force. General Sattler is currently stationed in Iraq where he commands all the forces in western Iraq. Lieutenant General Sattler's personal decorations include the Defense Distinguished Service Medal, Legion of Merit, Meritorious Service Medal with Gold Star, and the Navy and Marine Corps Commendation Medal.
On Friday, August 27, 2004, just before his deploy to Iraq, John sat down and wrote to the Gateway Sports Hall of Fame.
"What an honor to be selected from so many Gateway Greats for the hall of fame. To be honest, there are nine children in the "original" Sattler family, and I would be hard pressed to make it into the final four in my own family! I deploy tomorrow morning for Iraq where I will be taking Command of all of the Forces (Marines, Sailors and Soldiers) in western Iraq. I would love to be with you at the banquet tonight, but as we all learned from superb coaches and teachers in the Gateway School District, there is no greater honor than to selflessly serve others…be that as a teacher, coach, mentor or in this case a Marine Officer. I carried the lessons I learned at Gateway through the United States Naval Academy starting in 1967 and through my 33 plus years as a Marine Officer. This education, both in and outside the classroom, coupled with the values instilled by my mother and father provided an "unfair advantage" over the rest of the field. Coaches Steve Statnick, Bob Holden, Andy Bulazo, Pete Antimarino and Steve Klipa taught us a lot more than how to be a better athlete…they taught us how to be a better person. They taught us how to compete within ourselves, to constantly strive for improvement, and to bring others on the "team" along for the journey. These early lessons in life built the foundation that permitted all who listened and learned to build on this foundation and strive for athletic and personal excellence. I know I have tried to convey my thanks for their personal dedication and positive influence over the years, but if my message was too subtle, let me state it with alacrity…Thanks for the great head start, and for being there to mentor throughout the journey.

I have many great memories of Gateway athletics…being part of the 1965 9-0 football team…being part of a wrestling team that won 29 dual matches in a row under Coach Bulazo. But most of all, competing along side of hard working, dedicated teammates with coaches who really cared. One of my greatest memories came after I graduated. I was home on leave from the Marines (around 1974) and my mother (who was one of the first secretaries of the Pig Skin Boosters, and organized the Wrestling Boosters) and my father (who was a two time president of the Pig Skin Boosters) and I were attending a big football game against Shaler and my brother Frank was playing tight end. My brother Frank caught an over the shoulder pass on a big yardage play late in the game to help Gateway win the game. It was the pride that exuded from my father and mother (and me) that made it so memorable. The other great memory I will share came in my 9th grade year at South Junior High. I came to South from St. Colemans, so I had no established track record. This was Coach Statnick's first year, and a large crew of us reported for the first day of football practice. There were a lot more aspiring football players than there were uniforms…so coach passed them out first to all who played for South the year before; then he started by size until he ran out of uniforms. Those of us who did not get a uniform were invited to hold the blocking/tackling dummies. After three days of holding dummies and trying to do what I could without pads, I knew the final cuts were coming and chances of making the team on my "dummy prowess" were slim and none. On day four, I was standing in the drying room looking at a handful of smelly uniforms that belonged to a few folk who had determined their football careers on their own…when a big hand rested on my shoulder…it was Coach Statnick. He asked me if I thought one of these would fit? I replied yes and he took one down and told me to get dressed and get out on the field. I arrived in time for one-on-one drills and coach was asking who wanted a piece of Danny Keller (the toughest 9th grader in the universe). I yelled I do!! Coach grimaced, but the crowd parted and coach blew the whistle. I took the worst beating of my life and I know I had tears on my eyes, but I kept getting up and coach kept blowing the whistle. Bottom line, I didn't get cut and thanks to Coach Statnick giving me a chance, I was able to play team sports at South, Gateway, the Navel Academy and in the Marine Corps. I'm convinced, I get cut and all of the opportunities that sports pushed my way never knock on my door. I've told Coach a number of times over the past 40 years that one of the (many) things I learned from him is to always give the "dummy holder" a chance. Thanks Coach…they don't all make it, but some of my best Marines went from "dummy holders" to super stars because you taught me to give all a chance to show their moxie. Thanks to all who made this evening possible and to all who's energy established and maintains the Gateway Sports Hall of Fame."


Semper Fidelis,
John Sattler
Class of '67