Gateway Class of 1987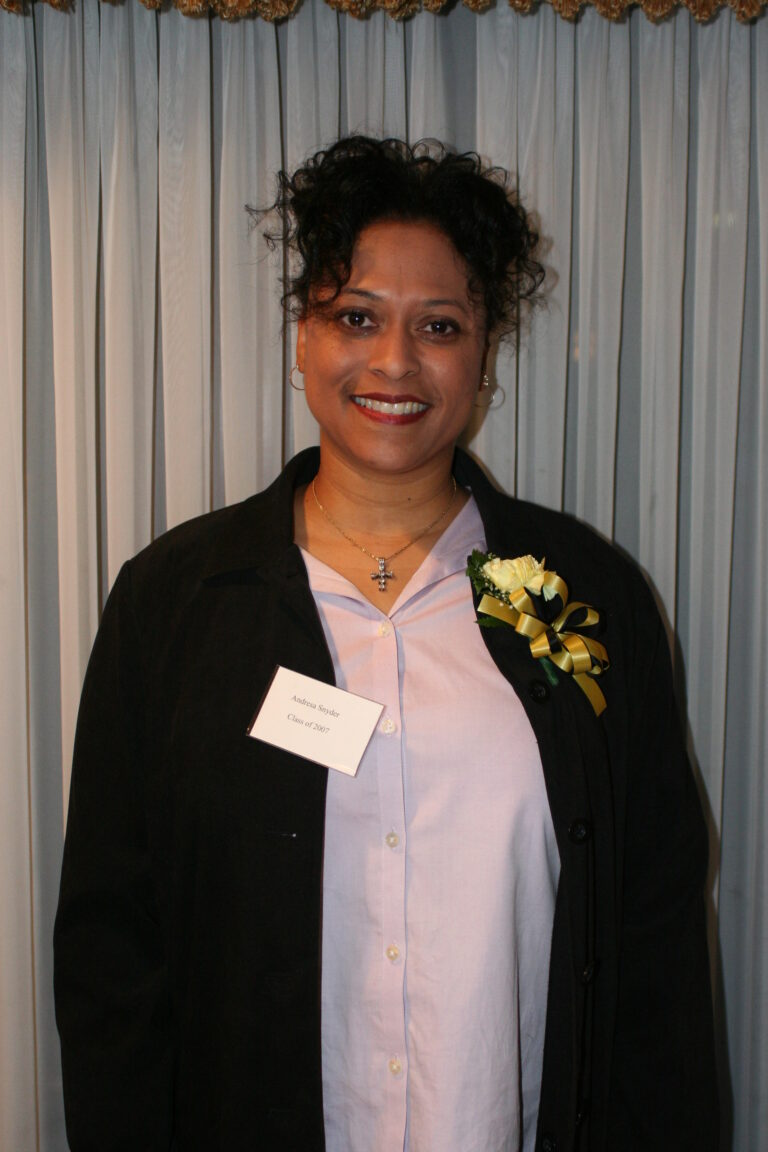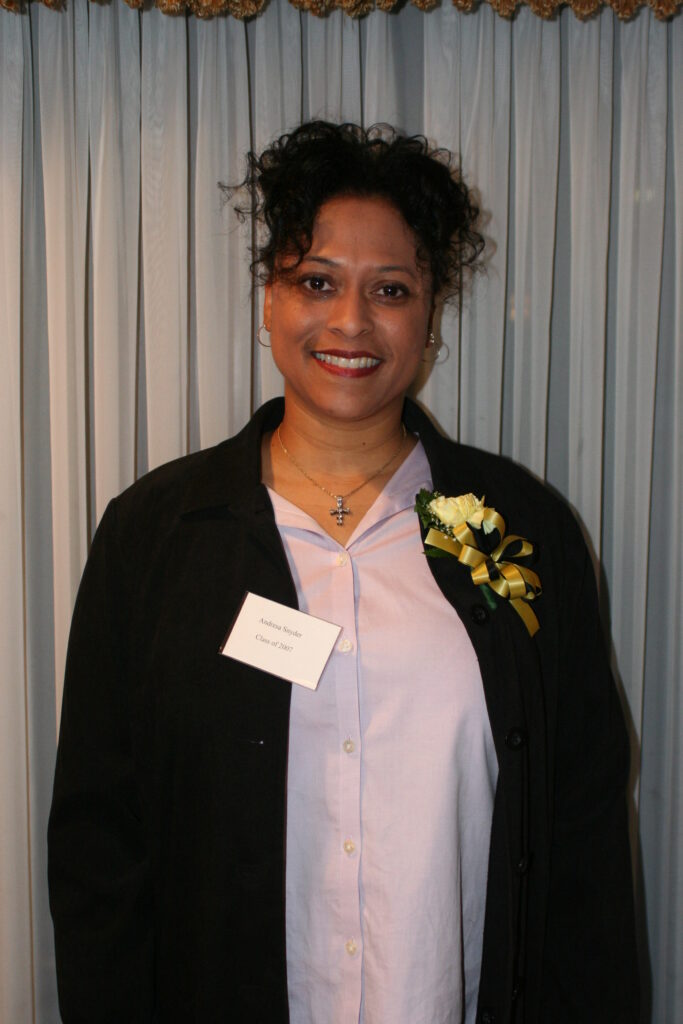 Andrésa Snyder is among one of the most elite female athletes in Gateway history. Multi-talented and versatile, she did well in all sports with which she was involved in. She was a sports phenom, and was an absolute joy to watch perform athletically as she made it look effortless. Her athletic achievements defined her high school career, and continue to inspire the generations of athletes that follow her.
Growing up Andrésa was always involved in numerous sports related activities, which included AAU Track and Field, 3 basketball leagues, 2 softball leagues, 2 Basketball camps every summer during her youth; these activities set the foundation for the extraordinary athlete she was going to become, and her talent was evident at a very young age.
During her time at GHS her sports of choice were Basketball, Track and Cross Country, although she would have participated in more if time would have allowed. Andrésa was a member of the first ever freshman class to attend Gateway, and freshman at that time were not allowed to participate on varsity teams so the coaches had to wait one more year to see what they already knew she was capable of and put her talents to work.
As a sophomore she was making a name for herself and holding her own as she qualified for states in the 100-meter hurdles, and was a part of the school record holding 4×100 relay team anchored by sister, 2004 inductee, Taunja Snyder.
The next year as a junior, she had to top her previous years performances. She did so by not only qualifying and placing at states, but also by becoming the Quad A WPIAL champion in the 100m hurdles, 300 hurdles, and triple jump. She was also a part of the sections number one ranked 4×4 relay team.
By her senior year, Andrésa had become by far one of the areas best performing and well-known track stars to date. Awarded top honors as Baldwin Invitational MVP as a junior and senior, picking up where sister Taunja won the previous 3 years, she set a new
Baldwin Invitational Meet record in her senior year in the 4×400 relay with a time of 4:02. Andrésa was also the WPIAL's number one ranking repeat titleholder in the 100-meter hurdles, 300-meter hurdles, and 4×400 relay team. She placed 15th at states in the 100-meter hurdles, 5th in the 300-meter hurdles, and 4th in the 4×400 relay.
Personal best-held school records at that time include 100-meter hurdles at 15.1, 300-meter hurdles at 45.8, 4×100 at 49.7secs, 4x400at 3:56, triple jump at 36ft 11in. Best times for Penn Gate relays include sprint medley 4:19:03, 800-meter relay 1:40:6, 300 shuttle hurdles 3:35:5. In her senior year Andrésa was also team captain, team MVP, and was voted her senior class's most valuable female athlete along side Terry Smith.
Along with her accomplishments in track, Andrésa continued to show extreme talent in basketball. She was a 4-year letterman team captain, and achieved most honorable mention in the city. There wasn't a position on the floor she couldn't play; from shooting point guard, to pulling down rebounds as a strong power forward. She was very quick on her feet, and her fancy passing skills made it difficult to anticipate her moves on the floor. She played tough on defense, and one of her best assets was knowing her opponents' weaknesses well enough to take advantage of them during play. Andrésa averaged 14 pts/14 rebounds/ 5 steals per game. The team made the playoffs every year, but never made it past the second round. Her efforts did not go unnoticed, as she had many basketball talent scouts also in pursuit.
Andrésa also tried her hand at running cross-country. Her team went to states her junior year, and won the conference and state titles senior year.
Andrésa's most memorable personal moment was when she was in junior high and Gateways team won the JVL meet but was being questioned by the opposing team, Penn Hills, because the "Snyder" name was called too many times when only allotted 3 events. Unbeknownst to Penn Hills, there were 2 Snyder's on the team, Andrésa and Taunja!
Crushing her opponents with her sister at her side remains one of her best memories. Also memorable was at the Penn Gate relay when Andrésa passed a Penn Hills runner, who was try desperately to block her, to win the Sprint Medley relay – it was a site to see!
Andrésa continued to win award awards at the college level including All Conference 1991 and 1992, and MVP.
Andrésa later returned to give back to the Gateway system by coaching both the junior and senior high track teams for 3 years. Andrésa also coached basketball at the junior college level for 3 years for CCAC's main campus, winning the JUCO division titles 3 years in a row. Welcome to the Gateway Sports Hall of Fame. A well-deserved honor.