Gateway Class of 1990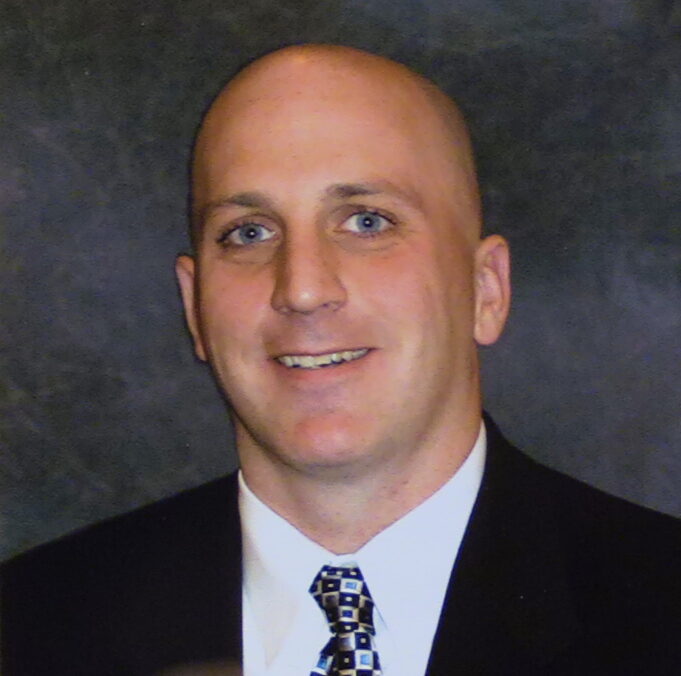 Eleven varsity letters, four different varsity sports, team captain for three of the sports, selected to the All-Section Team in each sport, record setting pass receiver. These are just a few of the highlights of the distinguished Gateway athletic career of Russ Weaver. Russ brings all of his athletic credentials to the Gateway Sports Hall of Fame and we are very proud to make him our first inductee from the 1990's.
As a freshman, Russ's athletic prowess was immediately felt on the soccer field. Named a starter by Coach Bob Parker from his very first game, Russ would go on to lead the Gators to their first soccer playoff appearance in several years. As a matter of fact, Russ would eventually start every Gateway soccer game of his high school career. His speed, agility and skills, coupled with his intimidating size, made him one of the greatest impact players in Gateway history. He would go on to captain the soccer team in both his junior and senior seasons, led the team to three WPIAL playoff appearances and helped capture the first two Section Titles in Gateway school history. He was selected to the All Section Team twice and was selected as a WPIAL All Star in 1989, his senior season. Quite a career.
When we asked Russ about his most vivid soccer memory, he told us; "My freshman year, we had a really good team that advanced to the WPIAL quarterfinals for the first time in school history. We played a strong Upper St. Clair team at Baldwin Stadium under the lights. I remember the evening dew on the grass as we prepared to play, being introduced as part of the starting lineup, and trying to catch my breath 30 seconds into the game as I tried to compose myself. It was my first experience with a "big time" high school athletic event. "
Russ began his varsity basketball career during his sophomore year. Midway through that year, Coach Bill Murphy inserted Russ into the starting lineup and the struggling team immediately improved. A guard with forward size, his versatility proved a valuable asset to the team. His ability to play any position on the court demonstrated just how valuable Russ was to the team. With a strong second half finish, the Gators qualified for the WPIAL playoffs during his sophomore season. Gateway would not qualify for the playoffs again for another 13 years. As a senior, Russ averaged 16.5 points, 8 rebounds and 4 steals per game. He was named Gateway's team captain, selected to the All Section Team and invited to try out for the Dapper Dan Roundball Classic Team.
Russ's most vivid memory of his basketball career is simple, " There are so many memories; playing along side my brother for two seasons made this a really fun and memorable experience that I appreciate more and more as the years go by. "
It was during Russ's junior year that Gateway established the first Gateway Varsity Volleyball Team. Russ was instrumental in the team's inception. Under the direction of Coach Mike Gibson, Russ would be a two-year starter at outside hitter, earn two varsity letters and be named team captain during his senior season.
Russ's most vivid volleyball memory is as follows; "My junior year was the first year that Gateway fielded an interscholastic volleyball team. The first day of practice, we learned how to put up the nets. The second day, we learned where to stand, and so on. After a few weeks of practice, we entered our first tournament. Unbeknownst to some of us, both teams warm up on the same court at the same time, first just passing, then setting and spiking and then serving. Well, when the referee blew the whistle to begin serving, we didn't know what to do at first, and, all of a sudden, the other team started hitting us with their practice serves. My good friend Tony Scarpino and I reacted, not by practicing our serves in the court, but at trying to hit as many of the opponents as we could. This was the beginning of our first season in which we finished O-14. I also remember blaming every missed spike on my brother Matt, who was a starting setter as a freshman. (Only about 98% were his fault.) "
Russ's fourth varsity sport was football. As surprising as it may sound, Russ did not start playing football until his junior year at Gateway and that was almost exclusively as the kicker. During his junior year, the football team would win their last conference title in 14 years. But during Coach Pete Antimarino's final season as Gateway's Head Coach, instituting the famed run-and-shoot offense, Coach Antimarino recognized that Russ Weaver had talents that could be utilized as more than just a kicker. At 6'4'', Russ became a daunting figure at wide receiver. Led by quarterback Tony Scarpino, the team would go on to set school records in virtually every passing category. Russ would finish his senior season at Gateway with 45 receptions for 582 yards and 11 touchdowns. The 45 receptions are believed to have been a school record at that time. To this day, no other Gateway receiver has surpassed his number. In his two years on the Gateway football team, Russ kicked 3 field goals and 18 extra points. Russ was selected to the Pittsburgh Press East All Conference All Star Team and was also named to the Pittsburgh Post Gazette East Fabulous 22 All Star Team. Russ had a great Gateway football career.
We asked Russ about his most vivid football memory; " That would be my senior year when we traveled to Turtle Creek Stadium to play Woodland Hills on a rainy Saturday afternoon. The hype for the game was amazing all week. I remember as the team arrived at the stadium and seeing all of the people already fired up and ready for the game. The stadium was packed, signs were hanging, horns were blaring, people were on rooftops, and just before the start of the game, a plane flew overhead with a baner that read -GOOD LUCK GATORS-. Having had a chance to participate in a high school football game like that was just simply an amazing experience. "
In 1990, Russ was also named to the East Boros High School Super Team. The team was made up of athletics from the eastern suburbs that excelled and competed in more than one varsity high school sport.
Russ would go on to play Division I football for the University of Maryland. Listed below are some of the awards and accomplishments that Russ attained while playing football for the University of Maryland:
Started 27 College Games
Had 5 Career Touchdowns
Ranked #4 All Time In Career Pass Receptions (120)
Ranked #16 All Time In Career Receiving Yards (1,096)
Ranked #2 All Time In Pass Receptions In A Single Season (14)
Ranked 10th In The Nation In Receptions, 1993
Atlantic Coast Conference Reception Leader, 1993 (69)
Atlantic Coast Conference Honorable Mention, 1993 And 1994
ACC Academic All Conference, 1993 And 1994
ACC Offensive Player Of The Game (Twice In 1993)
Offensive Player Of The Game (Twice In 1993)
University Of Maryland Unsung Hero Award, 1993
Set Two Weight Lifting Records For The Receiver Position Power Clean 332 LBS; Squat 525 LBS
Ran Indoor Track For The University During His Junior Year 55m And 200m
Russ graduated from the University of Maryland in 1994 and completed his masters degree at Maryland in 1996. Russ currently lives in Vienna, VA with his wife Tarah and works for the New Customer Service Companies, Inc. as an account manager.