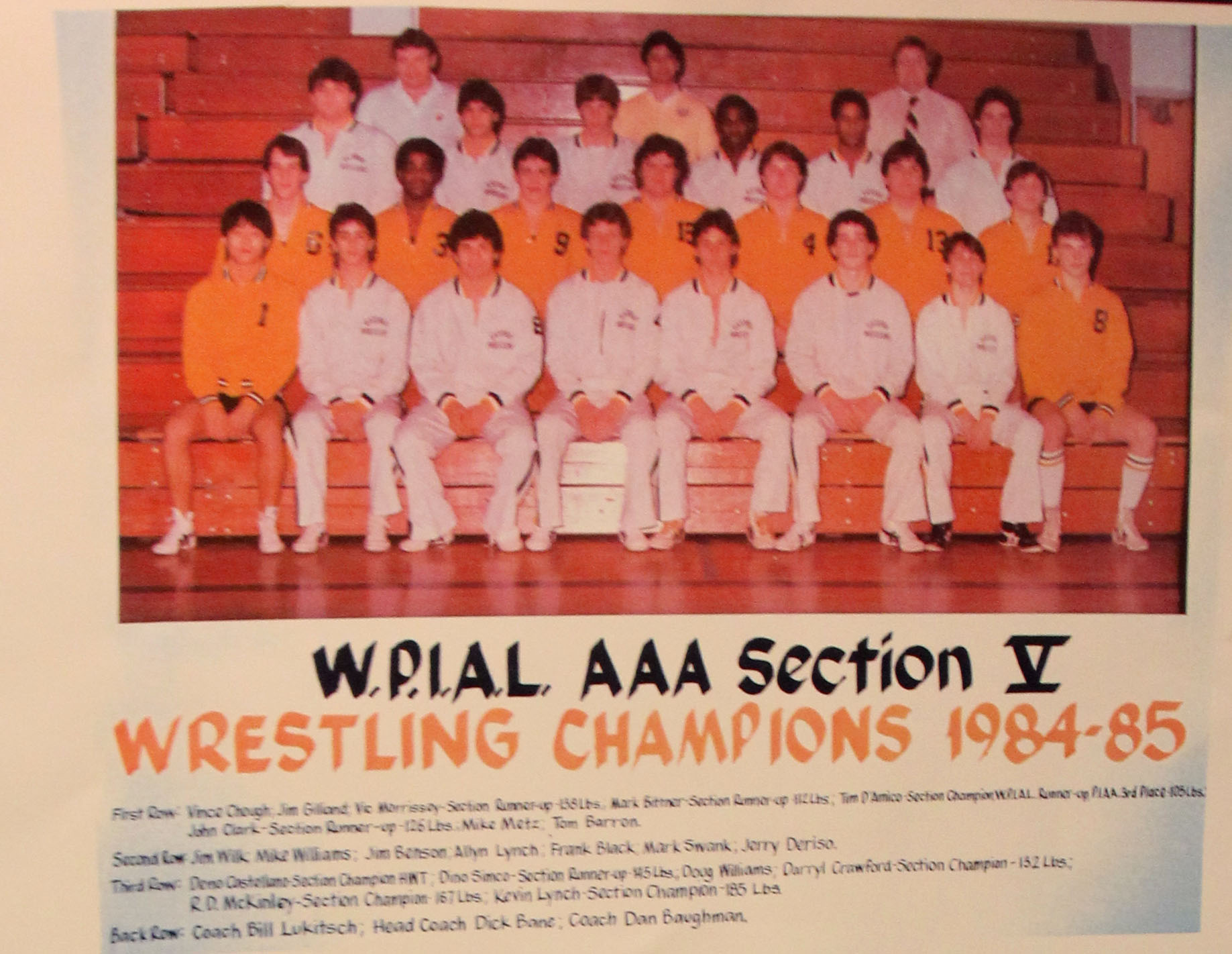 The 1984-85 Wrestling Team was part of the Golden Age of Gateway Athletics, a period where seemingly every sport fielded a championship caliber team. The Gator Wrestlers were undefeated in their section posting an 8 win 0 loss record winning their first ever section championship.
The Gator Wrestling Team accumulated 14 wins as opposed to 2 losses and 1 tie and advanced to the quarter finals of the WPIAL Team Championships.  One of those losses being to Latrobe, the WPIAL runner-up and the other to Derry Area in the third round of the WPIAL Team Championships.  The loss to Derry was a heartbreaker in front of a packed house in the Gateway gym.  The lead changed hands several times, with Derry finally coming out on top.
Derry then lost to Latrobe by one point in the next round. The one tie was avenged in the second round of the team championships when the Gators defeated the Mustangs in front of a SRO crowd at the Plum gym.
Much of the team's success was achieved at the individual level. Six out of twenty-one team members won or would eventually win section titles, while four others qualified for the WPIAL Individual Championships. One-third of this team (four wrestlers) were to qualify for the PIAA State Individual Championships, with three winning All-State Honors. Three members of the team now reside in the Gateway Sports Hall of Fame: Tim D'Amico, R.D. McKinley and 2011 inductee Kevin Lynch.
The 1984-85 Wrestling Team was the product of two outstanding Junior High Wrestling Programs which came together at the High School. Hall of Fame Coach Bill Lukitsch had over 70 athletes participating at South Junior High and current year Hall of Fame inductee Tom Labuff had 35 wrestling at Monroeville Junior High.
Maybe the greatest compliment that can be given these athletes is that they have gone on to become great citizens and successful young men, with their number including professors, teachers, coaches, entrepreneurs, managers and technicians.
Hall of Fame Head Wrestling Coach Dick Bane is extremely proud of the 1984-85 Wrestling Team as this team is arguably his greatest team of all time and maybe the greatest Gateway Wrestling Team of all time.
Coach Bane "Guys, ya done great and Coach is proud of you"
Wrestling is both a team sport and an individual sport. Below are listed Individual Honors won by members of the 1984-1985 Wrestling Team including accomplishments before and after that championship season.
Dick Bane named 1984-85 Section V Coach of the Year
1984-85 Qualified Nine Wrestlers for the WPIAL Individual Tournament
Tim D'Amico Section Champion 1984 1985 1986
WPIAL Runner-Up 1985 1986
PIAA 3rd 1985 4th 1986
Darryl Crawford Section Champion 1985
RD McKinley Section Champion 1985 1986
WPIAL 4th 1986
PIAA Runner-Up 1986
Kevin Lynch Section Champion 1985
Deno Castellano Section Champion 1984 1985
WPIAL 3rd 1984
PIAA Qualifer
Mark Bittner Section Runner-Up 1985 WPIAL Qualifer
John Clark Section Runner-Up 1985 WPIAL Qualifer
Victor Morrissey Section Runner-Up 1985 WPIAL Qualifer
Dino Simco Section Runner-Up WPIAL Qualifer
Doug Williams Section Champion 1986
Mike Williams Section Champion 1986
Jim Benson Section Champion 1987
WPIAL 4th 1987
PIAA Qualifer
Members of the 1984-85 Gateway Boys Varsity Wrestling Team Included:
Vince Chough
Jim Gilliand
Mike Metz
Tom Barron
Jim Wilk
Allyn Lynch
Frank Black
Mark Swank
Jerry Deriso
Coaches: Dick Bane, Bill Lukitsch and Dan Baughman
1984-1985 Team Wrestling Match Record
Gateway W 49 – 15 Steel Valley
W 45 – 12 West Mifflin
W 48 – 14 Highlands
L 19 – 29 Latrobe (Eventual WPIAL Runner-Up)
W 27 – 25 Thomas Jefferson
T 24 – 24 Plum
W 46 – 13 Churchill
W 45 – 13 Burrell
W 41 – 17 Central Catholic
W 44 – 13 Penn Hills
W 49 – 0 Swissvale
W 49 – 12 Elizabeth Forward
W 32 – 15 Chartiers Valley
W 25 – 20 McKeesport
W 30 – 25 Shaler
Playoffs W 33 – 17 Hopewell
                L 21 – 25 Derry (Eventual WPIAL 3rd Place)
14 Wins 2 Losses 1 Tie
8 Section Wins 0 Section Losses
1984-85 WPIAL AAA Section V Champions
1985 GATEWAY VARSITY BOYS WRESTLING TEAM