Gateway Class of 1964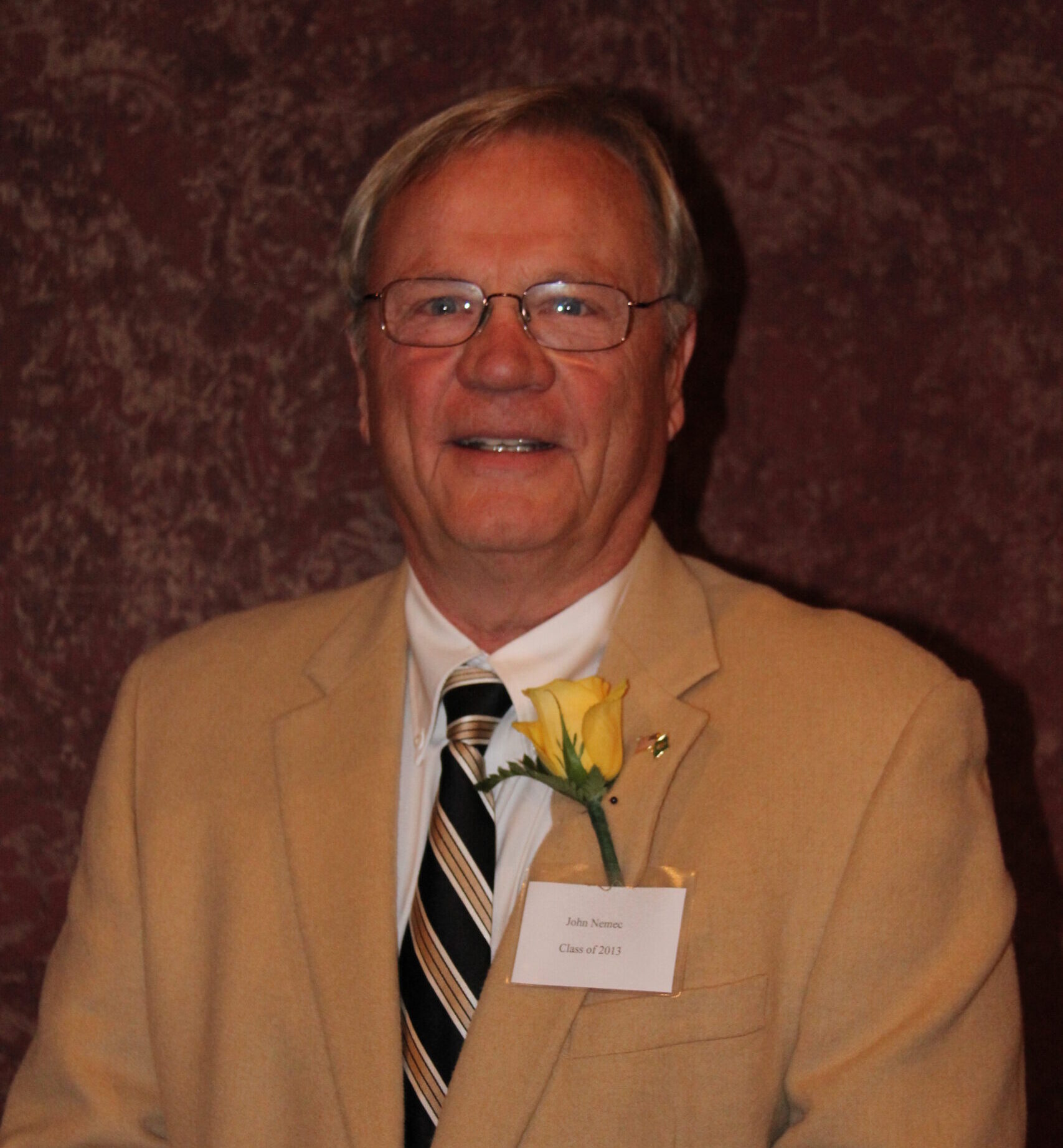 A 1964 graduate of Gateway High School, John Nemec, has had an outstanding career as an educator. He attributes most of his success to his parents, Margaret (a retired Monroeville Junior High School English teacher) and Lou (the longtime former football coach at Penn Hills). Nemec also credits the teachers and coaches from Gateway who supported and encouraged him throughout his high school years. John has many fond memories of the relationships he developed in the classrooms and in the athletic arenas in Monroeville. He was blessed with a strong support network from both his family and the community.
During high school, John played football, basketball and baseball. He earned eight varsity letters and served as co-captain in football during his junior and senior years. He was elected Senior Class President and participated in the choir and the drama club. Being heavily involved in student activities set a solid foundation for his philosophy as an educator. It is his belief that extra-curricular activities help develop a student's values and their leadership skills. These activities help prepare students for the challenges of adulthood.
Following graduation from Gateway in 1964, John attended the University of Toledo on a football scholarship. He joined the ROTC program at Toledo and coached the freshman football team at the University in 1969. After graduating from Toledo he married his wife of forty-four years, Mary, and was commissioned as a Second-Lieutenant in the U.S. Army. He completed officer training and was assigned as an assistant football coach at the United States Military Academy at West Point, New York. The Nemecs spent three years at West Point and their daughter Mary Margaret, was born there. On a recruiting trip to Ohio, Nemec interviewed and was hired as the Head Football Coach at Wapakeneta High School. Spending four years in "small town" Ohio was one of the "highlights" for the Nemec family. The football team had its first ever undefeated season and their middle daughter, Jaymee, was born.
Moving to Kent Ohio, in 1976 to become Theodore Roosevelt High School's Head Football Coach brought the Nemec's closer to John's Pennsylvania roots. John and Mary's youngest daughter, K.C., was born that first season on the day of a football game. This completed the Nemec family which now includes seven grandchildren.
Nemec's professional career enjoyed continued success in Kent. In 1989 he was the first recipient of the "Clem Caraboolad Award". This award is given to the top teacher/coach in a five county area around Akron, Ohio. John was named "teacher of the year" nine times by the Roosevelt students while he served as a Social Studies teacher. Many of Nemec 's former players have gone on to play college and professional football. John is particularly proud of those who have entered the teaching and coaching profession. He has had the honor of coaching over thirty sons of former players.
Nemec retired from the Head Coaching position in 1997, but continued to serve at Roosevelt as the Athletic Director for seven years. In 2009 he returned to the Head Football Coaching job and remains there today. In his thirty-three years as head coach, Nemec's teams have won over 225 games and fourteen league championships. In 1996 he was chosen to be Ohio's head coach in the Pennsylvania "Big 33" game. John was inducted into the Ohio High School Football Coaches Hall of Fame in 2005 (the same year his father, Lou, entered the Pennsylvania Coaches Hall of Fame). He also has the distinction of being the winningest football coach in Portage County, Ohio's history.
John's career has also included many engagements as a public speaker. His primary theme is "Leadership" and he was chosen to give the keynote address at the Ohio Student Council Convention in 1992. He has also been active in the Kent Community serving on the Kent City Council for twelve years. In 1988 and 1989 he and Mary were co-chairman of the Portage County American Heart Association fund drive.
John is proud of his family, proud of his former players, and proud of his roots. His parents set an example of the importance of serving others. He and his younger brother, Jim, a 1966 Gateway graduate followed their lead. John in education and Jim in a distinguished military career. "Service above self' is what John witnessed in his family and during his three years at Gateway. Educators like Antimarino, Furrie, Laughlin, Hartman, Moody, Finfrock, Glees, Klipa, Middlekauff, Holden, and Shample are just some of the names who encouraged and supported John during his high school years. It is his hope that he has impacted as many young lives as the mentors who taught and coached him. He is proud to achieve this prestigious honor and is thankful to have played a small part in the "Gator Tradition".