Gateway Class of 1971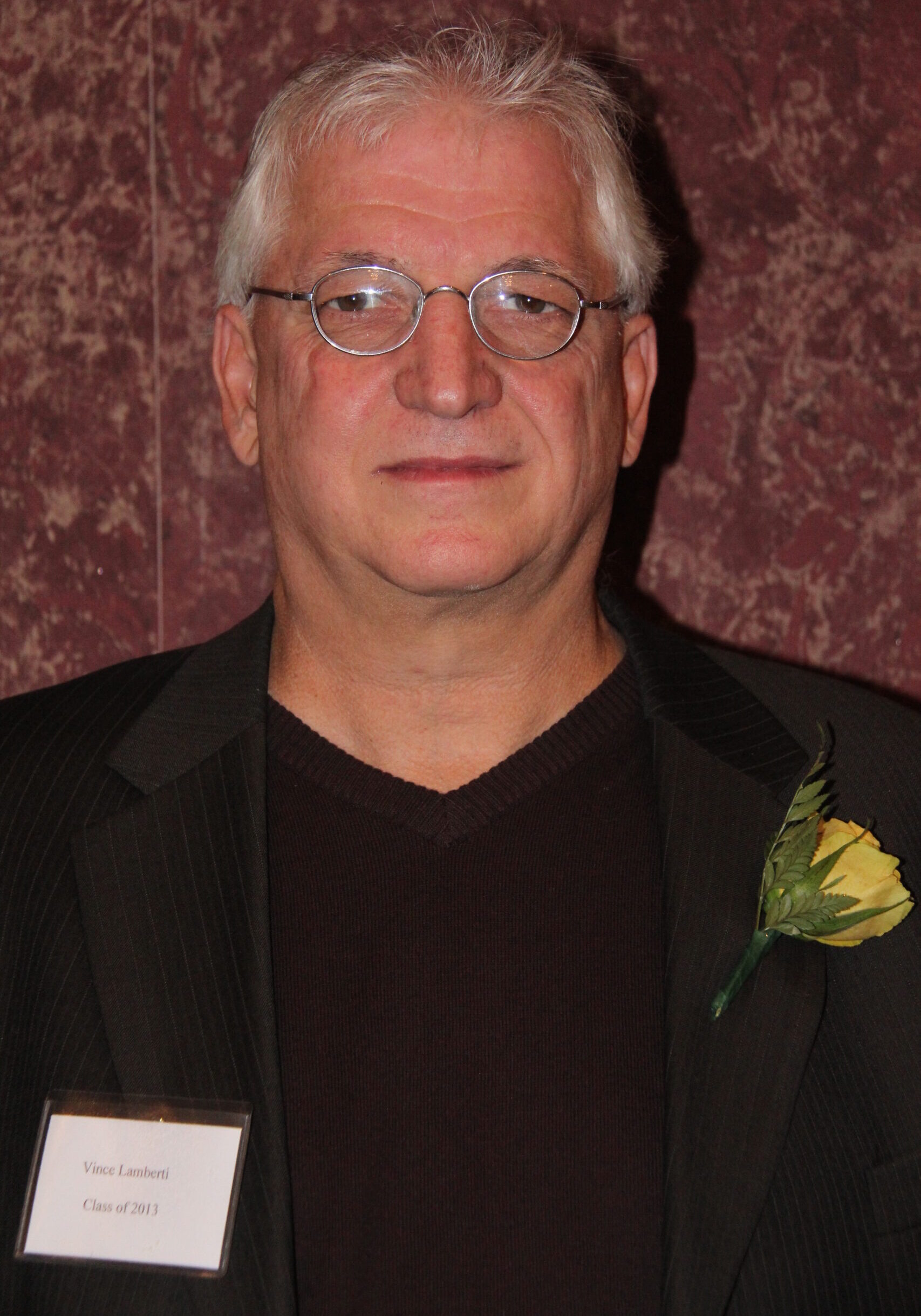 It is clearly evident that playing sports while growing up in Pitcairn, and later at Gateway High School, set the foundation for all the good things that came in the life of Vincent J. Lamberti. No doubt.
The journey started on "the hill" in Pitcairn where there were five or six families in the Thirteenth Street neighborhood with boys all about the same age. They played some sort of sport every day. Vince was the youngest and, without realizing it, learned to compete against bigger and stronger individuals early on. Those days were much different than now as nothing was organized and kids just got together, chose sides and played.
From his earliest days "on the hill" it was on to the Pitcairn Little League comprised of kids aged eight to twelve. Small eights versus big twelves. Age and size did not matter. No one discussed age differences. It was perform or go back to the dugout and sit. No excuses. At that time Pitcairn was a nice small town reminiscent of the 1950's with many mom and pop businesses that donated time and money to make little league baseball a fun experience for the township youngsters. The first manager that Vince remembered was Mr. Tony Folino. He was unique in that he had no child or relative on his team. There were no favorites. Vince grew to be relatively big, pretty good by Pitcairn standards, and his team won more than they lost. He would like to thank Coach Folino for helping him develop as there is no doubt his behavior often taxed his considerable patience. In fact he remembers Coach Folino telling him the year after he left that he won a lot less games but there was also a lot less stress.
For his elementary education Vince attended St. Michael's grade school in Pitcairn for six years. The foundation provided by the Catholic sisters prepared him very well for the much larger public school system. He owes the sisters a great deal as they tried to teach him how to learn and how to behave in an acceptable manner. He was pretty good at the former and a challenge on the latter so again, their patience was greatly appreciated and the threat of corporal punishment helped him understand their point of view, By the way.
After St. Michael's it was on to South Jr. High School for three years. During seventh and eighth grade Vince recalls just sort of being there in the school community. Before ninth grade someone talked him into going out for the football team. He showed up and got a uniform for summer practices. During this time coaches made cuts. There is no doubt, while he knew how to play from the fields of Pitcairn, he had no idea how to meet expectations in his first organized athletic activity where he had to actually make the team. Coach Steve Statnick was kind enough to keep him on his team although Vince was not real enthused when he made him a tackle. Vince may have fallen into the old adage that you "cannot teach big" as he was nowhere near one of the better junior high football players on his team. So a special thanks to Coach Statnick because if he would have cast Vince aside, his journey would have been considerably different.
After the football season Vince was back at Summers Field in Pitcairn playing pickup basketball waiting for high school to start. Some of his friends were playing ninth grade basketball but he was not a participant. For some reason the team had evening work outs and he was there waiting for one of his friends to finish tryouts. He recalls shooting a few hoops in a part of the gym that the "team" was not using. For some reason Coach Bob Holden came over and asked Vince why he was not trying out for the team. He convinced him to give it a shot, and again, under the same old adage that you "cannot teach big", Vince made the team. Ironically the kid who took Vince to the tryout did not make the team. This random inquiry to a kid no one knew led Coach Holden and his pal Coach Rege Giles to keep him on their team and frankly changed his life even at that young age. Vince became a part of the team that went undefeated until the league championship game. He owes a special thanks to Coach Holden and Coach Giles that can never be repaid.
Now it was on to Gateway High School where he was lost again and did not play junior varsity football. About half way through the season, for some reasons unknown to Vince, Coach Ernie Quarzo grabbed him one day and asked him why he didn't play football. Vince told him that he did not want to play tackle and decided to pass. Coach Quarzo told Vince to come out after school one day and run with him. If he could run well enough Vince could play receiver. Looking back, he let Vince win a few races and catch a few balls just to get him in pads. So Vince believed Coach Quarzo when he told him that he could play a little and he became a late addition to the junior varsity team. Once again if a kind hearted teacher / coach did not show an interest in some unknown kid his life would be considerably different. He owes Coach Quarzo a debt of gratitude which he has never openly expressed until now.
On to the sophomore basketball season where Coach Rege Laughlin and Coach Bill Murphy were kind enough to let him play on both the junior varsity and varsity teams at a time when tenth graders did not usually play major varsity sports. He recalls the varsity squad won about as many as they lost but better times were ahead as the underclassmen were very good.
The next year was his junior year and the football season of 1969. You could tell Coach Pete Antimarino and his staff were waiting for this year. The team was made up of a great senior class which only lost a fluke game the year before and almost everyone was back a year bigger and stronger. The undefeated team upset a heavily favored Altoona team at long gone Pitt Stadium. The bars in Pitcairn went wild and history was made as Gateway High School became the first "soft" suburban school to win a WPIAL football championship. Coach Antimarino was on the way to becoming a legend. Vince was the starting tight end and, to this day, that championship was the highlight of his high school career. The 1969 Championship Football Team was inducted into the Gateway Sports Hall of Fame in 1999.
On to the junior year basketball team coached by the legendary Art Betts who came to Gateway initially as an assistant football coach. Coach Betts was intense, tough, tolerated no nonsense (which led to a few clashes with me) and intimidating. The team was composed of a group of great athletes who expected to win and eventually came to reflect the new coach's tough demeanor. The Gators won the section title for the first time in a long time. The team ended up at the Civic Arena and lost to a good Clairton team in front of more than 11,000 fans. Another high school highlight not many kids get to experience.
Now it was his senior year. The last hurrah. Vince fondly remembers Coach Steve Klipa, Coach John Moody and Coach Larry Hanley along with Coach Antimarino trying to make the football team better each day. Gateway ended up losing a few and fell short of back to back conference championships. That team was a year or two away. The basketball year was different. The Gators were big, strong, experienced and extremely talented. They won the section title again, beating Laurel Highlands with a future NBA player in a big upset and, eventually, lost in the WPIAL semifinals to Farrell by a point at the end. The Laurel Highlands game was another high school highlight and the Farrell loss was the low point of his high school career.
After the football season Vince had won some post season awards and the colleges started coming around. His parents saved a bunch of the college letters which he found in an old box many years later that were stored away for him to find when he moved from Pitcairn years ago. Gaining admittance to this Hall of Fame gave Vince the opportunity to reflect on the great Gateway experiences of his youth and to re-open that old box. He is still amazed at the number of high profile institutions that showed interest in a kid from the Pitcairn hill. He chose the University of Pittsburgh over a number of other schools. The other schools would not have even opened his application without the athletic consideration. He played football at Pitt for two and a half years. His football career ended after breaking a few bones in his back and an eventual loss of interest in rehabilitation.
After graduation he got a job at Calgon Corporation where he has worked in the environmental pollution control business since 1976. He met his lovely wife Cynthia there. They have been married for thirty years, have two children and moved to South Fayette Township where Vince was on the school board for twelve years (imagine that). Alyssa was home coming queen among her many accomplishments and Michael was an all state basketball player on the South Fayette team that won the Pa AA State Championship. He could not be prouder of their accomplishments.
As he rounds third base in his life, and he reflects on life, he lives in a nice community with a great wife and two wonderful, successful children all of which was well beyond his wildest dreams while growing up the son of a tavern owner and stay at home mom on Pitcairn hill. He can honestly say that none of these things would have happened without the opportunity playing sports at Gateway High School provided. Vince is humbled by this election into the Gateway Sports Hall of Fame. He will forever be indebted to the coaches, teachers and nuns who took an interest in a difficult child. They all encouraged him to accept his opportunities. He understands today that not many people who grew up where he grew up were provided with these same opportunities. He has never adequately thanked those people until today and he hopes everyone involved accepts his heartfelt, sincere thank you for this election into the Gateway High School Sports Hall of Fame.