Gateway Class of 1988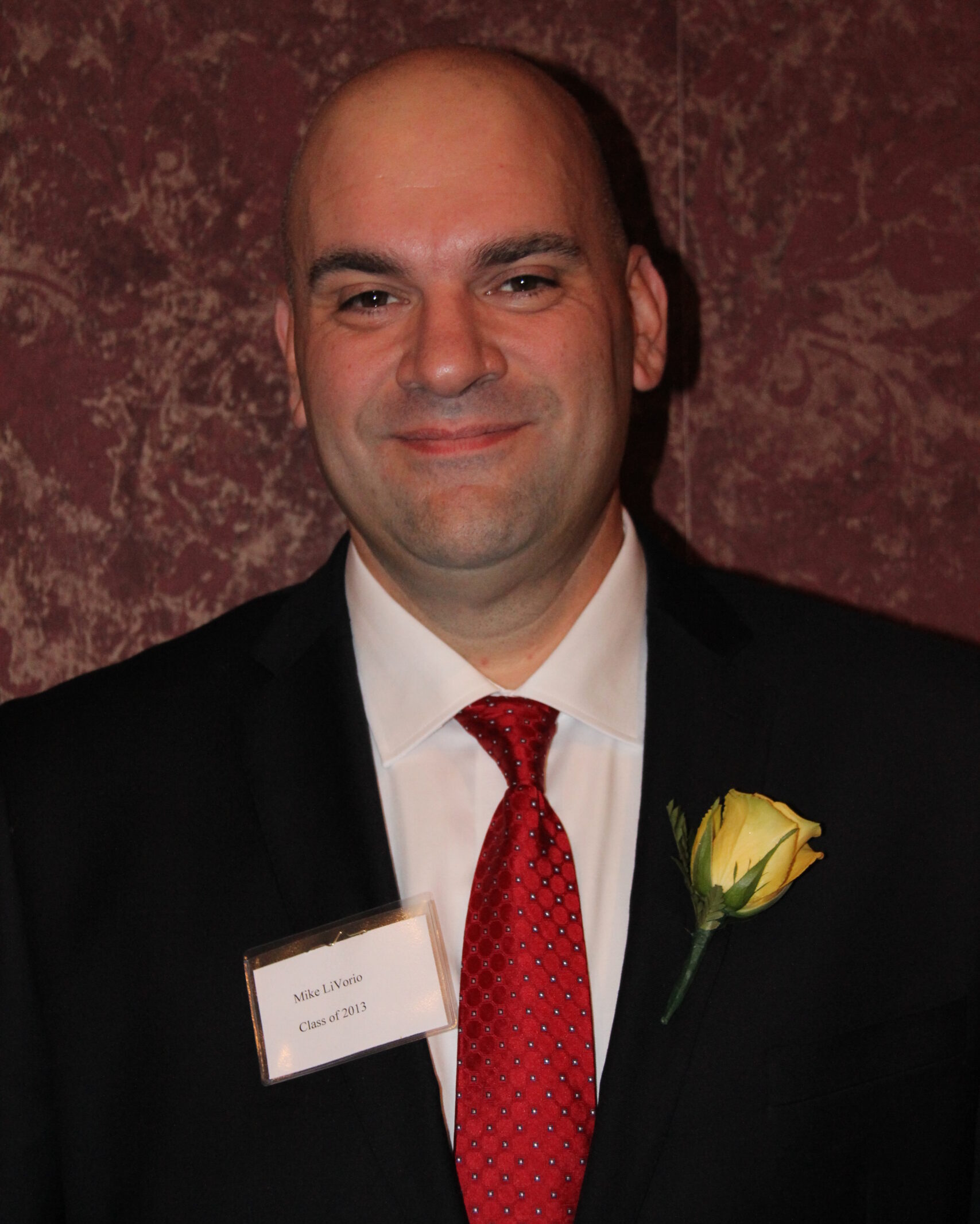 Michael LiVorio is proud, humbled and honored to accept this induction into the Gateway Sports Hall of Fame. As a multi-sport letterman in high school, Mike had the privilege to be surrounded by outstanding coaches, teammates, friends and family. Mike's athletic career started in grade school on the baseball and soccer fields. His size as a youngster gave him an advantage over the other kids his age. His baseball and soccer travel teams took him across the state to play against talented teams. At the age of 9, Mike was selected to play soccer during halftime at a Pittsburgh Spirit indoor soccer game at the Civic Arena. His mother Karen never let Mike play football at this young age for the fear of injury. Football wasn't ever a thought until the 7th grade when Mike met Coach Mitch Adams at Gateway Jr. High. Coach Adams asked Mike "Hey big boy. What sports do you play?" Mike answered "baseball and soccer." Mitch replied "Not anymore. You now play football and basketball." Mike didn't know at the time how significant that conversation would affect the direction of his sports career. Mitch became an integral part of Mike's early success. He proved to be a great teacher and mentor, whether it be on the football field or basketball court. Mitch set the standard of what it took to be a leader and winner.
Mike became a three year starter on Gateway's football team for the iconic Hall of Famer Walter "Pete" Antimarino. He was on the 1985 Co-Championship Team. The championship game was a hard-fought defensive battle with North Hills that ended in a 0-0 tie. The 1986 season saw the Gators back in the WPIAL AAAA Championship Game against North Hills in Three River Stadium. The rematch was set. The Gators and the Indians were both undefeated and nationally ranked by USA Today newspaper. The Gators defeated the Indians 7-6 with a late game interception that secured the win and posted an undefeated season.
Coach Antimarino, Coach Baughman, Coach Klipa and Coach Gratton showed Mike what it took to be successful on and off the field with a hard work ethic and winning attitude. It was from these gentlemen that Mike learned about upholding a championship tradition. A tradition that was the foundation of Gateway Football. "One head, straight as a arrow, sharp as a tack." That saying, said after every practice as the captains lined up the team, was everything that Coach Antimarino preached about working together as a team to focus all of your energy toward a common goal. A goal that he and his teammates understood. Mike was fortunate to be surrounded by Hall of Fame teammates Curtis Bray, Al Lardo, Todd Washington and Terry Smith. These young men exemplified the meaning of true leadership at a young age.
The crowning moment in his high school athletic career came when ESPN's "Scholastic Sports America" featured Mike and co-captain Curtis Bray in a segment that highlighted the top blue-chip football prospects in the United States. ESPN reporter, Chris Fowler, labeled Mike and Curtis as the "best 1-2 combo in any school in the country." Consistently, the Gators were nationally ranked high in ESPN's weekly polls. The segment was capped with highlight footage from the Homecoming game as the Gators shut out the Hempfield Spartans 32-0 for the win.
Mike was selected as a starter in the annual Big 33 football classic held in Hershey, PA. The Big 33 features Pennsylvania All-Stars vs. Maryland All-Stars. Mike was selected and played with teammate Curtis Bray. This was the first time in the games history that two players from one school were represented on the roster. Mike solidified the offensive line that helped the Pennsylvania All-Stars win 21-13 in a rain shortened game.
Awards:
USA Today – 1st Team All-American
Big 33 – Pennsylvania All-Stars vs. Maryland All-Stars
Associated Press – 1st Team All-State
Pittsburgh Post Gazette – Fabulous 22
Tribune Review – Finest 44
Gateway Football Team Co-Captain
Member of 1985 & 1986 WPIAL AAAA Championship Teams
After graduating from Gateway, Mike accepted a full football scholarship to the University of Pittsburgh. He continued play with Hall of Famer & teammate Curtis Bray. While a freshman at Pitt, Mike won the "Ed Conway Award" given to the most improved player. He was a three year starter for the Panthers and anchored the offensive line. Mike was a starter in the 1989 Sun Bowl in El Paso, Texas against Texas A&M where his Panthers pulled off a last second win. During his time at Pitt, he was fortunate enough to play with future NFL players such as Tony Siragusa, Curtis Martin, Alex VanPelt, Jeff Christy, Keith Hamilton and Reuben Brown.
While at Pitt, Mike was proud to watch his younger brother Tom uphold tradition and suit up in the Black and Gold as a member of the Gateway Gator football team. Today, Mike is the owner of a New York based environmental restoration company. His company's multiple locations provide commercial and residential service in New York City's 5 boroughs, Southern Connecticut, New Jersey, Eastern Pennsylvania, Maryland and Northern Virginia. His clients range from residential home owners to Fortune 500 companies as well as various U.S .Government agencies. Mike is especially proud of the fact that his group has helped thousands of east coast residents recover and rebuild from the devastation caused by Hurricane Irene and most recently, Super Storm Sandy. In the aftermath of Super Storm Sandy, Mike's company donated their services and resources to many of the local businesses and neighbors that were greatly affected by the damaging storm surge.
Today, Mike lives on Long Island, NY with his wife Susan and his son Michael Jr. who is already being recognized as a stand-out, all-star baseball player. He thanks Coach Antimarino, Coach Adams, the Gateway assistant coaches and former teammates for the strong influences that he has carried through his personal and professional life.