Gateway Class of 1993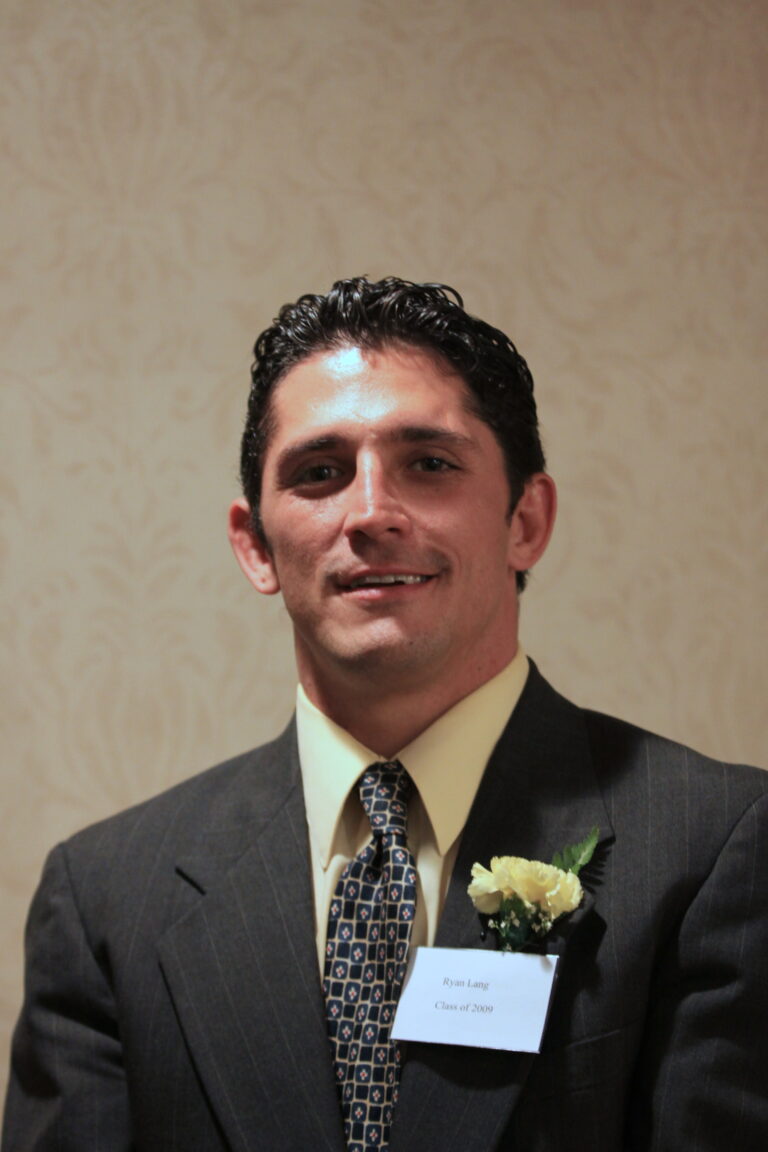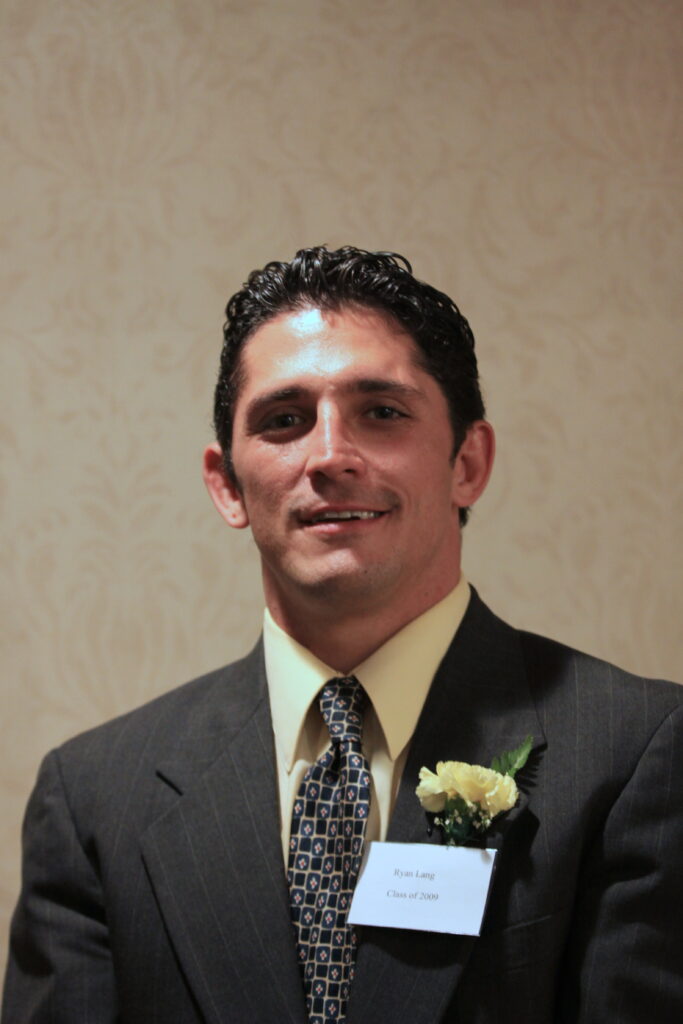 Ryan Lang was destined for athletic greatness at an early age. Having grown up with his bedroom window overlooking an asphalt playground in a town whose motto reads "A town that won't be beat can't be beat", it is easy to understand why he excelled in athletics. Heritage plays a factor as well. His Grandfather Dutch Lang was a rare freshman basketball star and completed his career with the highest average points per game in his competitive league at that time. His Father Denny Lang, a Gateway two sport athlete, had him playing catch for as long as he could remember. Sports were always important in his home. He was allowed to play ball in the house and some of Ryan's earliest hands training involved receiving clean dishes thrown to him by his brother Brandon from the dishwasher to the pantry at 429 Robinson Steet in Pitcairn. It is noteworthy that no glass item was ever broken during this activity. The playground, which was adjacent to his childhood home, was a catalyst for the development of many skills necessary for excellence in sports and in life. Dozens of playground athletes inspired Ryan throughout his early childhood including; Scotty Allen, Leonard Timmons, Billy Short and current hall of famer John Washington and his brother and Todd. Ryan would not be a spectator in these games for long and even though he was the smallest, he was one of the quickest and most sure handed of the Pitcairn playground athletes.

Ryan's organized sports career began in Pitcairn baseball. He was 4 years old in 1979 and, as a left-handed batter, would mimic Willie Stargell's pre-batting ritual swings for fun. In addition, he probably could sing "We Are Family" right now. Being quick, Ryan nearly always led off and he almost always
was assigned the #1 uniform, which in his case suited him in more ways than just size. Ryan could play any position on the diamond and did at one time or another. He was on a number of championship teams and always made the All-Star tournaments. One of his greatest feats as a baseball player was in Chalfont in 1987. Ryan led off the game with an inside the park home run and pitched a complete game shutout in a 1-0 victory while being iced down between innings due to the intense heat, lack of wind and high humidity. It turned out that Ryan had played that day with viral meningitis and that was the reason for the stiff neck. Ryan had played baseball his junior year at Gateway, only having the time because of an abrupt end to the previous wrestling season. After signing a national letter of intent to wrestle in college, Ryan started for the Monroeville Legion baseball team as a center fielder and leadoff hitter. Ryan participated in the legion All Area All-Star game. Ryan was coached by local greats Mitch Adams, Regis Giles, Joe Iovino, Bud Narey, Craig Seger, Keith Dudley and his father Denny.

His organized football career also began in Pitcairn where Ryan played for the Mohawks. He was an integral part of an undefeated, unscored upon 1984 championship middle team. This team would produce future local sports greats at both Penn Trafford and Gateway High Schools including: Chris Schneider, Randy Danielson, Paul Chambers, Ed Lehman, and Adam Kmetz. He was lucky to play for hometown legend Coach Cliff Adams in addition to Dave Sheffler, Cliff Lavelle, and Kevin Hoffner. Ryan played youth football until age 13.

Wrestling would be the next organized sport in which Ryan would partake. As a family, Ryan, his brother Brandon and his dad would constantly engage in this type of activity on the living room floor. There were no rules then and basically Ryan and Brandon tried, to no avail, to subdue their father.
In November 1982, Anthony Vargo encouraged Ryan to come to wrestling practice with the Little Gators wrestling team. He loved it. That year Ryan would also begin his wrestling career. The day Ryan and Coach Bane met was memorable for both. Coach Dick Bane placed Ryan in a "crab ride" and Ryan elbowed his future mentor trying to escape, sending him home to his wife Lynne with a black eye. Ryan was a two time Keystone League champion with the Little Gators. When in 6th grade Ryan would occasionally walk up to the high school to practice with the Gateway Junior High team because the youth wrestling team ceased to exist. Ryan excelled in his Jr. High career while wrestling for Tom LaBuff. Ryan lost 3 matches as a 7th grader, had an undefeated 8th grade year and only lost two tournament finals in 9th grade. During this time, Ryan would wrestle with the Churchill youth program where he was an Area 7 champion and placed 4th at the Pennsylvania Junior Wrestling State Tournament at age 14 in the 85 lbs weight class. As a sophomore at Gateway Ryan had a record of 23-10, was a section runner-up and placed 4th in the WPIAL having gone in unseeded. He placed in the top 8 in the state tournament. His junior year, Ryan was 27-4, a section champ and a WPIAL 3rd seed, where he was upset in the first round. His senior year, Ryan was 36-4. He lost in the finals of Gateway's Eastern Area Wrestling Tournament and would not lose another match until the PA State Semi-Finals. He was a WPIAL Champion, Southwest Regional Champion and placed 4th in the PIAA tournament.
He was selected to represent the WPIAL in the Dapper Dan Wrestling Classic which defeated the State of Wisconsin's All Stars. Ryan also received the brotherhood of wrestling award.

At Gateway, as a sophomore, Ryan would follow in his brothers' footsteps and join the Gateway Cross Country team to stay in shape for wrestling. The major difference was that he excelled in distance running on a competitive level. By his junior year, Ryan placed 6th at the Gateway Invitational, had top 20 finishes at the California Invitational and Tri-State Coaches Invitational and a top 30 finish in the WPIAL. During the fall in his senior year, Ryan would letter in golf, much to the chagrin of Cross Country Coach LaBuff. Ryan became a rare 4 sport letterman at Gateway.

By deciding to wrestle at The American University, Ryan followed in Todd Washington's footsteps by becoming college teammates with his older brother. As a freshman starter at 126 lbs, Ryan placed 5th at the Syracuse Invitational, 2nd at the Old Dominion Invitational and took 3rd place in the Colonial Athletic Association tournament at 142 lbs. His sophomore year, Ryan was ranked 15th in Div I by Amateur Wrestling News. He placed 2nd at the Wilkes Open and competed at the prestigious Midlands Tournament, an invitation only affair. Ryan placed 4th in the CAA. His junior year, Ryan placed 3rd at the West Virginia Open and was a West Liberty Invitational Champion. It should be mentioned that Ryan never lost a home dual meet in wrestling, which shows why he is a team player in an individual sport.

Wrestling took Ryan to Charleston, SC where he coached at The Citadel during the 2002-03 and 2003-04 seasons. During this time, The Citadel attained a top 20 national ranking, won the Southern Conference in 2004 for only the second time since 1967 and recruited a future Citadel All-American, Dan Thompson, who placed 7th in the NCAA in 2005 becoming the first Bulldog to achieve All-American status in wrestling. Ryan currently announces The Citadel Wrestling, the Southern Conference Wrestling Championships, the Dapper Dan Wrestling Classic and has had 3 years doing "move by move" analysis at the NCAA tournament on Takedown Radio which broadcasts the entire wrestling tournament on the internet. Ryan is also the play by play commentator for The Citadel baseball internet broadcasts of every home game.

Ryan has made an indelible mark on Gateway Athletics from a historical perspective; however, while being the youngest inductee into the Gateway Sports Hall of Fame to date, we feel it is a continued work in progress. Ryan has touched so many in athletics since 1993 that the chances of a future champion who was inspired by him are great. Hopefully, his future includes the opportunity to touch the lives of some future Gateway Gators. Wherever his journey in sports is headed, someone will be lucky to have him.
-Brandon Lang – Gateway Class Of 1990