Gateway Class of 1985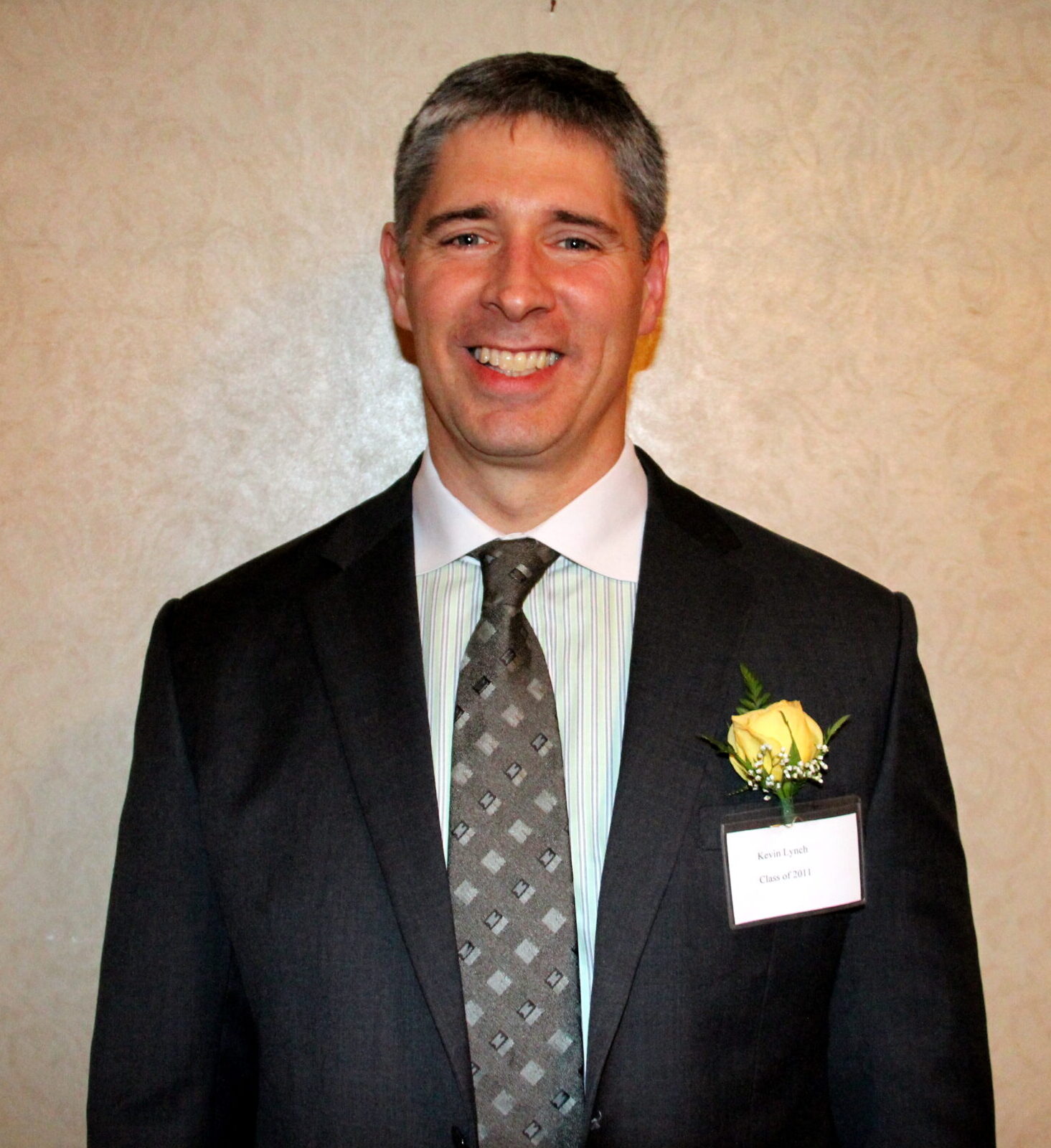 Kevin Lynch is honored and humbled to be inducted into the Gateway Sports Hall of Fame. He was not a gifted natural athlete, but he loved to compete, thrived on the discipline of wrestling and football, and was blessed with outstanding coaches, teammates, and family support. He is particularly pleased to share this honor with his teammates of the 1984-85 wrestling team, perhaps the best wrestling team in Gateway history.
As a grade schooler at North American Martyrs, Kevin played basketball, coached by his father, and baseball, coached by Ed Bitler. He enjoyed both but showed talent for neither. He also embarked on an ill-fated attempt to become a swimmer, encouraged by his mother and inspired by his younger sister Kathleen (GSHF 2003, swim team), who was rapidly becoming one of the top swimmers in the state in her age group.
Kevin's other early sports influences included watching the Steelers of the 1970's win four Super Bowls, playing tackle football with the older neighborhood kids, and wrestling with his feisty older sister Kelley. When he later entered South Junior High, he discovered organized football and wrestling, which were better suited to his abilities and demeanor than the other sports he had tried. He was also fortunate to be coached in both football and wrestling by his most influential sports role model, Bill Lukitsch (GSHF 2008).
Coach Lukitsch was larger than life. A barrel-chested disciplinarian, when he talked, you listened. And while you were listening, you were learning not only how to be a better athlete, but how to be a better young man. Kevin played tight end and defensive end for Coach Lukitsch's football team and wrestled at 165 lbs for his wrestling team. In Kevin's ninth grade season, the football team went undefeated, the wrestling team went 9-1, and Kevin was named MVP of the wrestling team. During those years, Kevin learned that dedication in the weight room could compensate for some deficits in natural ability.
Kevin moved to Gateway High School in 1982, as did Coach Lukitsch, who became an assistant coach for the wrestling team. There he joined a cast of legendary Gateway coaches: Dick Bane (GSHF 2003), head coach of the wrestling team; Pete Antimarino (GSHF 1999), head coach of the football team; and Art Betts (GSHF 2000), Kevin's defensive line position coach. Kevin's father's efforts to turn him into a skill player during many pass-catching sessions finally proved fruitless, and Kevin settled into his positions at offensive and defensive tackle on the football team. He became a two-year two-way starter for the football team, a rarity at that time, and a three-year starter at 185 lbs for the wrestling team.
In his senior year, Kevin co-captained the 1984 football team to the WPIAL AAAA championship game at Three Rivers Stadium, where the Gators fell to Mt. Lebanon 20-12. The team had no superstars that year, but it was well coached and played well together. Kevin was named All Conference. Kevin played his senior football season at 210 lbs, but three weeks after the championship game he had dropped to 185 lbs for the Eastern Area Invitational wrestling tournament. The move was motivated in large part by the hulking presence of Deno Castellano, fellow defensive tackle on the football team and one of the WPIAL's top heavyweights. Although Kevin was not pleasant to be around during those three weeks of weight loss, it paid off in a tournament championship and the Outstanding Wrestler award.
The 1984-85 wrestling team posted a 14-2-1 team record and advanced further in the WPIAL team championships than any other Gateway team had before. Kevin was fortunate to practice regularly with outstanding wrestlers: Deno Castellano (heavyweight), RD McKinley (167 lbs, GSHF 2008), and even Coach Lukitsch. When the opportunity presented itself, rubbing the coach's nose in the mat was an especially satisfying way to blow off steam. Kevin was section champ that year, as were RD and Deno, and together the three heavies anchored the strong lineup, which included two more section champs (Tim D'Amico, GSHF 2001, and Darryl Crawford) at lighter weights.
Kevin graduated as valedictorian in 1985 and was chosen the WPIAL scholar-athlete of the year, which carried the four-year Herb McCracken scholar-athlete fellowship. He also received the Westinghouse four-year scholarship and a National Merit scholarship.
Kevin's fondest memories of high school sports are of the tremendous support from the parents' boosters clubs and cheerleaders, especially Beth Clark; the camaraderie of his teammates; and the strong leadership and personalities of his coaches, including the iconic Pete Antimarino, the colorful Art Betts, and of course Dick Bane and Bill Lukitsch. Bane and Lukitsch clearly enjoyed working together, and this atmosphere carried over to the attitude of the team. Tough practices were occasionally punctuated by the spectacle of wrestlers playing water polo in the pool or trying to follow along to an aerobics video.
Kevin was recruited to Princeton, where he gave up dieting, bulked up to 260 lbs by his senior year, and played defensive tackle and wrestled heavyweight. He became a starter at heavyweight as a freshman, recording one of the fastest pins in Princeton history (15 seconds) and helping the team to the Ivy League title. He became a regular on the football team his sophomore year and a starter his junior year. His career at Princeton was curtailed by two ACL tears, one in each knee, during his junior and senior football seasons. He still managed to earn five athletic letters at Princeton and was awarded the Charles Caldwell scholarship for outstanding student athletes continuing for a graduate degree. Kevin graduated with honors in electrical engineering in 1989.
Kevin returned to the Pittsburgh area for graduate school, earning his PhD in robotics from Carnegie Mellon. During those years he was proud to watch his younger brother Michael suit up in black and gold as the center for the Gators football team.
After graduating from Carnegie Mellon, Kevin spent a year in Japan as a postdoctoral fellow at a government research lab. In 1997 he joined Northwestern University in Evanston, Illinois, where he is currently Professor of Mechanical Engineering and Codirector of the Northwestern Institute on Complex Systems. He is the co-author of a textbook on robotics, a Fellow of the Institute for Electrical and Electronics Engineers (IEEE), a former member of DARPA's Defense Science Study Group, Senior Editor of the IEEE Transactions on Robotics and the IEEE Transactions on Automation Science and Engineering, and the recipient of the Robotics and Automation Early Career Award, the National Science Foundation CAREER award and Northwestern's McCormick Professorship of Teaching Excellence, the highest teaching honor accorded by the university. His research in robotics is funded by the National Science Foundation, the Office of Naval Research, the National Institutes of Health, and the National Geospatial Intelligence Agency, among other agencies.
Kevin's work today is devoted to teaching and learning through research. He believes that teaching, in the classroom or on the field, is among the highest of callings. He thanks his coaches for their influence in his life. Most of all he thanks his parents, Mike and Joan, who have supported him tirelessly in everything he has done.