Gateway Class of 1988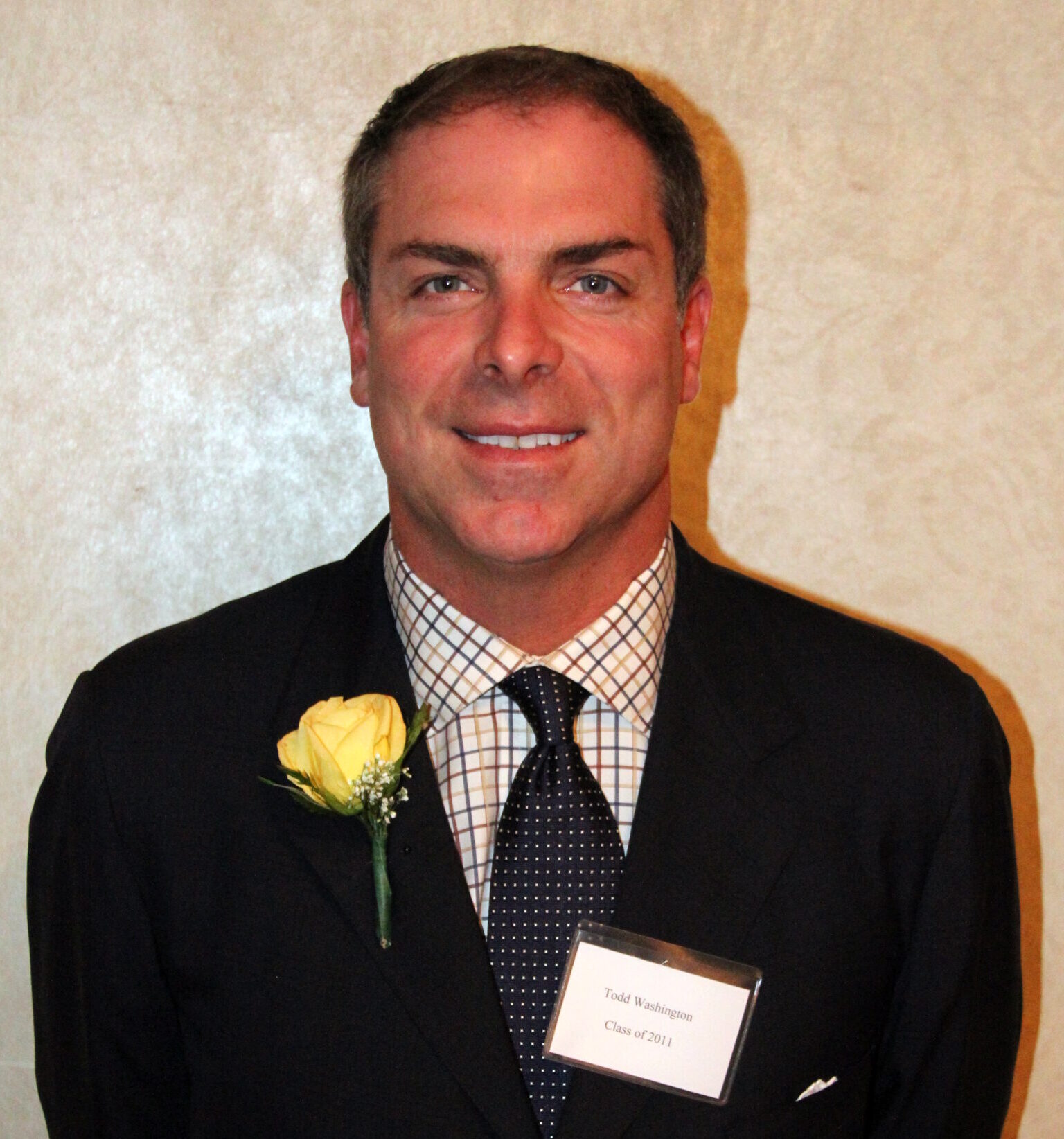 Todd Washington was raised in Pitcairn and attributes much of his success in athletics to the "ball field culture" of the 1970's. He and GHS Hall of Fame brother, John Washington, spent every single day of their youth playing pick-up football, baseball, basketball, "off the roof", four square, and countless other games. This was a time where boys and men of all ages didn't just play an annual "Thanksgiving Turkey Bowl", but literally every day, all day, or in the evenings during school. From a very young age, they were playing pick-up games with great athletes who were much older than they were: Nevin, Ricky, and Philip Edwards, Larry Mignogna, Dave and Ron Kuster, Tommy Lynn, Scott Williams, Mitch Adams, Wayne and Billy Emerick, the Seibel brothers, and the list goes on. This inclusion and getting to play, and having to keep up with these men who were 20-30 years old at the time, pushed the young Washington brothers to play to a higher level and standard that they could not have accomplished on their own. Later, as Gators, it was representing the town of Pitcairn, and being able to walk into St. Michael's Church every Sunday (where Coach Antimarino attends) , the Italian Club, or into a barber shop, or a local store, with their heads held high that motivated them to play for a cause much bigger than themselves- Pitcairn Pride.
His Gateway success started at South Junior High School where he was an undefeated wrestler, standout in baseball, and played quarterback and defensive back on the 7th grade football squad, but was even called upon to play in some 8thand 9th grades games with his brother and many future '85 Gateway Co-Champion teammates. It was during the last ever South Junior High versus Monroeville Junior High game, where, as a 7th grader, Todd played quarterback for the 8th and 9th grade team, that he quickly realized what kind of talent the two schools had. The following year, the two teams combined to form Gateway Junior High School, and the core of the future'86, nationally ranked team was formed.
He entered GSHS with the school's first 9th grade class, and continued his success in wrestling, baseball and football. Gateway's first 9th grade class proved to be a dominant force on the JV team, and Curtis Bray and Todd were used on varsity and joined the '84 team to Three Rivers. The following sophomore year, Todd earned a starting spot in the defensive backfield with Hall of Famers Terry Smith and brother John. Todd remembers reading a pre-season newspaper and recalling that the writer suggested that the biggest question mark for what was a possible repeat team was Gateway's youth in the defensive backfield. Terry and Todd, answered that question as the '85 team returned to Three Rivers and came away with a Co-Championship , where neither North Hills or Gateway could put points on the board due to relentless defense. It was before that game that Todd's brother John recalls his fellow seniors getting together in a shower area in the Three Rivers locker room for what would be their last game. Todd, a sophomore entered the fired-up "huddle" and Johnny said, "Get the hell out, seniors only!" Todd replied, "I wouldn't miss this for the world, and you guys will have to beat me out of this room!" After that game, John tells of being on the bus ride home and how the future '86 team members vowed that they would again return to the championship, and whether it was North Hills again, or not, they would avenge this "unfinished business" of a tie.
Todd and his teammates did just that! They went undefeated, were nationally ranked, and met North Hills, again at Three Rivers. That '86 Championship game was what most people remember Todd for. Two USA Today ranked, undefeated teams, meet again, and with the Gators leading 7-0 with seven seconds left on the clock, North Hills scored, and to their credit, went for the 2 point conversion and the win. North Hills came out in "trips" formation and Coaches Baughman and Gratton had prepared the defense well. Curtis Bray and Todd knew they would try a "pick" and had practiced for this. Curtis destroyed the pick receiver allowing Todd tight coverage to his receiver and "Gibby" Gigolotti tipped the pass which Todd intercepted, securing Gateway's victory. The promise was kept! (Todd played that game with Anthony Petrocelli's championship shirt under his game shirt, John Washington's Co-Championship ring in his right sock, and Larry Mignogna's Championship ring in his left sock as a reminder that he was playing for a purpose larger than just himself or his current team-but for his childhood idols that he watched on Friday nights through his youth)
Although that interception was what he was best known for, Todd set a single season record with 12 interceptions that year, four returned for touchdowns, 4 of those interceptions coming in the playoff and championship games, showing that great players make big plays in big games. He went on to play both quarterback and defensive back his senior year and helped lead the '87 team back to the playoffs, where injuries hampered his senior season and "four WPIAL championship games in four years hopes". He was also a standout in baseball and as a wrestler, which he regrettably gave up sophomore year to concentrate on football.
Awards:
*Pittsburgh Post Gazette -Fabulous 22, *Tribune Review-Finest 44, * WPIAL Quad A All Star, * PA All State All Star, honorable mention, *Gateway Football Co-Captain, *Honorable Mention-Big 33 Pennsylvania, *WPIAL AAAA Football Co-Champions 1985,* WPIAL AAAA Champions 1986 (WPIAL Hall of Fame Team), *Full Football Scholarship to Division 1AA, Virginia Military Institute
Todd followed his career at Gateway by accepting a full scholarship to VMI, to once again, join and play with his best friend, and brother, John. There he enjoyed success earning him All Southern Conference (second team) honors, twice named Conference player of the Week, and AP All State -Virginia honors, as a junior strong safety.
Todd has spent the last 20 years in Richmond, Virginia. He was given his start in business by a former Gateway Gator, Joe Conte. Todd has represented various surgical device and implant companies. His wife Maria has her hands full with Todd, his two boys, Hayden 12, and Berkley 8. The Washington boys are all active in a variety of sports and Todd enjoys coaching and singing in his band, Raizin Caine.