Gateway Class of 1987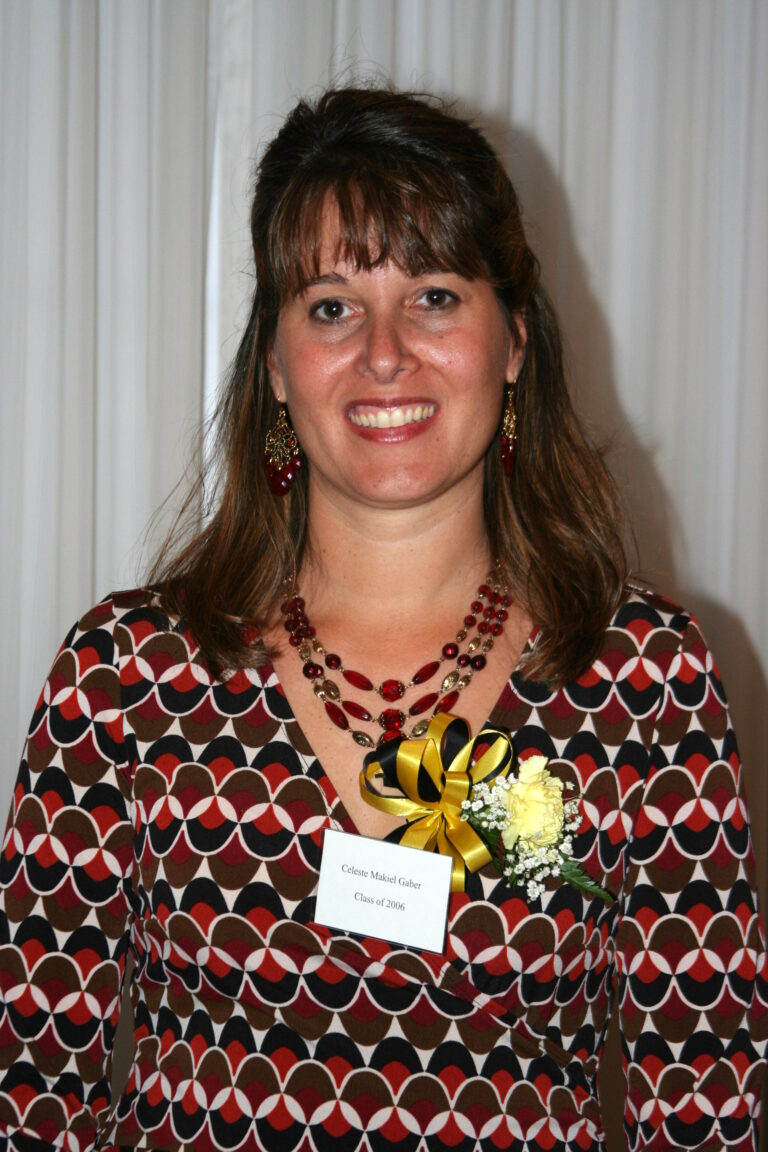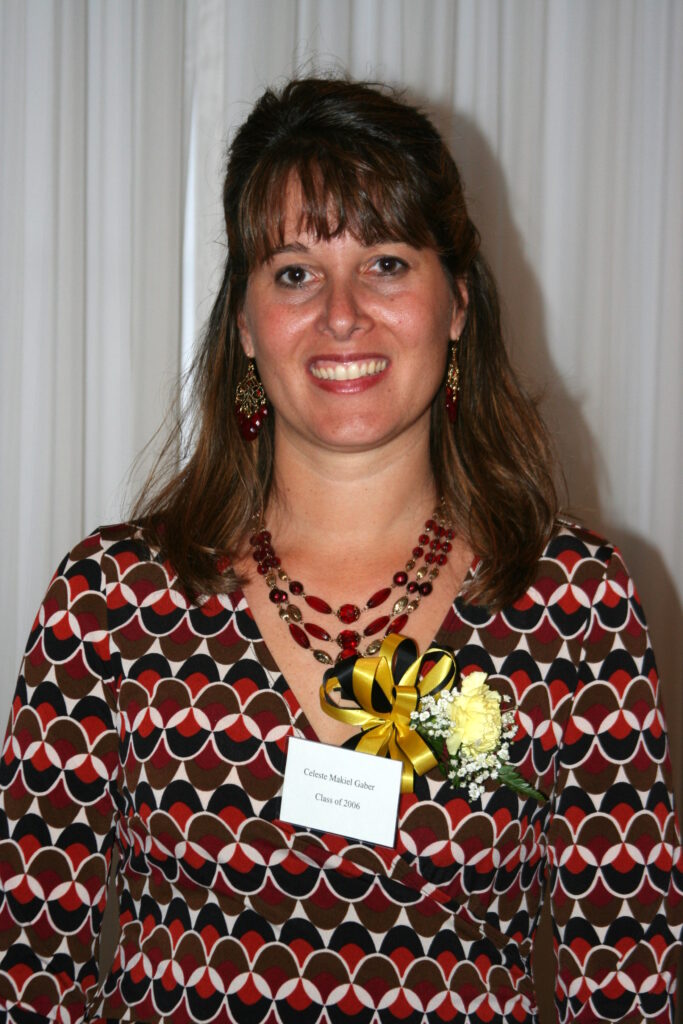 Celeste Makiel was, quite simply, the best distance swimmer to ever come out of Gateway. Her talents were not limited to distance swimming, however. In addition to her preeminence in the distance events, Celeste Makiel was one of the best all-around girl swimmers to ever swim for Gateway. Along with her freestyle records, she held the Gateway High School 100-yard backstroke record for several years following her graduation.
Celeste Makiel was one of those swimmers who coaches hope to get maybe once in a generation. Incredibly, Gateway had four such "once in a generation" girl swimmers all at one time in the mid-1980's – Celeste, and fellow Hall of Famers Michelle Chow, Melanie Morgan, and Anne Spaeder. That was both fortunate and, in a way, unfortunate for Celeste. It was fortunate in that Celeste was an integral part of a high school team, the likes of which we are unlikely to ever see again. The team won three state championships within a four-year period, and missed out on four straight state championships by mere hundredths of a second. That was truly the proverbial "dream team."
The unfortunate aspect of this (although Celeste Makiel herself, the ultimate team swimmer, would never perceive anything unfortunate about swimming on such a "dream team") is that it was hard to appreciate just how truly exceptional Celeste was as a swimmer when she found herself swimming along side Michelle, Melanie, and Anne. Celeste Makiel would have been the greatest swimmer ever in the history of most high schools.
Celeste was a pure joy to watch swimming. Anyone who ever saw Celeste swim can attest to the fact that she was probably the most graceful swimmer they ever saw. One could almost not appreciate just how fast she was going, because one tended to be mesmerized by how smooth and graceful her stroke was. When Celeste Makiel swam, there was nary a splash or ripple in the water. It almost made her swimming appear to be effortless. It was only by watching her lap most of the other swimmers in the pool, or by watching her time on the scoreboard, or by seeing Celeste break one Gateway record after another, could one truly appreciate how exceptionally fast Celeste was.
Pure talent, of course, does not get you very far in swimming, especially if you are a distance swimmer. Notwithstanding her considerable natural talent, Celeste's accomplishments (which follow) were the result of a tireless and relentless work ethic and a single-minded determination to reach her goals.
Celeste Makiel began her swimming career at Gateway Heights Swim Club in the mid 1970's. Celeste was a part of many Gateway Heights Swim Club records from the time she swam in the eight-and-under age group until she "graduated" from the team as a 17-year-old. She helped lead Gateway Heights to two Eastern Swim Association summer championships.
She also swam in the US Swimming program for the Pitt Aquatic Club. To the uninitiated, US Swimming is the highest level of age group swimming competition in the United States. Celeste's accomplishments in US Swimming would be too numerous to include here in their entirety. Suffice it to say that she was a five-time Junior National Qualifier, and twice finished in the top 16 at Junior Nationals in her specialty, the 200-yard freestyle. However, it was in scholastic competition where Celeste's star shone its brightest.
In high school, Celeste accomplished just about anything and everything that could be accomplished in high school swimming. She qualified for both the WPIAL and PIAA Championships all four years of her high school swimming career. She was a member of two of Gateway's three state team championships. In 1987, her senior year, Celeste was a team captain and finished second in the 200-yard freestyle and third in the 500-yard freestyle at the WPIAL championships. At the PIAA state championships, Celeste again finished second in the 200-yard freestyle and third in the 500-yard freestyle in an exceptionally strong field. Her times earned her Honorable Mention All-American honors in both the 200-yard freestyle and the 500-yard freestyle.
During her career at Gateway, Celeste set numerous individual and relay school records. Almost twenty years after graduating from Gateway, Celeste still holds the school records in the 200- and 500-yard freestyles! As anyone who is familiar with swimming knows, records are constantly being broken year after year. It takes a truly exceptional talent combined with an unwavering work ethic to set multiple high school swimming records that last for almost twenty years. In addition to her individual records, Celeste is also part of the 4×100 freestyle relay team that still holds the high school record. Along with her Honorable Mention All American status in individual events, Celeste earned first team high school All American status in several relays.
Celeste's swimming accomplishments earned her a full athletic scholarship to the University of Pittsburgh where, amazingly, her accomplishments at the collegiate Division I level perhaps even exceeded what she achieved in high school. Celeste was a Big East Conference Finalist all four years of her college career in the 200 yard and 500-yard freestyles. She was the Big East Conference Champion in the 500-yard freestyle in 1988, and was the Big East Conference Champion in both the 200- and 500-yard freestyles in 1989. Celeste was also a member of four Big East Conference Championship relay teams. That adds up to seven Big East Conference Championship gold medals!
From the Big East Conference Championships, Celeste moved on to the Eastern Seaboard Conference Championships, where she was a qualifier all four years of her college career. She was a member of a 4×200 yard freestyle relay team that finished in the top eight at the Eastern Seaboards, and was a member of a 4×100 yard freestyle relay team that won the Eastern Seaboards championship.
Celeste was team captain of the University of Pittsburgh women's swim team in her senior year, and Pitt won the Big East Conference Championship all four years of Celeste's college swimming career. It is probably no small coincidence that Pitt has not won a women's Big East Conference Championship since Celeste graduated.
After graduating from Pitt, Celeste taught school for two years in Arizona before returning to the Pittsburgh area. She still teaches and, like so many of Gateway's swimming alumni, has given back to swimming by getting involved in coaching the sport. For the past ten years, she has assisted Head Swim Coach and fellow Gateway graduate and swimmer, Corky Semler, at North Allegheny High School. Small wonder that North Allegheny has one of the top high school swim programs in the state of Pennsylvania! Celeste and her husband, Eric Gaber, have two children, Eliza, 8 and Rachel, 6.
When asked of her most vivid memory of her high school swimming experience, Celeste replied as follows:
I have many vivid memories of swimming for Gateway. The strongest memories are of my four years at the state swimming meet. Winning states my sophomore year in '85 was unexpected and just thrilling! Then repeating the state championship the following year in '86 with my dear friends Annie (Spaeder) and Melanie (Morgan) was tremendous, especially since I was very sick on the second day of the meet and somehow managed to swim well in the final relay. My senior year was extremely thrilling because we almost won states three years in a row and lost the final relay (which would have given Gateway another state championship) by hundredths of a second! I also have great memories of Michelle cooking rice in her steamer and the great laughs we had.
Celeste's contributions to the rich history and tradition of Gateway swimming truly are deserving of an honored place in Gateway High School's Sports Hall of Fame. Congratulations, Celeste Makiel!