Gateway Class of 1973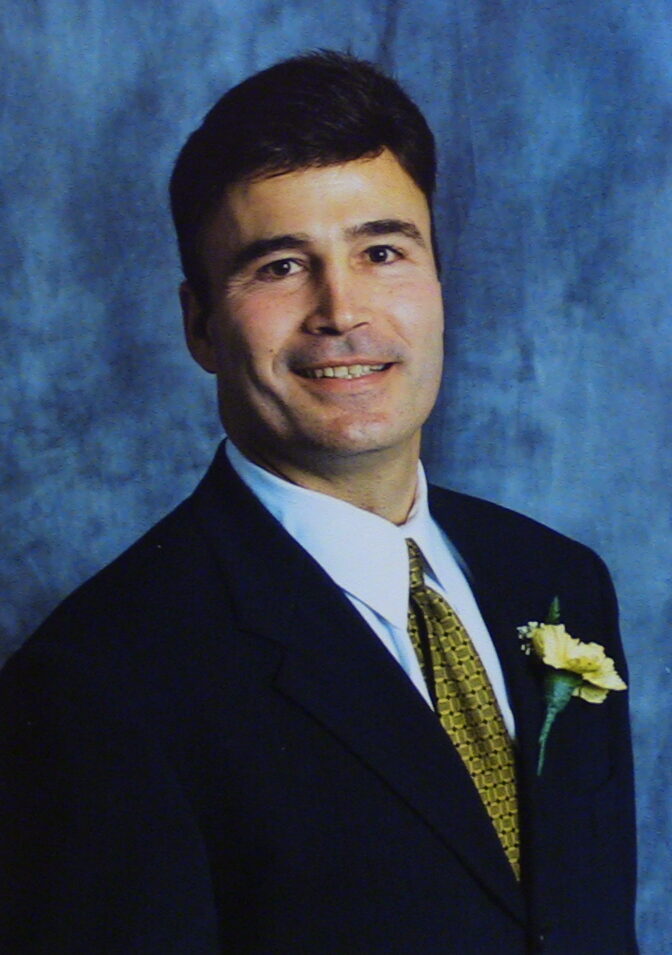 Mark O'Toole may have been the ultimate Gateway Gator. Much like Mike Devine, he was another of those rare outstanding athletes that led by example on and off the field. It was Mark that was able to motivate his teammates with his soft loving talks or his break the blackboard tantrums, whatever was necessary. Mark was truly a team player, always putting his teams ahead of his own personal accomplishments. I'm sure that all of his teammates, football and basketball alike, would agree that Mark O'Toole was probably the best athlete that any of them had the honor of playing with.
Mark was an outstanding basketball player for the Gators. He was a two-year starter and earned All West Penn Conference honors on the 1972-1973 Gateway Gator basketball team his senior year.
Mark had a simply outstanding junior high athletic career. He was a two-year starter for Coach Steve Statnick quarterbacking the South Junior High Tigers to 7 Wins and O losses in his 8th and 9th grade years. He also played basketball for Coach Bob Holden. Mark was a starter on the 9th grade team as an 8th grader. Mark was one of the key players on the South Junior High 9th grade championship teams the two years that he was a starter.
The name Mark O'Toole is synonymous with Gateway Gator football. You cannot talk about Mark O'Toole without talking about Gateway Gator football. It was Mark's football career that brings us here to the Gateway Sports Hall of Fame. He was one of the best Gator players in Gateway football history. He had the uncanny ability to make things happen. He was an excellent quarterback and the 1972 results speak for itself.
Some say, pound for pound, Mark may have been the best ever. No other Gator player in any other year had the heart the size of his. He understood what Gateway Gator football was all about having been close to the program through his two older brothers that also played for the Gators. Mike and Jim played on the 1969 championship team.
He understood the traditions that were started by that team. He would tell his teammates what they, as a team, were going to do, and you guessed it, they did it. Mark was the leader. There were times during the championship season in 1972 where Mark had to pick it up a notch and like so many other times, the entire team followed his lead. His teammates had so much confidence in him that they knew things would be OK, Mark would come through, he always did. Yes, his accomplishments make him a true Gateway Gator legend. Even today, Mark has the respect of those who were fortunate enough to coach him and play alongside him.
Gateway Athletic Career Highlights
1972 All West Penn Conference Basketball Player
1972 Co-Captain, along with Alan Baltrus and Ken Karish, Gateway Gator Football Team
1971 And 1972 Quarterback, under Coach Pete Antimarino, Gateway Gator Football Teams (also Placekicker)
1972 Gateway Gator Football Team Won The WPIAL AA Football Title along with the West Penn Conference Title and finished the season Ranked #1 in the State of PA, 11 Wins O Losses
1971 Gateway Gator Football Team had a Respectable Record of 8 Wins 2 Losses
1971 And 1972 As a Two-Year Starter, Quarterbacked His Teams to 19 Wins 2 Losses
1971 And 1972 Voted to the All-West Penn Conference All Star Team
1972 Voted WPIAL Most Valuable Player (choices included Hopewell's Tony Dorsett)
1972 Dapper Dan High School Athlete of the Year
1972 Voted to the Pennsylvania Big 33 All Star Team
1972 Voted to the Pittsburgh Post-Gazette All Star Team
1972 Voted to the All State Football Team (2nd Team)
1972 Who's Who High School Football Player
1972 Voted Honorable Mention to the Sunkist High School All American Team
1988 Voted to the East Boros Chapter of the Pennsylvania Hall of Fame (along with his father Mike O'Toole)
1972 And 1973 Received Many College Football Scholarship Offers
2000 Voted to the Gateway Sports Hall of Fame
College Football Career Highlights
1973 Accepted a Full Scholarship to Play Football for the University of Pittsburgh – Pitt Panthers
1973 To 1976 Played 2nd Team Defensive Back and Special Teams For Pitt
1975 Played in the Sun Bowl in El Paso, Texas
1976 Played in the Sugar Bowl
1976 Was a Member of the 1976 Pittsburgh Panther National Football Championship Team
Even today, Mark keeps himself in excellent condition. He runs approximately 1,100 miles each year and has been doing so for the past twenty-five years. In 1999, he ran in the Chicago marathon. Mark feels that setting goals athletically, regardless of your age, is an essential part of your personal and professional development.
We asked Mark about his most vivid memory of Gateway High School Athletics:
"There is no one particular memory that stands above all the great memories. I cannot do justice by selecting one vivid memory from my years at Gateway. Actually, one of my most vivid memories started long before I was in high school.  When I was in grade school, I used to wait by the tunnels to watch the players go in and out of the locker room and dream of the day that I would play football for the Gators. In my junior year, we had just lost to North Allegheny and were feeling sorry for ourselves preparing for our next game against North Hills. For whatever reason, we felt that we played pretty well against North Allegheny. Coach Art Betts sensed this and let us all know that we stunk. Coach Betts told us that since he did not have to carry any of us off the field after the North Allegheny game, then we must have left some of our game out on the field. What inspiration.  We beat North Hills 34 to 7 that evening and played the best game of the year as a team. We learned a lot about ourselves that night and how to raise the standards of perfom1ance. 

During the 1972 championship run, our first opponent in the playoffs was Kiski Area. We were three touchdown underdogs going into that playoff game against Kiski.  Everyone thought we were going to get killed.  Even people within our own community didn't give us much of a chance. Everyone doubted us except our coaches and we, the players. Prior to the game there was a closeness that we felt as a team that cannot be described in words. It was the look in our eyes, the trust and belief in one another and a will that would not allow us to be denied. We beat Kiski soundly that evening. In the fourth quarter of the Kiski game with about five minutes to go, one of our backs had just broken off a 35 to 40 yard run and it was evident that we were going to win. The crowd was cheering and everyone could sense the victory. Gregg Nemec and I had played together for the past six years as Center and Quarterback and together we took our time and walked those 35 to 40 yards just taking time to enjoy the moment. We had a great deal of confidence in one another and we knew we were going to the championship game the following week at Pitt Stadium.

We handily defeated Jeannette in that championship game. Last but certainly not least, I will always remember and cherish being a part of the 1972 Gateway Gator football team. We were not the biggest, nor maybe the most skilled. However, we were the "gold" standard for what a team is all about. We trusted one another, depended on one another, and would go the wall for one another. We refused to lose because we played with attitude, emotion and heart. We shared in our successes and failures as one group. I wish more people could experience that feeling because it stays with you for a lifetime.

I would like to thank the selection committee for the honor of being selected into the Gateway Sports Hall of Fame. With the rich tradition of Gateway athletics, I know there are many great athletes who are as deserving. I accept this honor on behalf of my teammates and coaches who made my nomination possible. We were all extensions of one another and I view this as a team award and not as an individual award. More importantly, I dedicate this induction to my mother and father who have been so instrumental in my life that I could never begin to repay them."

Mark O'Toole, 2000
Mark currently resides in Grand Rapids, Michigan with his wife of twenty years, Connie, and their two sons, Michael age 16 and Jason age 13. He currently works as a senior regional sales manager for Sara Lee Corporation. Of course, he received his bachelor's degree from the University of Pittsburgh in 1977. He completed his master of management degree in business administration in May of 1999 at Aquinas College. He is also a adjunct lecturer of business at Aquinas College. Mark still enjoys competitive basketball, tennis and golf as well as running and lifting weights in order to stay fit.
"The O'Toole family played a huge role in Gateway High School football. Mark, Mike and Jim all played key roles on their respective teams and were major contributors to the Gateway football legacy.

Mark, you demonstrated great high school credentials as a student and an athlete at Gateway. I admire you for your excellence in athletics and your participation in extracurricular activities. No one enjoyed their high school experience more than you.

You did a super job as my starting quarterback in both your junior and senior years. You were instrumental in bringing home our second W.P.I.A.L. football championship after a close opening win over Seneca Valley (14-12). You led your team to ten more victories and an undefeated season. In the Sto-Rox game, you played very well, hitting clutch passes and running the option well. You outplayed Chuck Fusina who went on to star as a quarterback at Penn State. North Hills was another great win. We were behind going into the third quarter 18-7, but you did some pinpoint passing and fine running to gain a 20-18 victory. You excelled in every game; you made good decisions in hitting your receivers and made good choices whenever you ran the option. I remember that you had very few interceptions and zero fumbles when executing the option. You and your teammates put it all together to finish with class by beating Kiski at Three Rivers Stadium and then Jeannette at Pitt Stadium for the W.P.I.A.L. football championship, an appropriate ending to your Gateway football experience."

Coach Antimarino