Gateway Class of 1970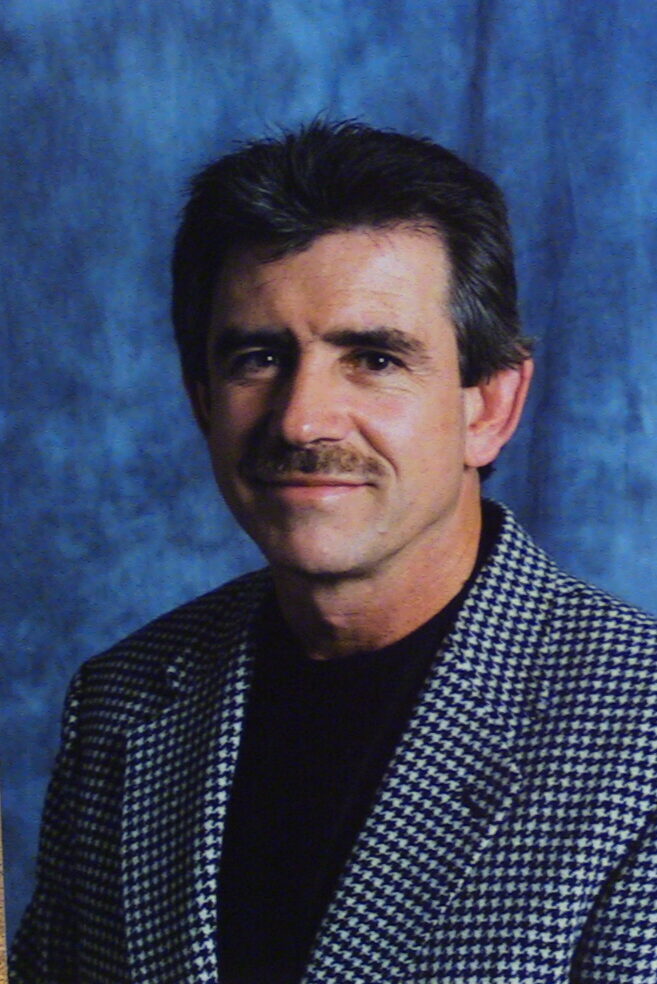 Mike Devine was one of those rare Gateway athletes that excelled in the three major sports of the late 1960's. Not only did he excel in the three sports, he was the leader and captain of all three. His classmates voted him class president for his three years at Gateway. He was an outstanding student that made the honor roll consistently. He was also voted who's who in American High Schools. He was one of six brothers that played various sports at Gateway High School. All six played football. From 1965 to 1978 you heard the name Devine over the loudspeaker at the Gateway High Stadium during Friday night football games. If the hall of fame began inducting families, the Devine's would be at the top of the list. Of course, it is Mike's individual athletic career that brings us here to the Gateway Sports Hall of Fame.
Mike played centerfield for the Gateway Gator baseball team his junior and senior years. He was a two-year letter earner and was co-captain his senior year. Mike was a good hitter, excellent fielder, and, like so many sports that he excelled in, he was the team leader.
On the basketball court, Mike was a point guard and playmaker. He was a two year starter and letter earner, led the team in assists, was second in scoring, co-captain, attained all conference status and was named most valuable player at the Forbes Trail Holiday Basketball Tournament. Mike was also the team leader on the basketball court.
Mike was an integral part of the 1969 Gateway Gator W.P.I.A.L. Football Championship Team, Gateway's first. The 1969 team was the first team inducted into the Gateway Sports Hall of Fame in 1999. Back in 1968-1969, if you were a starting player as a junior, you could play football. Mike started as a junior. The 1969 team used the two-platoon system. Mike played both ways. He was a halfback on offense and a defensive back on defense. He also returned punts and kickoffs and held for field goals and extra points. If you played both ways back then, you were a superstar. Coaches and teammates agree, Mike was a superstar. He had great natural athletic ability and was considered a very smart player because he always seemed to instinctively make the right instant decisions. His teammates believe that his leadership qualities and his uncanny ability to make the big play, when the team needed someone to step up and make the big play, are just a few of the attributes that cause the word superstar to be associated with Mike Devine. Mike set examples for his teammates on and off the field.
Mike was just as good at baseball and basketball as he was at football. Although Mike played all sports with the same intensity that he played football, football became the sport that Mike is most remembered for. The Gateway Football Program began receiving some press after becoming W.P.I.A.L. Champions. It seemed that the Gators were in the newspapers for weeks leading to the Altoona game and for weeks after defeating Altoona. The locals couldn't get enough of the Gators and Mike seemed to be at the center of much of the attention.
Today, when you talk to Mike, he is quick to point out that he is most proud of his team accomplishments rather than any of his individual accomplishments. He was truly a team player.
Gateway High School Athletic Career Highlights:
1970 Co-Captain Baseball Team
1970 Co-Captain Basketball Team
1970 All Conference Basketball Player
1970 MVP Forbes Trail Holiday Basketball Tournament
1969 Co-Captain Football Team
1969 Halfback And Defensive Back W.P.I.A.L. AA Championship Team
1969 All Conference Football Player
1969 All W.P.I.A.L. Football Player
1969 Coca Cola Player of the Game vs. Churchill
1969 Scored Two Touchdowns vs. Altoona Championship Game
1969 Dapper Dan High School Player of the Year
1969 Knights of Columbus Boy of the Year
1970 Outstanding Teenager of America Selection
1970 Who's Who in American High Schools
1970 Bob Warren Award – Student Athlete of the Year
2000 Voted to the Gateway Sports Hall of Fame
Mike received a football scholarship from North Carolina State University and played football for a gentleman named Lou Holtz. Again, another coach saw Mike's leadership ability and made him co-captain of his college conference championship team. Mike was an all-conference defensive back at N.C. State. In his four years at N.C. State, he was a three year letter earner, he was ACC player of the week three times, he broke the school record for interceptions, one year he led the nation in interceptions, he was an all ACC academic all American, he consistently made the dean's list, and he played in three college football bowl games. Mike played in the Peach, Liberty and Astro Blue Bonnet Bowls.
Mike's team, his senior year, defeated Penn State at Penn State. His most cherished bowl memory was the 1972 Peach Bowl. His opponent that day was West Virginia University, coached by Bobby Bowden. One of the players for West Virginia was Dave Jadgman.
Dave was a teammate of Mike's all during high school. Dave was another co-captain of the 1969 Gator champions and also an integral part of that team. That day was very special to Mike, not because N.C. State beat West Virginia, mainly because Mike got to play with an old friend once again. Upon graduation from N.C. State, Mike became a graduate assistant coach for coaches Lou Holtz and Bo Rein.
Mike's leadership ability continued long after graduation from N.C. State. He coached youth soccer for six years and coached youth basketball for four years in Raleigh, NC. He also coached the local high school football team for six years and his team made the playoffs three times.
Mike currently lives in Raleigh, NC with his wife Betsi and their two daughters, Michelle age 27 and Lauren-Kelly age 11. He has been vice president for L&M Transportation, a transportation broker, for the past seventeen years in Raleigh. Ironically, he works daily with three of his five brothers.
We asked Mike about his most vivid memory of Gateway High School Athletics: "I have been blessed with many special memories during my playing and coaching career. Without a doubt, the most cherished memory is beating Altoona and winning the 1st W.P.I.A.L. championship at Gateway High School. Our team had a chemistry that was truly magical. Contrary to "expert" opinion, there was absolutely no question that we were going to win that game. There was to much pride and cohesiveness. We did not accept anything less than maximum effort from everyone on that team. I feel very fortunate to have had the privilege of being a part of that team."
"When I think of Gateway High School football, the number "23" often flashes up in my memory bank. As coaches, we are often asked about some of our best teams and players. When Mike Devine's name pops up, I describe him as "Mr. Versatile." Mike, you possessed the intangibles, the heart and soul to be a great athlete. There were many examples of your football prowess. I can still see you going off tackle to the left on a big victory over Derry area your junior year. You were a speedy, flashy runner who knew where the goal line was. This was especially evident in the W.P.I.A.L. Championship win over Altoona. In the Altoona game you kept us ahead with two electrifying touchdown runs. You excelled not only as a running back, but also as a clutch receiver. I recall in the North Hills game, your junior year, you caught a pass for a touchdown which the official called back. We ran the very same play on the next down and you scored a touchdown again. Mike, high school defenses must have thought you were unstoppable. Speaking of defense, you were exceptional on that side of the ball as well, another example of your versatility.

Mike, I'd have to say, you did it all, not only on the field but also off the field, particularly in social and school activities. I could go on, but your accomplishments in high school, college and life speak for itself. It was an honor for me to have known the Devine family and to coach all six Devine boys on the gridiron – Ed, Mike, Bob, Bill, Jim and Tom. Gateway football would just not have been the same without the Devine family."

Coach Antimarino