Gateway Class of 1965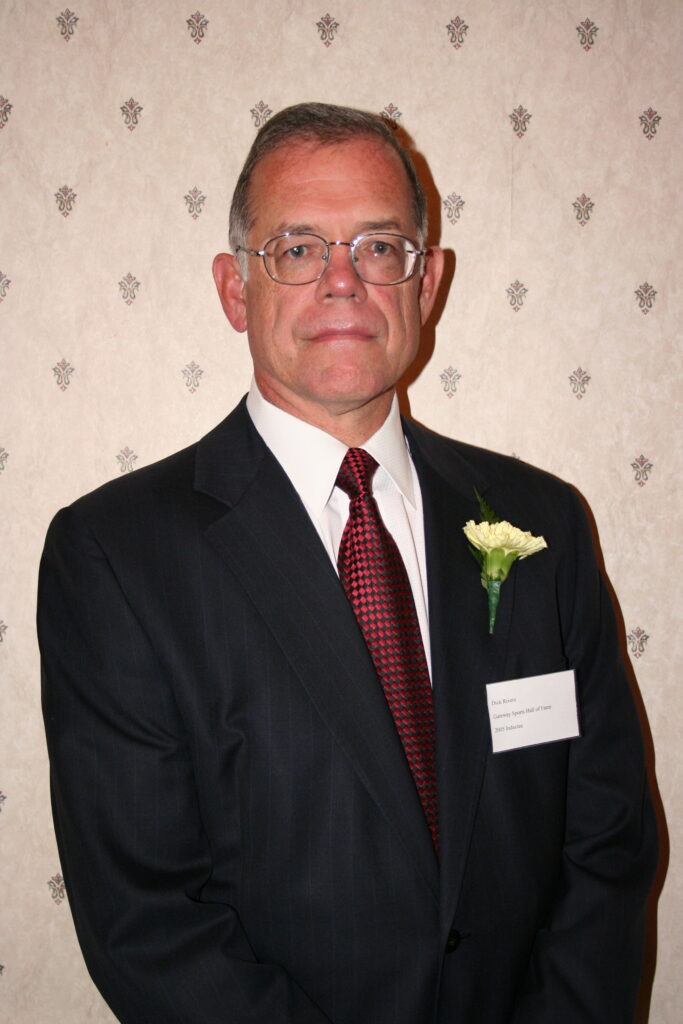 Dick Rivers was an outstanding student athlete that lettered in football, basketball and track during his days at Gateway. He was the only three sport letterman from the 1965 graduating class. In addition to his outstanding athletic abilities, he was also voted president of his senior class and graduated from Gateway with high honors. His coaches and teammates all agree, Dick was a fierce competitor, hard nosed, well prepared, well conditioned, a natural athlete, an athlete ahead of his time.
As a member of Gateway's track team, Dick participated in the three main field events. He threw the discus, javelin and shot put. His coach claims that he always did much more than was expected of him. He was dedicated and very personable. Coach Walt Donnellan, who was the track coach at Gateway during the 1960's, considers Dick to have been one of his top two student athletes of all time. Pretty good company considering Walt Donnellan coached high school boys for thirty years.
Dick was a member of the 1964 Gateway Basketball Team that was inducted into the Gateway Sports Hall of Fame last year. The Gators won the section championship for two straight years. His senior year, the Gators were 20
Wins 4 Losses. His team played Midland, an eventual finalist, in the WPIAL quarterfinals, at the Civic Arena, in front of the largest crowd ever to see a high school basketball game in Western Pa to that point in history. Dick played forward and was a tremendous competitor. His coaches and peers remember that Dick was always working out or studying. He practiced very hard. He was a great defensive player and was often asked to cover the opponents' top scorer. Dick also participated in the highest scoring home game ever, a 97-92 overtime win against Springdale his senior year.
Football was Dick's main sport. He was an outstanding football player. On offense he was the starting quarterback and on defense he was the starting linebacker. He played for the Gators all three of his high school years. Not many remember that he was also the long snapper for punts and extra points. He was an integral part of the 1964 Gateway Varsity Football Team. He, along with his good friend Jim Nemec, were voted Team Captains by their peers. Dick and his teammate Rick Kotulak were Gateway's only all conference football players that year. Once again, Dick always did a little more than was expected. He always set the tone for his teammates at practice and at game time. His attitude and leadership contributed to a winning season in 1964 and helped establish Gateway Championship Football for the future.
Dick received many awards while a student athlete at Gateway including:
– National Football Foundation and Hall of Fame Association Scholar
Athlete Award presented at the Pittsburgh Curbstone Coaches Banquet
Dardanell Press East Suburban High School Football All Star Team
Honorable Mention Pittsburgh Post Gazette Football All Star Team
Sportsmanship Award from the Pittsburgh Optimist Club
All District Football All Star Team
All WPIAL All Star Team Honorable Mention
Member of the National Honor Society
Gateway Graduate with High Honors
After graduation, Dick went on to the United States Air Force Academy where he lettered in football in 1967-1968. He played outside linebacker and was the special teams captain. Dick was a finalist in the 1969 Air Force Academy Boxing Championships where he finished as the runner-up in the
light heavyweight division. He was offered an NCAA postgraduate scholarship for his accomplishments in football and academics. He graduated with honors in 1969, 16th in a class of 630.
Dick accepted a graduate school scholarship to the East-West Center (associated with the University of Hawaii) and graduated with an M.A. in Asian Studies. He played rugby for the East-West Center and was on the team representing Hawaii in the international matches against New Zealand and Australia.
Dick currently resides in Murrysville and is President of Easley & Rivers, Inc., a commercial interior contractor.
We asked Dick about his most vivid memory of Gateway High School Athletics:
" The football rivalry with Penn Hills, in particular, our victory at Penn Hills in 1964 (19-13). I am not certain, but I believe this was Gateway's first win against Penn Hills in football. Although always a fierce rivalry, in the mid-1960's the games had another element of interest in that Jim Nemec and John Nemec, both teammates and friends, played for Gateway and their father, Lou Nemec, was the head coach at Penn Hills. In addition, Mrs. Nemec taught in the Gateway School District and was my seventh grade Homeroom and English teacher. The whole Nemec family had a very positive influence on me, athletically and academically. "
"Dick, your teammates on the 1964 Gateway squad selected you as co-captain. On and off the field, you were a great representative of your team. I have always said that any team plays the way they practice. You set the tone for your teammates in every drill and segment of our practice sessions. Not only were you an all star football player, you lettered in several sports at Gateway. As a football player, you were one of my best. You were one of a few quarterbacks that also played defense. Your attitude and leadership contributed to a winning season in 1964. Your 1964 team was the beginning of what has been described as Gateway's football dominance. From your senior year in 1964 to 1989, Gateway had only one losing season. You had an fine football career at the Air Force Academy until injury ended your football playing days. You have been blessed with success and a fine career. My heartfelt congratulations on your deserved Induction into the Gateway
Sports Hall of Fame. I wish nothing but the best for you and your family."

Pete Antimarino