Gateway Class of 1996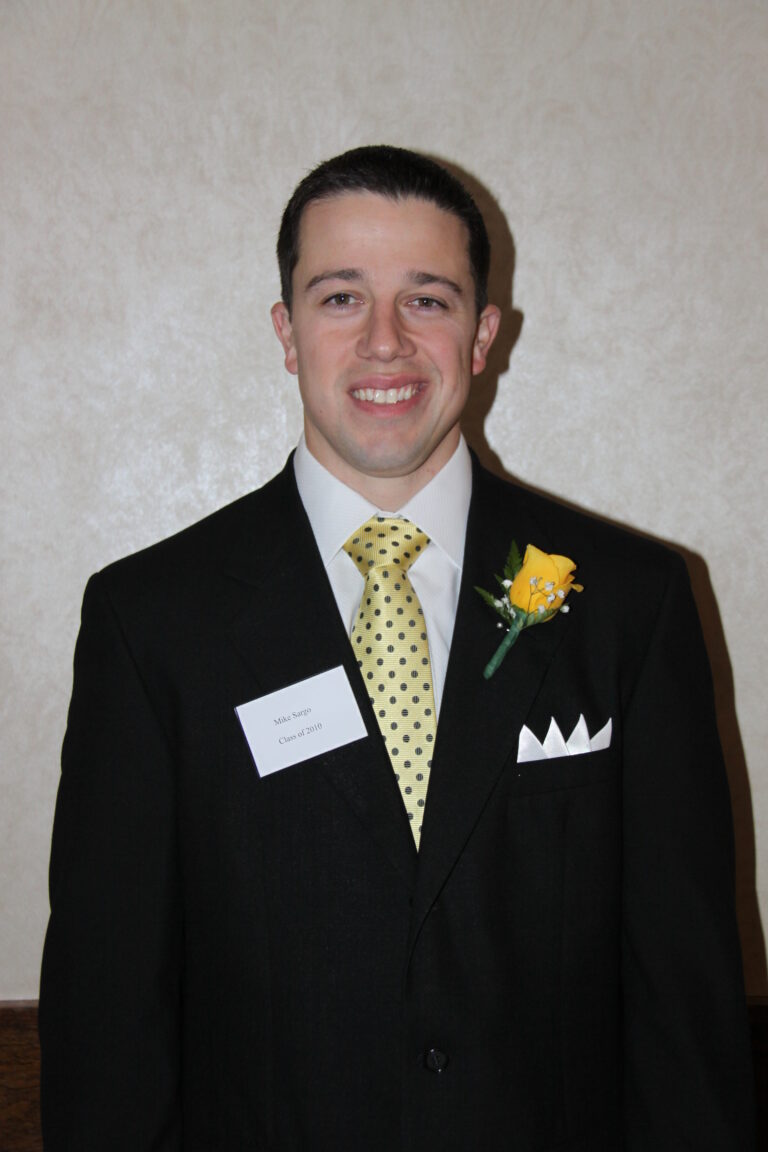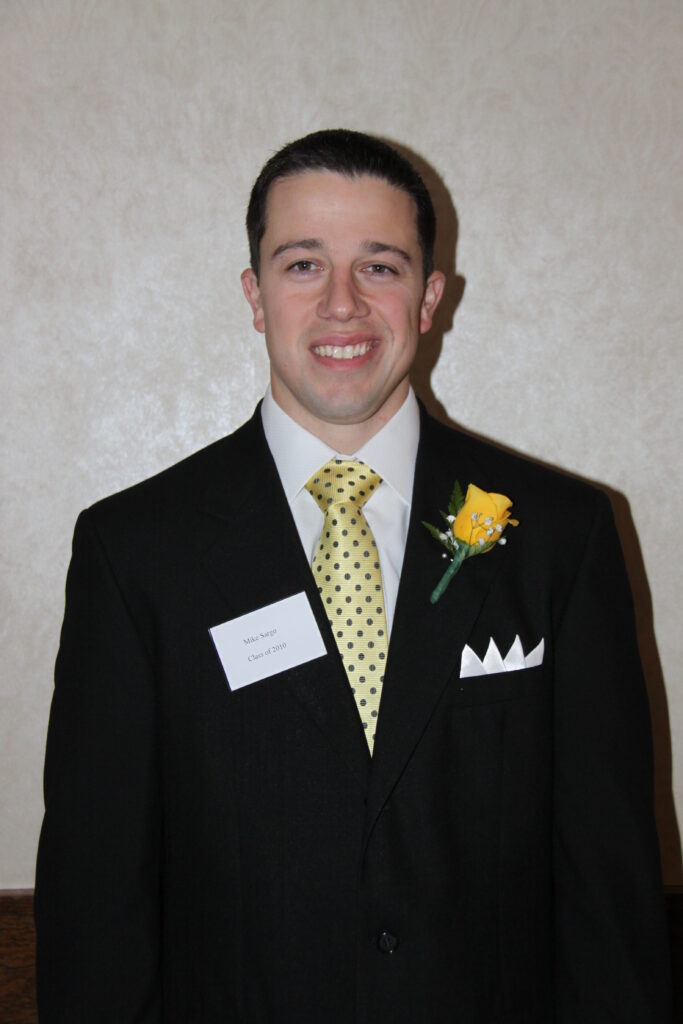 Mike Sargo started his athletic career at a young age playing a variety of sports from baseball to soccer. Mike really enjoyed the competition that sports provided and as a kid he would play just about any sport that he could get one of his friends to play against. Most often that friend was his next-door neighbor Brian Cooley. Mike did not come from a hockey family and was introduced to the sport of Ice Hockey by Brian.
Ice hockey became the most natural sport for Mike as he began to excel at an early age. He began skating at the age of five and started playing organized hockey at the age of six. The Cooley's had built a homemade rink in their backyard, which allowed Mike and Brian to spend countless hours developing their hockey skills at a young age. During the winter when the water would freeze Mike and Brian would rush home from school to lace up their skates and play hockey until it was timefor them to go to bed.
Mike and Brian started playing hockey for the Eastern Hockey Association and won a Mite championship in their first year. Over the years Mike has been a part of many championship teams while playing for several different organizations such as; Eastern Pittsburgh, Mt. Lebanon Travel, Pittsburgh Stars, Pittsburgh Amateur Penguins, Gateway High School, and West Virginia University.
Mike Sargo is Gateway's Career Scoring Leader with 255 goals and 372 total points.
Mike is the only AAA player in PA state history to score 100 goals in a single season.
2nd All-Time in the WPIHL for career goals
3rd All-Time in career points, single season goals, and single season points
Mike broke the WPIHL AAA single season scoring record of 68 goals (Lynn Sipe-1982) by scoring 101 goals in 22 regular season games. He also set the single season points record with 136 total points. (1996)
Inducted to the Pennsylvania Sports Hall of Fame- East Boros Chapter (1996)
Pittsburgh Post-Gazette "WPIHL Player of the Year" (1996)
4-time WPIHL All-Star (93, 94, 95 WPIHL-AA) (96 WPIHL-AAA)
2- Time WPIHL Scoring Leader all classes (1995 and 1996)
2-Time WPIHL-AA Scoring Runner-Up (1993 and 1994)
2-Time Pittsburgh Post Gazette- WPIHL Hockey; Stellar 6 Pick (1995, 96)
3-Time Pittsburgh Penguins- "WPIHL Player of the Month" (1994, 95, 96)
Pittsburgh Post-Gazette "WPIHL Athlete of the Week" (1996)
WTAE- Operation High School Sports "Player of the Week" (1996)
FOX 53- Toyota Fox/Jox High School High School "Athlete of the Week" (1996)
Mike has always recognized that hockey is a team sport and has been very fortunate to be surrounded by exceptional teammates such as; Brian Cooley, John Desmond, Brian Mulik, and Dan Siegal. Mike is most proud of his team accomplishments and led Gateway to 3 straight state playoff appearances in the 1994, 1995, and 1996 seasons;
WPIHL-AA Runner-Up in 1994 with a record of 16-5
WPIHL-AA East Division Champions in 1995 with a record of 18-4
WPIHL-AAA Champions in 1996 with a record of 18-5
Upon graduating from Gateway in 1996, Mike decided to continue his education at West Virginia University by working towards his Bachelors in Business Administration, while majoring in Management Information Systems. Mike continued to excel at hockey becoming the All-Time leading scorer at West Virginia University, 2-Time ACHA National Scoring Leader (99, 00), 3-Time American Collegiate Hockey Association (ACHA) All-American (98,99, & 00), 3-Time Eastern Collegiate Hockey Association (ECHA) 1st Team All-Star (98,99, & 00), 7-ECHA League Records: Points in Season 64, Goals in Season 43, Power Play Goals in a Season 10, Short Handed Goals in a Season 6, Hat Tricks in a Season 9, Goals in a Game 7, and Assists in a Game 5, and 8-WVU records: Points in Career 331, Goals in Career 214, Goals in a Season 68, Points in a Season 96, Plus/Minus in a Season +48, Goals in a game 7, Assists in a game 5, and Points in a Game 11.
Mike is very proud of his team accomplishments by leading WVU with the help of fellow Gateway graduate Brian Mulik to 3 straight ECHA league championship games (97,98,99), ranking in the top 15 of the ACHA nationally 4-times, and taking WVU to its second appearance in the ACHA National Championship tournament and finishing the season with a top 10 national ranking.
Mike was invited to training camp with the Wilkes-Barre Scranton Penguins in the American Hockey League (AHL) the Pittsburgh Penguins AAA affiliate as a free agent and then the Wheeling Nailers of the East Coast Hockey League (ECHL) the Pittsburgh Penguins AA affiliate.
After the completion of Mike's playing career he has continued his involvement in the sport of hockey as an assistant coach for Plum High School and as the head coach at Duquesne University. He now referees in the Pittsburgh area.
Mike has recently graduated with his Master's degree in Strategic Leadership from Mountain State University in June of 2010. He currently works for Direct Energy Business as the Program Manager for Data Integrity and continues to utilize the life lessons he has learned from hockey and academics. Mike currently lives in Murrysville, PA with his wife Rebecca Verost (Gateway 1998), one-year-old twin boys Anthony and Alex, and chocolate lab Bauer.
Mike is extremely thankful that his parents were willing to support his hockey career. He appreciates the time and money they spent hanging around ice rinks and traveling around the country.