Gateway Class of 1993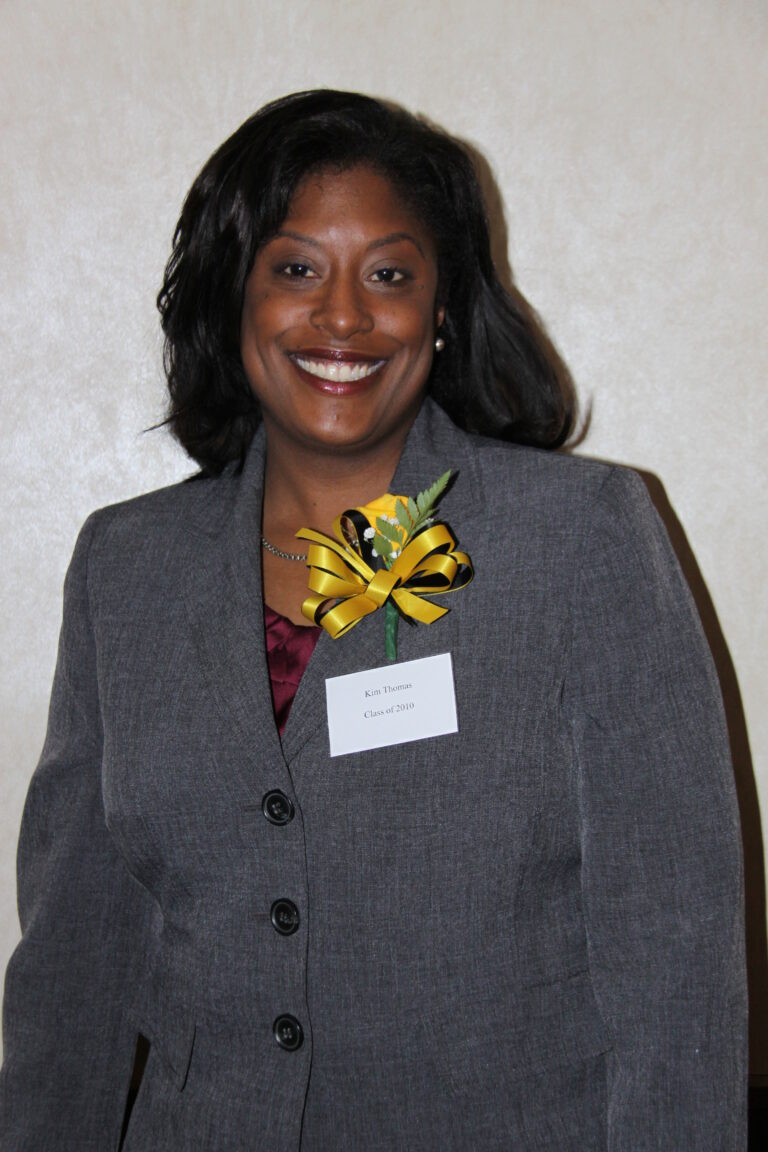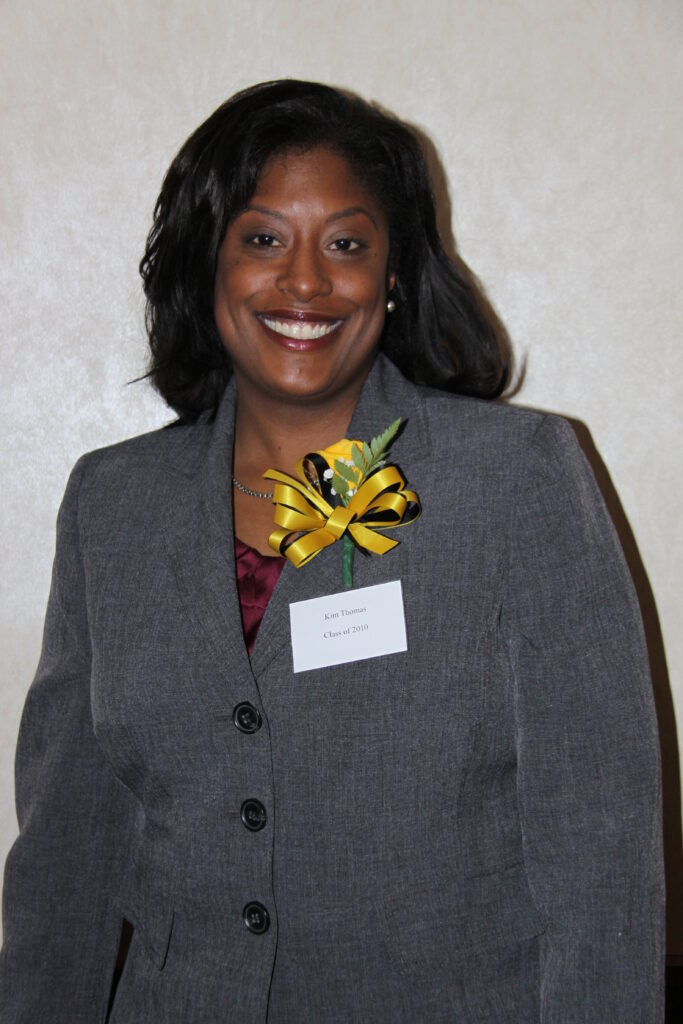 Kimberly Thomas has been involved in some form of sports since she was a little girl living on Penn Lear Drive in Monroeville. Be it playing four-square with the neighborhood kids to playing flag capture, sports has played a huge role in the person she has become today. She realized she was "quick on her feet" when the time came to complete fitness assessments in elementary school and junior high and would most times, outrun the boys in her gym class. It didn't hurt that she is also the daughter of former Pittsburgh Steeler J.T. Thomas, so somewhere in her genes was athleticism. When the guys in the neighborhood needed someone to play flag football, they would ring the doorbell and ask for Kim, not her brother, because of her speed.
Kimberly began to play in organized sports in 7th grade and tried out for the track team. Here, she ran the short sprints and began learning the jumping events which would later be the area where she would excel. Coaches Ginny Beech and Margaret Matthews spent time to teach her how to come out of the starting blocks to gain distance and speed on her opponents and how "pinching that penny" was crucial in the high jump.
By the 8th grade Kim picked up another sport, basketball, under the tutelage of Coach Dan Thompson. She would continue to play basketball throughout her high school sports career. Kim played the forward position with the Lady Gators in high school under Coaches Ron Davis and Chuck Riley. She was a tough offensive player, a defensive rebounder, and a consistent scorer around the fouline area. Kim was a 4 year letterman and was able to play with some of the local sports greats: Colleen Connors, Lisa Topolsky, and Teresa Ribar. Playing basketball not only kept her physically fit for track and field season, it also prepared her mentally for competition.
In her freshman year at Gateway she was selected by Coach Bonnie Young to compete on the varsity track team, one of three freshmen to do so. At first, the transition from junior varsity to varsity track was a challenge because she was a 14 year old running and competing against 17 or 18 year olds. However, she stayed focused and learned as much as she could from her coaches as well as her older teammates. Kim would also run and workout with her dad, which improved her strength, speed, and technique. By her junior year, Kim would compete in the 100m, 200m, 4X100m relay, long jump and the high jump and place in the top of each of her events.
The 1993 school year, her senior year, proved to be the year where Kim would really excel in the jumping events and learn the triple jump. This was done with the training, support, and patience of her coaches: Coach Tom LaBuff, David Washburn, the late Rich Siegel, and fellow Gateway Hall of Famer Taunja Snyder, her jumping coach. During this season, Kim would typically win 3 of her four events, or sometimes would win all 4; 100m dash, high jump, long jump and triple jump.
As a senior, Kim won the WPIAL Class AAA long jump with a mark of 17 feet 8 1/2 inches and finished second in the WPIAL triple jump with a leap of 37 feet 3 1/4 inches which both distances qualified her for the PIAA Girls AAA Championship at Shippensburg University. Kim won the PIAA Girls AAA Triple Jump Championship with a jump of 38 feet, 6 inches on the last of her six jumps. This was the first year for her competing in the triple jump. Kim not only broke the school's record in the triple jump, she also became the second State Track & Field Champion in the Lady Gators' history. After winning the State Championship, Kim was recruited by Ohio University where she continued competing in the field events.
At Ohio University, Kim continued to grow and excel in track & field (indoor and outdoor) by competing in the triple jump, long jump, high jump, 100m, and the 4 X100 m relay team. In 1994 she was a crucial part to the success of the team winning the MAC (Mid-Atlantic Conference) Conference Championship. She also held Ohio University's triple jump record from 1996 until it was broken in 2004. Kim was also selected by coaches to compete in the Duke Invitational all 4 years in the triple and long jump. By her senior year Kim was co-captain of the Women's track team and at the end of the season a 4 year letterman. She graduated from Ohio University with a degree in Sports Science.
After Ohio University, Kimberly worked in the pharmaceutical industry for 8 years in the Philadelphia area. She also completed her Masters in Business Administration from Keller Graduate School of Management. Kimberly currently lives in Monroeville and is employed as project manager/business developer for several companies and foundations in the Pittsburgh market.