Gateway Class of 1980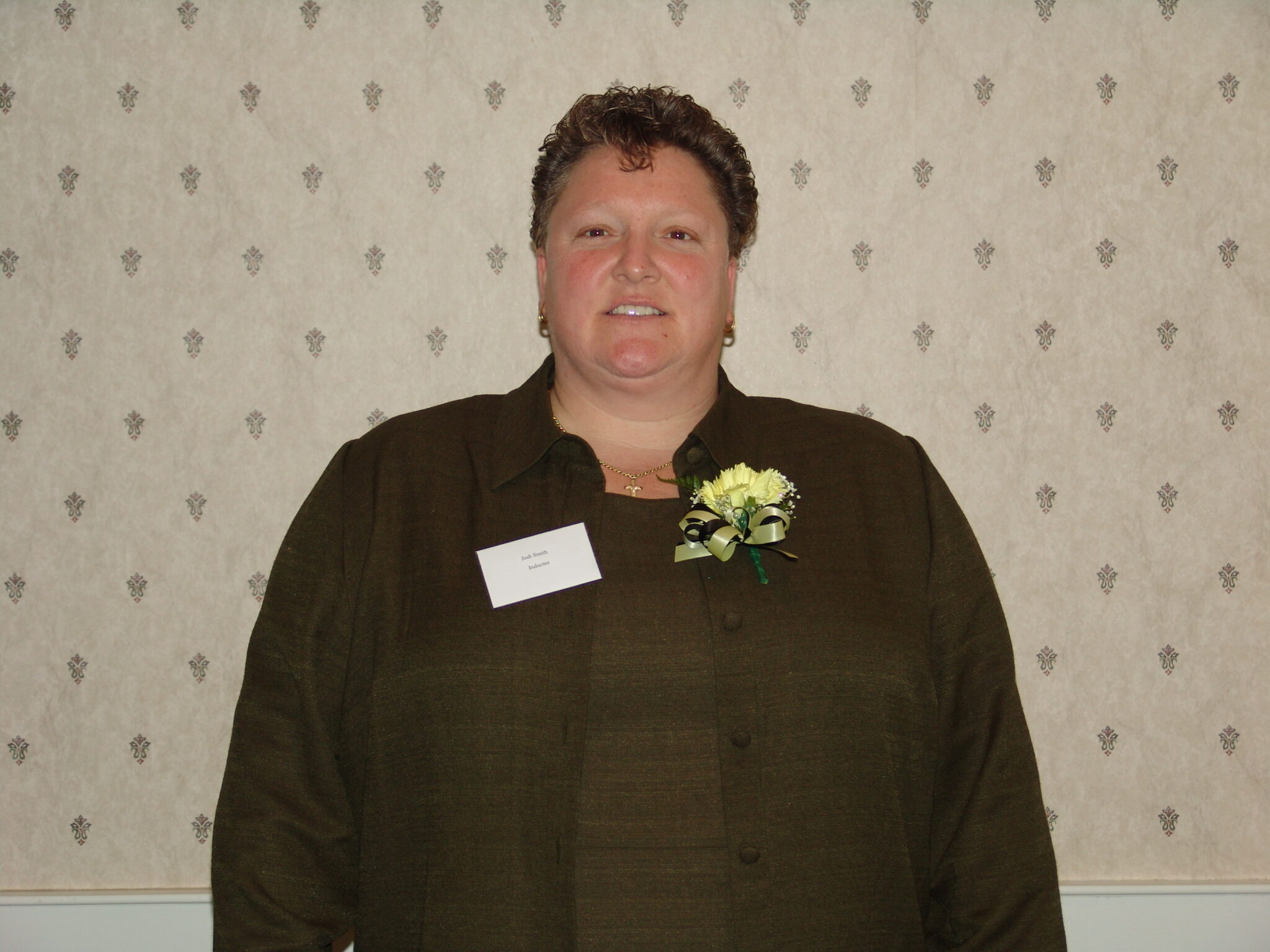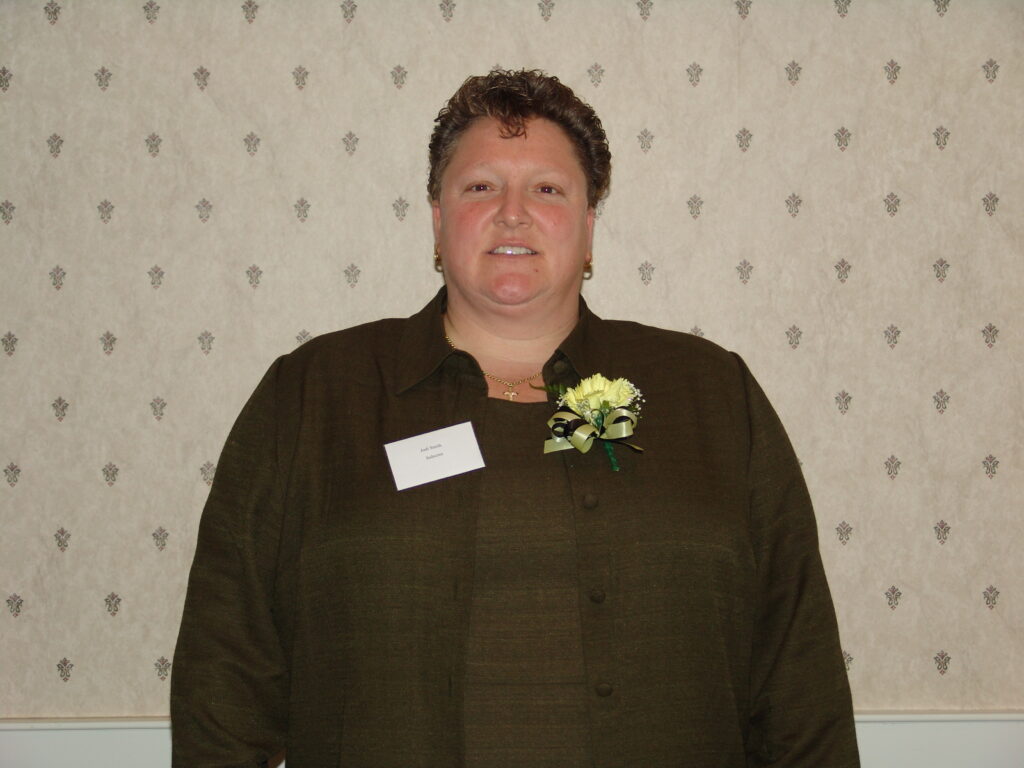 Jodi Smith was a multi-sport athlete who participated in basketball, volleyball, softball and track and field during her years at Gateway. But in track and field, she did more than just participate; she dominated.
Her track and field career began at South Jr. High as a discuss thrower. She was involved with softball at the time, and decided to try track and field to pass the time until softball season. At one meet the South Tigers team found themselves needing just two points to squeeze out a dual meet victory. The only problem facing the team was that they didn't have anyone left to compete in the remaining events. Jodi volunteered to try the shot put, an event in which she had never competed before. Not only did she try it – she won it. And that was just the beginning.
By the end of her sophomore year, Jodi had broken and set all Gateway High School records in the shot put, discus and javelin and was undefeated in all three events until the WPIAL meets. At nearly every competition of her first year, Jodi would consistently break and set a new school record. She qualified for the PIAA track and field championships and competed in the discus and javelin, but did not win a title. She vowed she would return in her remaining years at Gateway and bring home a State Championship.
During her junior year, she again broke and set all new school records in the shot put, discus and javelin. She was the top point-getter on the Gator Girls' team and was voted the Most Valuable Player. Again, she went undefeated during the regular season until the WPIAL meets. At the WPIAL meets she qualified for the PIAA state finals in all three throwing events, resurrecting her dream of a state championship. Unfortunately, she never made it to the finals that year. The day after qualifying, Jodi broke her ankle playing softball. She would have to wait for the following year, her final chance, to make good on her vow of a state title.
As a senior, Jodi continued to get better. She consistently broke her own school records in the shot put, discus and javelin, resetting her goals and challenging herself to improve. She was voted team captain and M.V.P. once again, and became the WPIAL Champion in discus with a huge record breaking throw of 139 feet 8 inches. She was honored by the YMCA of Pittsburgh and was listed as "One to Watch" in the East. At the WPIAL meet, along with breaking the AAA discus record, Jodi finished second in the shot put and took third in the javelin. She qualified in all three events for the PIAA state finals in Shippensburg, PA. It would be her final high school competition and her last chance to fulfill her dream of a state title.
At the PIAA championships Jodi focused in on her ultimate goal. In the preliminaries she led all discus throwers with a throw of 136 feet, two inches. In the semi-finals, Trinity's Elaine Sobansky, her biggest competition in the event, tied her mark, setting up a show down in the discus finals. At the discus finals, Jodi zinged a line-drive throw to a PIAA record breaking distance of 138 feet 6 inches. No one else could reach her. She was crowned State Champion that day in discus, finished third in the shot put at 41 feet ¼ inches, and tied for fourth in the javelin at 138 – 11. Her total regular season mark for all three events at South Junior High and Gateway ended at 45 – 1, her only loss coming in the javelin.
What makes her record even more remarkable was that she had never been coached by an experienced thrower. Her coach during her junior high and high school career, Bonnie Young, started the girl's track and field program at Gateway in 1977, Jodi's 9th grade year at South Jr. High. Coach Young had no personal experience in coaching throwers at the time, but felt compelled to start a program for the girls that would come out after school and run with her around South. Coach Young's efforts really paid off for Jodi.
Jodi received multiple scholarship offers during her senior year at Gateway. When she signed her letter of intent with West Virginia University, Jodi became the first female athlete in Gateway High School history to receive a full athletic Scholarship. At West Virginia she continued to improve, break and set new WVU school records and was showered with many honors for her accomplishments.
COLLEGIATE HONORS
West Virginia University – Full Scholarship Athlete
Broke and Set All WVU Records in Shot Put, Discus and Javelin
Voted Most Outstanding Athlete, MVP – 1981,82,83,84
Most Individual Point Getter
Voted Best Student Athlete 1981, 82, 83, 84
Student Athlete of the Week- 22 times
Regional Qualifier – Shot Put, Discus, Javelin – 1981, 82, 83, 84
WVU Team Captain – 1982, 83, 84
Existing WVU Records, 1984 to present
Discus – 177 feet
Shot Put – 48 feet 6 inches
Javelin – 17 3 feet 4 inches
1984 – Third in the Nation for Combined Distance – Discus, Shot Put and Javelin
Jodi Graduated from WVU in 1984 with a BS degree in Physical Education and a minor in Safety. She continued her athletic pursuits by playing se1ni-pro, slow-pitch softball for 7 years. Professionally, she taught for one year before beginning a career with United Parcel Service (UPS) as a driver. She celebrated her 19 year anniversary with UPS in August of 2004.
When asked to recall her most vivid memories of her time at Gateway, Jodi replied, "It would probably be the bus ride back to the school after competitions and standing up on the bus, singing the school song as it pulled up in front of the school. What a feeling!" "I would also have to say when Bonnie Young came and told me that she was going to be the coach at Gateway. She had gone to the School Board and got approval to start the track program, because Gateway still didn't have one. That's how I was able to continue my track career."
And what a career it was …