Gateway Class of 1987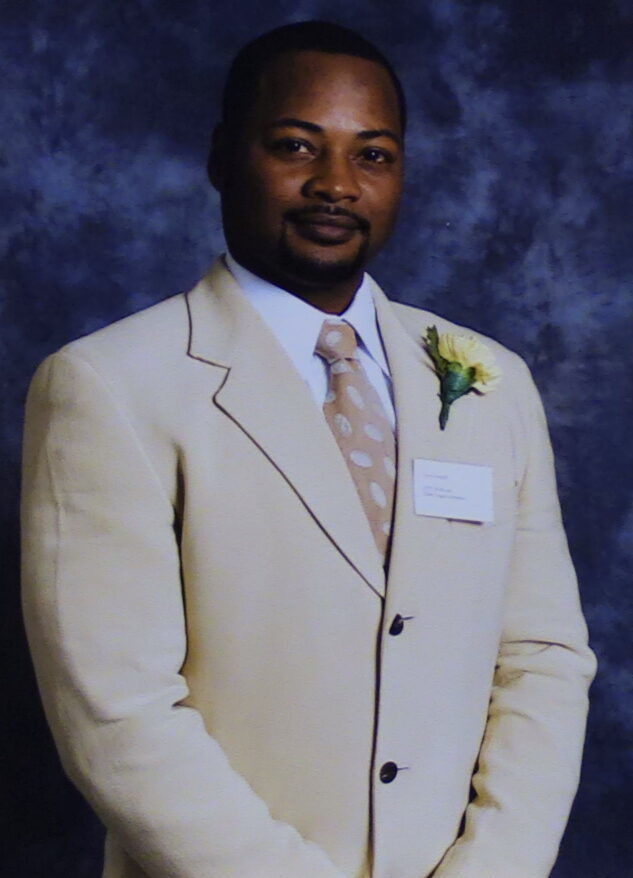 Terry Smith had a high school athletic career second to none. If you discuss Gateway Football with coaches, teachers, teammates and others related to Gateway Sports, their opinion is unanimous, Terry Smith was the best offensive player to ever wear the Gator Football Black and Gold. Terry was one of the best, if not the best, quarterback to ever play for the Gators. Coach Antimarino always seemed to adapt his offensive schemes to his personnel. In 1986, Terry's senior year, the Gators ran the Wing T offense. This offense was built around Terry. According to the Gator program, Terry was 5'8" and weighed 150 LBS. His speed and athletic ability was put on stage and he delivered like no other Gator had ever delivered. This small but talented athlete from Monroeville understood what Gateway Football was all about. It was Terry's heart more than his legs, that led the 1986 Gator Football Team to heights unimaginable. Terry knows what it takes to be a winner. The Gateway Sports Hall of Fame is proud to make Terry a member.
Sometimes when an athlete excels in one sport, accomplishments in another sport go unnoticed. Because of the press received by the football team, Terry's basketball career always seemed to take second place. If the Gateway Gator basketball program ever voted on their all time team, Terry would take a backseat to no one. His basketball accomplishments are also second to none. Terry played for the Gators in the winters of 1986 and 1987. Over that two season period, the Gators made the playoffs each year and in 1986 the Gators made the PIAA playoffs for the first time in school history. Again, Terry was the heart of the team.
Below is a list of Terry's Gateway Gator Basketball accomplishments:
Co-Captain
1st Team All Section 1986 And 1987
Played In The Dapper Dan Roundball Classic 1987
Voted To The Post Gazette Fab 5 East Team
Voted To The Post Gazette Fab 5 Team
Voted To The 1st Team All Tribune
Led Gators In Scoring, Assists And Steals 1986 And 1987
Led Gators To Playoff Appearances 1986 And 1987
Averaged 9 Points Per Game 1985
Averaged 16 Points Per Game 1986
Averaged 17 Points Per Game 1987
Averaged 25 Points Per Game In Career Playoff Games
Led Gators To WPIAL Semi Finals 1986
Led Gators To PIAA Quarter Finals 1986
Offered Scholarships To Various Division I-AA & II Programs
Of course, as discussed earlier, it is Terry's football accomplishments that he is most remembered for. As a sophomore, he was a member of the Gateway Gator team that lost the championship game to Mt. Lebanon at Three Rivers Stadium. As a junior, he was the starting safety and kick returner on Gateway's fourth WPIAL Championship Team that tied North Hills at Three Rivers Stadium. As a senior, he was the starting quarterback on Gateway's fifth WPIAL Championship Team that defeated North Hills at Three Rivers Stadium. In three years, Terry and his teammates made three trips to Three Rivers Stadium. The seniors on the 1986 Championship Team had a three year run that, before and after, have gone unmatched. Terry led the 1986 Gators to a 13-0 record. No WPIAL Quad A football team had ever won 13 games in a single season. He was the driving force that made the Wing T offense successful. In 10 regular season games, the offense, led by Terry, outscored their opponents 285-49. Terry made things happen. Terry seemed to shine in playoff games. The Gators defeated Bethel Park 35-8 and then defeated Mt. Lebanon 30-6. That win set up the rematch with North Hills for the 1986 WPIAL Quad A Football Championship.
Over 25,000 people were on hand for the rematch. In 1985, the two schools played to a 0-0 tie and a co-championship. Again in 1986, there was no score at half time and Gateway decided to adjust the offensive scheme from smash mouth football to primarily outside play for the second half. Terry Smith was told to run more options and "make things happen." In other words, the game was turned over to the fastest quarterback in the WPIAL.
Would he deliver? Terry was told, and I quote, "Run Options, Get Outside, Make Things Happen". Terry responded with a four star performance. He carried the ball 11 times in the second half compared to 5 the first half. He sparked a 65 yard 12 play drive in the fourth quarter that ate up 4:41 of the scoreboard clock and finished the drive with a quarterback sneak into the right side of the Gator line. Gateway 7 North Hills 0. The Gator defense would not break and the Gators held on for a 7-6 victory. After the game, at a post game interview, Coach Antimarino explained the change in strategy at half time by simply stating that "you go with what got you here, you go with your best athlete." At Gateway, especially Gator Football, the team concept is always stressed and put at the forefront. Of course, in 1986, Terry could not have defeated North Hills alone, however, it was Terry that led his team to the most significant win in Gateway Football history. When it was decided that Three Rivers Stadium was to be destroyed, sports writers were debating on the greatest games ever played at the Stadium; pro, college and high school. You guessed it. The Gateway-North Hills Quad A Championship Game in 1986 was voted the greatest high school football game in Three Rivers history.
Now let us discuss Terry's remarkable football career at Gateway:
Co-Captain
Post Gazette AAAA Player Of The Year 1986
Post Gazette East AAAA Player Of The Year 1986
Tribune Review AAAA Player Of The Year 1986
Times Express Football Player Of The Year 1986
1st Team All Section 1986
2nd Team All State 1986
Voted On The Post Gazette Fabulous 22 Team 1986
Voted On The Press Finest 44 Team 1986
Voted On The Post Gazette All Time Fabulous 22 Team
Played In The Big 33 All Star Game 1986
Starting Quarterback 1986 Championship Team
Starting Free Safety 1985 Co-Championship Team
Played At Three Rivers Stadium 1984, 1985 And 1986
Career High School Record 33-5-1
Career Record As A Starter 24-1-1
Career Record As Starting Quarterback 13-0
Offered Scholarships To Various Division I Programs
Inducted Into The Gateway Sports Hall Of Fame Class Of 2001
Terry accepted a football scholarship to Penn State University. Terry was recruited to Penn State as a receiver to utilize his size and speed.
Terry had an outstanding college football career as you will see:
Co-Captain
1991 Most Valuable Player
5th All Time In Receptions
6th All Time In Receiving Yardage
3rd All Time In Receptions
1st Player To Catch 50 Passes In A Season
1st Team All East
1991 Heismann Trophy Candidate
Received College Football Player Dapper Dan Award
Selected To All Time Great 200 Players At Penn State
3 Year Starter
4 Year Letter Earner
108 Receptions For 1,825 Yards
15 Career Touchdowns
Honorable Mention For All America Status
1992 Played In The Japan Bowl
Terry was drafted in the 11th round by the Washington Redskins. He played two years in the CFL for the Shreveport Pirates and played 1 year in the Arena Football League for the Albany Firebirds.
Since his playing days, Terry has become a basketball and football coach. He coached football at Duquesne University for 4 years and at Hempfield High School for 1 year. He currently coaches the ninth grade basketball team at Gateway and was the varsity offensive co-ordinator at Gateway this past football season.
We asked Terry about his most vivid memory at Gateway:
"My most vivid moment in my Gateway experience has to be the time immediately after the 1985 championship football game where we were tied 0-0 with North Hills and had to share the championship. As I walked off the field at Three Rivers Stadium that night, I had such an empty feeling. In the locker room, the coaches had just spoken with the team and tried to make us understand the significance of the co-championship with North Hills. The juniors got together and as a group, decided that, "we would be back and we will win the championship next year." Focus and preparation began that night on the bus ride home from Three Rivers. We would not be denied. Needless to say, the rest is history."

Terry Smith
Coach Antimarino had a few comments:
"Terry, I don't know where to begin. I consider you not only my best athlete in 1986, I consider you one of my best athletes of all time. Against North Hills your senior year, you were asked by me to "make things happen". I knew you could. Because you did make things happen, we were able to win an unprecedented fifth championship. It was truly a pleasure not only coaching you, but also coaching your brother Harvey, who was my quarterback back in 1981. Two great quarterbacks from the same family, Terry to Penn State and Harvey to West Virginia. I want to especially thank their parents for sending to Gateway two fine mature coachable respectful young men. Terry, good luck with your coaching career."

Coach Antimarino