1931-2015
Respected, Dedicated And Admired Coach & Teacher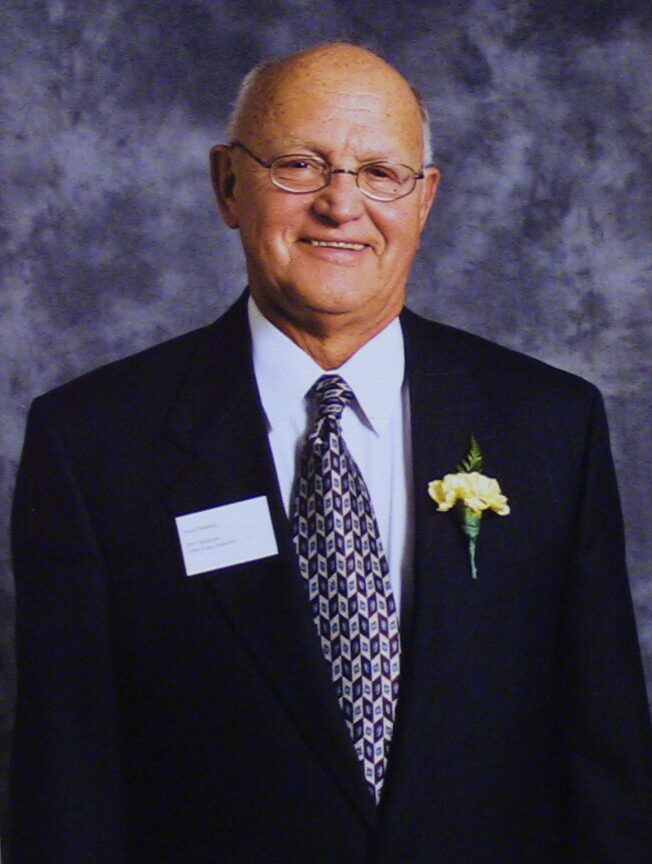 Stephen Duane Statnick was born of the 16th of May 1931 in the steel town of Johnstown, PA to Catherine and Stephen Statnick. As a youth growing up, he spent summers on his grandparent's farm learning about hard work, dedication, confidence and self respect. These qualities would be essential the rest of his life in his coaching and teaching career.
Steve graduated from Dale High School in 1949, a small Class A school located one mile East of Johnstown. He participated in varsity football for 4 years and varsity basketball for 3 years. His high school home games were played at Johnstown Point Stadium, a place he would later return to in his coaching career. Steve's most memorable moment was in 1948 during his senior football season when he returned an interception 80 yards for a game winning touchdown. This feat made the front page of the Johnstown newspaper as one of the top highlights of the 1948 season.
A graduate from Slippery Rock College Class of 1953, Steve holds a Bachelors degree in Physical Education. At "THE ROCK", he excelled 4 years as a offensive and defensive back on four consecutive winning teams. After his freshman year, Slippery Rock's head football coach Pop Storer did not invite Steve back for his sophomore year. Disappointed but determined to start, Steve walked-on his sophomore year with the "Eye of the Tiger". Through true grit and desire, Steve won the starting position which he never relinquished until he graduated.
Upon graduating from college, Steve was drafted into the United States Army in 1953. He served his country proudly for 2 years with Signal Corps as Personnel Director at Beale, AFB, Marysville, CA. Steve was honorably discharged in 1955.
After returning from the service, Steve started his teaching and coaching career. His first tenure was at Forbes Joint High School, Stoystown, PA (1955-1958) followed by a second tenure at Garfield Junior High, Johnstown, PA (1958-1963).
In 1963, Steve accepted a teaching position as head of the physical education department at a newly built complex known as South Junior High, part of the Gateway School District. He knew this was an opportunity of a lifetime to create, design and establish a physical education program for all students both athletes and non-athletes. His philosophy of developing a lifetime of physical fitness would instill self-confidence, foster a positive attitude, and cultivate self-esteem in his students. This program involved testing students semi-annually in 10 challenging physical events. He was able to gauge the progress of their strength, endurance and flexibility. Their individual progress would be rewarded with the maroon, white, blue and prized "gold" trunks. This reward afforded every student the opportunity to achieve the status of an athlete whether they participated in a sport or not. He initiated an off season weight conditioning program and a summer remedial physical fitness program. Both of these programs were implemented to aid students who required additional assistance or to enhance students who desired to advance their level of fitness. Generating pride and competitive spirit in each student, his plan flourished and "Tiger Pride" at South Junior High was born!
In 1963, Steve also became the first head coach of South Junior High. A tenacious and respected coach he combined a player's self confidence with motivation and inspiration on the football field to develop a "winning attitude". He then injected this winning attitude into the entire school network of assistant coaches, teachers, administrators, janitors and parents. Individuals such as "Spotter Murphy"; Voice of Gateway – Rege Giles; Facility Manager "The Hunky Leatherneck" Joe Bunecicky and Don Yost; on the sticks Bob "Pie" Holden and Ken Burgun; Scouting Report and Analysts Bill "Dunc" Duncan; SJH cameraman John Sandors, coaches Russ Gratton, Bill Lukitsch, Larry Hanley, Harry Hedinger and others, all became part of his formula known as "Tiger Pride".
His record of 69-15-1 included 7 undefeated seasons, 40 shutouts and from 1965-1973 Steve's record was 43-2. Steve's first team in 1963, included starting quarterback "Gateway Athletic Director" Paul Holzshu and starting lineman General John Sattler, Commanding Officer of the 2nd Marine Division, Camp Lejeune, NC. The 1966 team was undefeated and may be the most talented as (7) starters from this junior high team went on to start for the 1969 WPIAL Championship Team. One of these starters was Gateway Hall of Fame inductee Randy Rovesti. Before, ESPN, the sports center for Gateway School District and surrounding area was the teachers facility room at South Junior High. One particular occasion Coach Statnick commented to Ken Burgun that his 1966 junior high team would win the WPIAL title their senior year. "In 1969 Gateway defeated Altoona for the WPIAL crown!"
His 1967 team was undefeated and unscored upon.
His 1969 team was undefeated which included Hall of Pamer Mark O'Toole. This team went on to win the 1972 WPIAL Championship.
His 1971 team with one loss also went on to tie for the 1974 WPIAL Championship. His memorable speech after their loss to Penn Hills ingrained a message that his team would never be denied a victory against Penn Hills again. Later, both in 1973 and 1974 these Gateway Gators defeated the Penn Hills Indians in the high school playoffs.
His 1972 team provide the most memorable moment as the "Tigers" upset an undefeated unscored upon and much larger Montour football team 7-0 on a soggy muddy field.
Besides coaching his junior high team he also worked as part of the Gateway Senior High scouting staff.
While coaching and teaching Steve pursued his Masters Degree in Physical Education which he received from Penn State in 1965.
In 1979, Coach Statnick left the junior high program to coach the offensive and defensive backs under the Hall of Fame legendary Gateway coaches, Peter Antimarino and Art Betts. Working in the booth on game days, Steve relayed offensive and defensive tendencies to the coaches on the field.
One of Steve's greatest memories was coaching his son, Stephen throughout his 1980-1982 high school football career at Gateway. His son went on to Slippery Rock University where he was the starting quarterback for two years.
Another of his treasured memories was being part of the three consecutive WPIAL finalists from 1984-1986, which included Hall of Famers Curtis Bray and inductee Terry Smith and winning the title in 1986 over the #1 ranked football team in the country North Hills 7-6.
In 1985, Steve was asked to be the guest speaker at "Pete Dempiro-Coach of the Year Clinic". His lecture was devoted to developing successful youth and junior high programs.
Through all his fame and fortune, Steve cherished his family and maintained a wonderful marriage of 32-1/2 years to his late wife Patricia Mapstone. Both his parents and in laws were married over 50 years. His three children Kimberly Castagnero, Michele Giorgione, and Stephen Statnick have been married a combined 50 years. Steve's pride and joy are his eight grandchildren: Michael, Meghan, Matthew and Madison Castagnero; Briana and Ryanne Giorgione; and Isabella and Stephen Statnick.
Retiring in 1990, Steve has maintained a physical fitness program spending three days a week working out. He spends his time attending a multitude of events his eight grandchildren participate in. On Sundays, Steve ushers at North American Martyrs Church followed by breakfast at a variety of Monroeville's finest diners. He travels to see his family, friends or relatives. He was a frequent visitor to Camp David and on one occasion worked out with Hillary Clinton who calls him "Coach"!
Steve still attends the Gateway games with his family and friends. He now watches his grandchildren pass through the ranks of the Gator tradition. Steve has instilled many outstanding characteristics in so many students who thank him everyday for who they have become.

Thanks Coach –
Michael Castagnero – Son-in-law – United States Naval Academy –
Class of 1980

Thanks Mr. Statnick –
Michael Giorgione – Son-in-law – United States Naval Academy –
Class of 1981

Thanks Dad-
Stephen Statnick – your son – for making me the man I am today.
STATNICK, STEPHEN A. "STEVE"