Gateway Class of 1986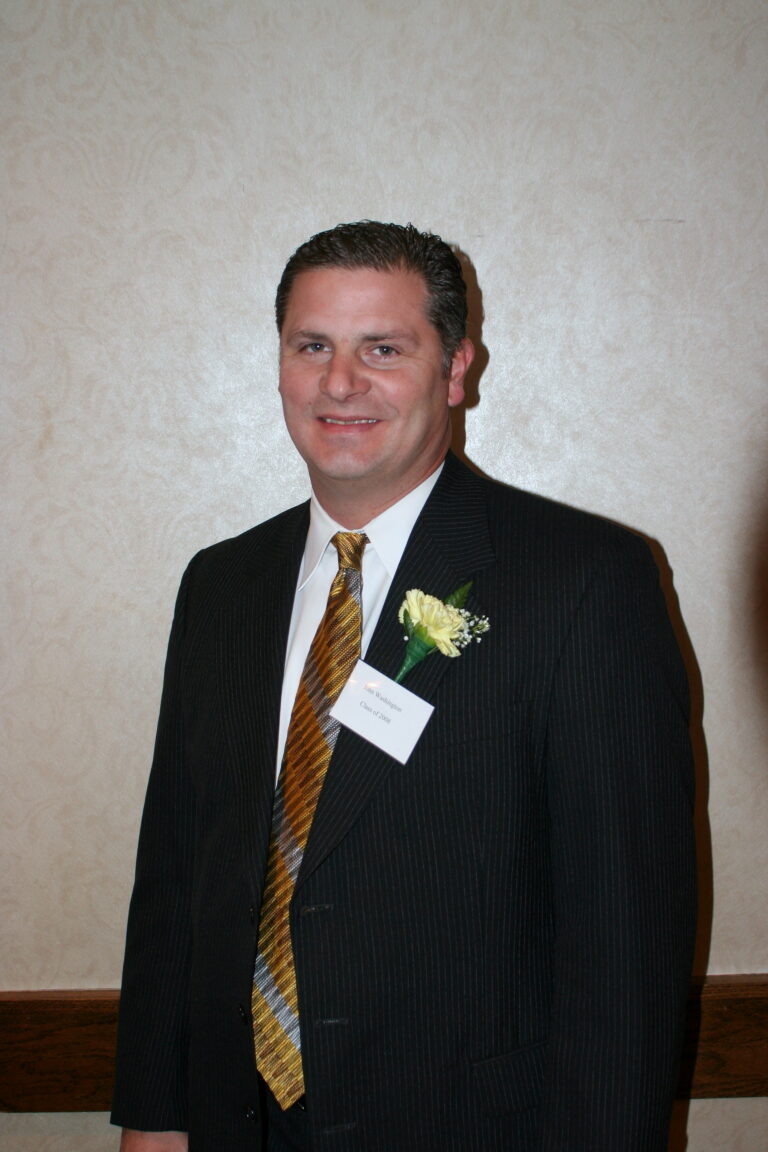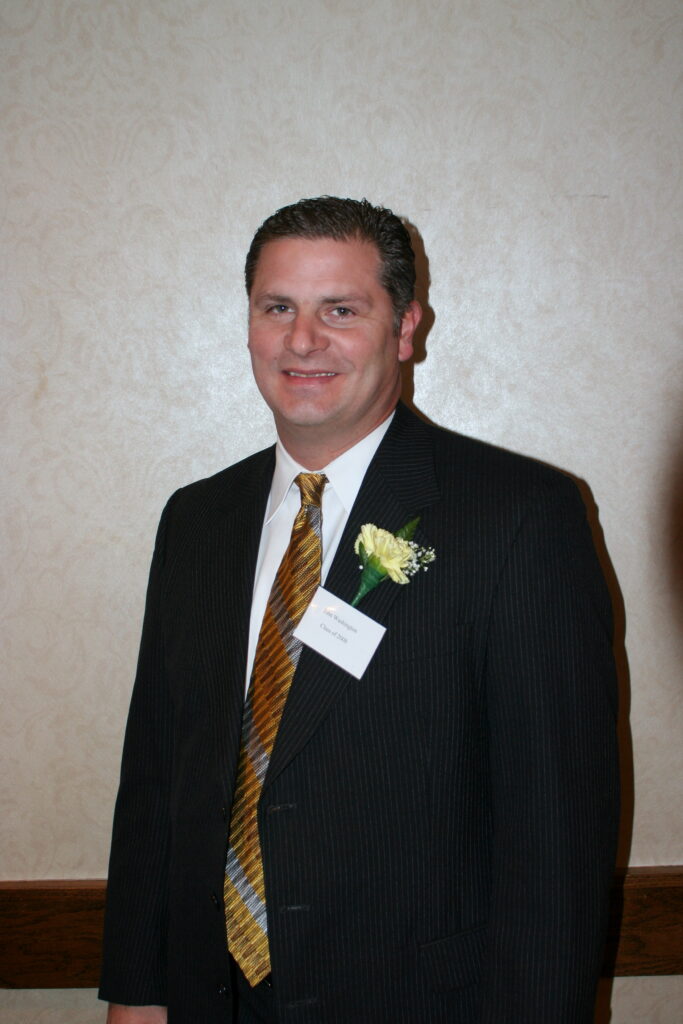 John Washington was a standout football player that also participated in basketball and baseball during his years at Gateway High School. Although he had many talents, the football field was where he found the most success.
John began his athletic career in the same manner in which most young boys begin. He started playing football and baseball in his home town of Pitcairn at age six by learning the games in practice and experiencing many more failures than successes. He learned how to sit on the bench and support his teammates, how to strike out and make an error, and how to get knocked down, and then get back up again. If you asked John, he'd tell you these where the most important years and the most valuable lessons that contributed to his future success.
For his first 2 years of youth football, John played wherever the coaches told him to play and got knocked around by the starting teams in practice while he was trying to find a place to fit in. In baseball, he struck out 80% of the time, played the outfield, and sat the bench more than anyone else. At that time, the only youth basketball John played was in the Pitcairn playground, where the older kids kicked the younger kids' ball over the fence when they got in the way.
As John got older, he began to play much more, and became a much better, more confident athlete that couldn't wait to get the ball or take his turn at bat. In football, he played everywhere, and rarely left the field. In one particular season for the Pitcairn Mohawks, John was the Quarterback, Middle Linebacker, Punter, Kicker, Punt Returner and Kick Returner, and played them all very well. In baseball, he became a shortstop, catcher and centerfielder, and would bat either 3rd or 4th depending on how the coaches would work the lineup. In basketball, the older kids started picking him to play on their teams, rather than sitting and watching the game from the sidelines.
At South Junior High School, John did not play football until he was in 9th grade. He chose not to play at South because of his strong feelings for his home town Mohawk teams. As a 9th grader, John became the starting Tailback and an Outside Linebacker under the direction of fellow Hall of Fame inductee Coach Bill Lukitsch.
Then came the dreaded sophomore year at Gateway, and John found himself back at the bottom of the food chain, like most young players do. Believe it or not, he considered quitting the game that he had loved so much. But, the lessons of his earlier years, the advice of his parents and the support of his friends and teammates kept him focused, and it made all of the difference in the world.
As a young man, John dreamed of one day playing for the Gators. He grew up looking up to the many great Pitcairn players that he knew from his home town while he watched them play on Friday Nights for the black and gold. He can remember wanting to run like Nevin Edwards, catch the ball like tight end Tommy Lynn, and hit people like fullback Ron Kuster. He wanted to be a Gateway Gator Football Player more than anything, and he wanted his coaches, mentors and role models from his youth to be proud of him, and happy with his performance. He took it very personally, and it helped drive him to get better.
Going into his junior year at Gateway, John was still trying to find a place on the Gator squad. He was practicing at quarterback, running back and linebacker, but couldn't break into the starting line up. Then, one day during a practice rather early in the year, the offense needed to run their passing drills, but the defensive backs were in meetings, or off doing something else. Coach Antimarino and Coach Betts grabbed seven "extra" players, and put together a defense to run against. The coaches put John at defensive cornerback and told him to cover the receivers the best that he could. That day and that situation set John's football career on a whole different path.
During the drills that day, John intercepted the ball three times and only allowed one completion that resulted in a short gain. He ran all over the field making play after play against the first team offense and had as much fun as he had ever had at a high school practice to that point. He played the way that he remembered playing in the Pitcairn playground, and felt good about contributing to the team that day.
The next day, John went to the field with the team, stretched, did agilities, then made his way over with the quarterbacks to start individual drills like he always did. Before they could get started, defensive Coach Art Betts came over to the quarterback's area of the field and yelled at Coach Antimarino, "Hey Pete! Where's that Washington kid?"
John jumped up when he heard his name and yelled, "Here, sir!"
Coach Betts gave him an astonished look and said, "Well what the hell are you doing over here. You ain't no quarterback, kid. You're a defensive back. Get the hell over here."
John went with the defensive backs that day, and never looked back. He earned a starting position as the right cornerback going into his Junior season and contributed in every game that year. His biggest contribution was probably a key interception in the first round of the playoffs against North Hills to end a scoring threat late in the 4th quarter and protect the Gators 6-2 victory in the muddy swamp.
John's senior year on the Gateway football team was one that few players ever get to experience, and was the biggest factor that contributed to his selection into the Gateway Sports Hall of Fame. John was the only player that had a starting position on both offense and defense for Gateway that year.  He earned multiple accolades and awards and was fortunate enough to be surrounded by so many great players that it allowed him the many opportunities to make great plays himself. 
An outline of his accomplishments and awards follows:
Offensive Split End – averaged 15 yards per catch – 6 touchdowns
Defensive Cornerback – 10 interceptions – 1 returned for touchdown
Post Gazette – Fabulous 22 East
Tribune Review – Co-Defensive Player of the year
Tribune Review – Finest 44 Seniors
East County All-Stars
Honorable Mention – Big 33 Pennsylvania
Full Athletic Scholarship – Virginia Military Institute – Division 1AA
WPIAL AAAA Football Co-Champions 1985
John went on to play college football at VMI where he earned a starting position as a freshman, and was a four-year letter winner at 3 different positions. As a freshman, John played Cornerback, and then moved to Strong Safety when injuries forced changes to the lineup. As a sophomore, John played Strong Safety, and worked into the offensive side of the ball when they needed him for certain situations. As a junior, John was asked to move to Split End, again due to injury changes, and as a compliment to John's versatility as a football player. He earned his third letter on offense that year, then earned a fourth as a Split End during his senior season. As a senior, John was the starting split end, played running back at times, and was a member of every special teams group. VMI did not win many games, but John had the good fortune to play four solid years of college football and earn 4 varsity letters.
As previously mentioned, John also participated in both basketball and baseball at Gateway. In baseball, he played for Coach Regis Giles, another fellow Hall of Fame inductee. John lettered as a centerfielder his senior year, which was the only year that he played.
John also played basketball at Gateway up until his junior year and was a solid defender and role player. He chose to play for North American Martyrs in the Catholic Diocesan league where he averaged over 20 points per game as the team went undefeated until losing in the playoff semifinals.
As with everyone else, we asked John about his most vivid memory during his time at Gateway High School.
"Wow," he replied, "I could tell story after story about those years, and there are a lot of people that can attest to that. I just loved it so much, and there were so many good people, you can't sum it up with one memory. I would say my Junior year was beating Penn Hills at home when they were undefeated and ranked number 2 in the state. That Gateway team was so tough and so physical, and Penn Hills was so good, talent-wise. Of course, someone forgot to tell us they were supposed to beat us. It was the first time that I was in the middle of the students charging the field after a big win. It was a very memorable experience."
"I guess my most vivid memory from my Senior year would be playing for the second time at Three Rivers Stadium. The senior class wanted to have a quick meeting before the game, because we knew it would be the last time we played together", John recalled.
"R.D. McKinley, Danny Schmitt, Brian Mikol, Fabian Pugliano, Tommy Byrne, Verne Howard, Jay Darr, Jimmy Nuccetelli, Greg Larkin, Shane Rolin, Matt Lynsky, Joe Ryan, all the seniors, we all met in a big shower area and had one last meeting. We're all huddling in close together, getting fired up, when I see my brother Todd, a sophomore, standing right in the middle. I said, 'Todd, get the hell out of here. This is seniors only'. He looked me right in the eye and said, 'I wouldn't miss this for the world, and you're gonna have to beat me out of this room if you want me to leave'. We all laughed and let him stay. That's what we all loved about each other on that team. We really, really enjoyed each other and loved being teammates, and it didn't matter what class you where, or where you came from."
John has also enjoyed a successful volunteer participation and coaching career at Gateway over the years. He has coached football for the 9th grade, the Junior Varsity and the Varsity Gators under both Tom Organ and his friend and former teammate Terry Smith.
Although it is not common knowledge to many people, John was instrumental in the rebuilding efforts of the Gateway Football program over the past 10 years. He got involved one afternoon when his good friend Tony Petrocelli called him about the 1997 Gators and a request that he had received for Dave Ruby, a Gateway assistant coach. He was asked to speak to the football team in the locker room prior to the Fox Chapel game. To summarize, John and Tony spoke to the team about what Gateway football meant to them, and what it takes to be a successful football team. The team asked John and Tony to join them on the sidelines for that game. The Gators won their first game of the year that night, and John and Tony have been on the sidelines for nearly every Gateway football game since.
Four years later, Terry Smith became the Head Coach at Gateway and asked John to remain on the staff. Of course, John accepted, and was willing to do whatever it took to continue improving the program. When Terry requested additional money from the School Board to hire more coaches, the budget did not allow for it, so Terry had to find volunteers to fill the coaching positions that he felt were necessary. Coach Smith, knowing John and his passion for Gateway football, asked John if he would be willing to resign his paid position and become a volunteer. In a rather unselfish gesture, John agreed to make the switch because he believed in what Terry was trying to accomplish, and he was never really in it for the money.
John Washington has always been, and still is, a fiercely loyal and proud Gateway Gator, that believes strongly in the lessons that young people learn through athletics. He has enjoyed all of the successes of being involved, and he will tell you that he has learned some fantastic life lessons through the many challenges of his experience. Because of his tremendous success as an athlete, his enthusiasm as a fan and supporter, his many contributions to Gateway Athletics, and his loyalty to the school and community that he loves, John has been selected by the Gateway Sports Hall of Fame as an inductee for the 2008 ceremonies.
John has asked that we publish the following "Thank You" list. He states that it is thorough, but that there would not be enough room in the program to make it complete:
THANK YOU ALL!!
MY FAMILY: Eugene and Betty Jean LaMarca, Todd Washington, Melanie Jessup, Gene LaMarca, Pamela Washington, Nicolette Washington, Jack Washington, Lambert and Thelma Moore, Josephine LaMarca, Frank Pugliano, Phyllis Pugliano, The Texas Pugs, The St. Louis Pugs, The Holdens, The Betts', and all of my other loved ones that it would take forever to list!
MY FRIENDS AND TEAMMATES: Thomas J. Hill III, Fabian J. Pugliano, Tony Petrocelli, Jimmy Gilliand, Gregory Larkin, Thomas J. Byrne, R.D. McKinley, Layne Vranka, Terry Smith, Jeff Garrigan, Shane Rolin, Dan Schmitt, Brian Mikol, Jerry Samek, Mark Swank, Kirk Michaels, Jim Roscoe, Dale Banks, Tom Keller, Rich Maagul, Jeff McWilliams, Brian Murphy, Paul Caldwell, Nate Gay, Scott Burkes, Steve Castagnero, Mark Segar, Bill Short, Jim Nuccetelli, Jay Darr, Chuck Bray, Curtis Bray, Joe Ryan, Chuck Rhine, Mark Bittner, David Porter, Louis Bauccio, Andy Imro, Verne Howard, Matt Lynsky, Phil Sweitzer, Johnny White, Boomer Schmitt, Milan Adams, Jimmy Shenefelt, Jeff Polce, Keith Harkins, Joe Fiedor, Eddie Frazier, Heather Burik, John Wallace, Rick Dworek, Doug Williams, Tony Luccarelli, Joe Luccarelli, Ken Fennell, Ron Decker, Jerry Lee, Mike VanLenten, Rob Wizneiski and the list goes on and on and on…
MY COACHES: Dave Sheffler, Cliff Shearer, Rick Edwards, Jim Ciocco, Tom Hartzell, Coach Podkul, Cliff Adams, Bill Lukitsch, Richard Markazene, Steve Perry, Pete Antimarino, Art Betts, Russ Gratton, Steve Klipa, Steve Statnik, Dan Baughman, Ray Wallace, Pat Castagnero, Ron Decker, John Schmitt, Mitch Adams, Dave Kuster, Barney Campbell, Chuck Riley, Bill Murphy, Dave Washburn, Regis Giles, Jon Sandor, and all the other assistants and managers that supported me!
MY MOTIVATION: Scott Williams, Ron Kuster, Nevin Edwards, Tommy Lynn, Joel Williams, Tres McLaughlin, Bill Emerick, Wayne Emerick, Henry Smeltzer, Mike Habura, Jim Whelan, Michael Filosemi, Henry Perriello, Paul Cummings, Marcy Petrocelli, Anthony Petrocelli Sr., Mike Christoforo, Philip Edwards, Kevin Dick, Bob Fiedak, Tom Shenefelt, Richard (Mutza) Tartaglione, Junior Ventresco, Dink Jay, Bob Moroni, Terry Harkins, Dan Castagnero, Vic Maccarelli, Dick Bane, Robert Holden, Larry Phillips, Larry Hanley, Doreen Varullo, George Vurgich, Bill Hughes, Ernie Chadderton, Kenny Chadderton, Rollo Vecchio, Fred Mendocino, Father John Flaherty, Bruce Short, Patty Short, Mr. & Mrs. Reese, Mark Wallace, Heather Panzella, Lisa Mohan, Nicol Ciafre, Michelle Palomera, Tom Cromie, Dr. Tom Kuch, Paul Mignogna, Larry Mignogna, Rich Mignogna, Cheryl Gilliand, Lisa Martin, Linda Martin, Christy Martin, Thomas and Andrea Hill, Trish (Hill) Lamoreaux, Stacey (Durzo) Sobek, Kelly (Ax) Fennell, Kurt Seibel, Carl Seibel, Eric Seibel, Bob McCarl, Lori (Short) Dilucente, and the multitude of others that inspired me.